Construction is slated to begin this summer on the townhome project on a vacant lot on Telegraph Hill that's been a source of controversy since it was first proposed.
The architect and construction team held a mandatory community meeting with about three dozen people from 6–7:30pm Monday at the Italian Athletic Club to present information about the construction plan. They didn't provide many specific answers despite a barrage of questions from the audience, but said the meeting was to gather neighbors' concerns so they can get the answers and come back at a later date.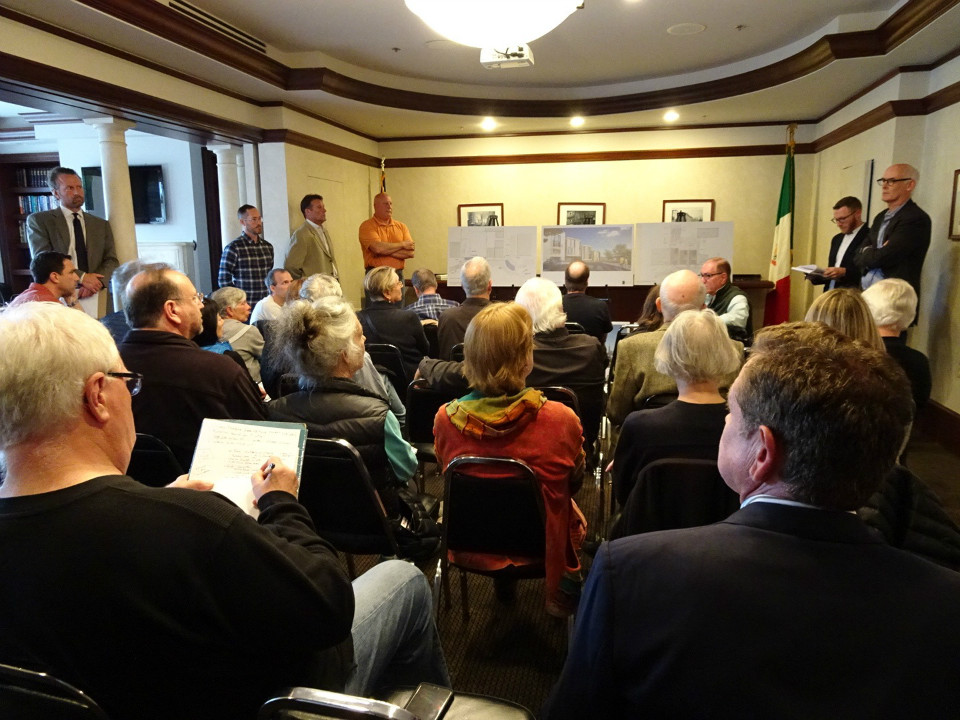 A bit of background: Developer Jeremy Ricks has had plans to construct three large, luxury townhomes at 115 Telegraph Hill Blvd. on a lot vacant since 1997 (read all of the details about it and and see site plans, maps, letters for and against, and more in this 208-page SF Planning document.) But he's faced pushback from neighbors, including now-Supervisor Aaron Peskin, ever since his Planning Commission hearing in 2014.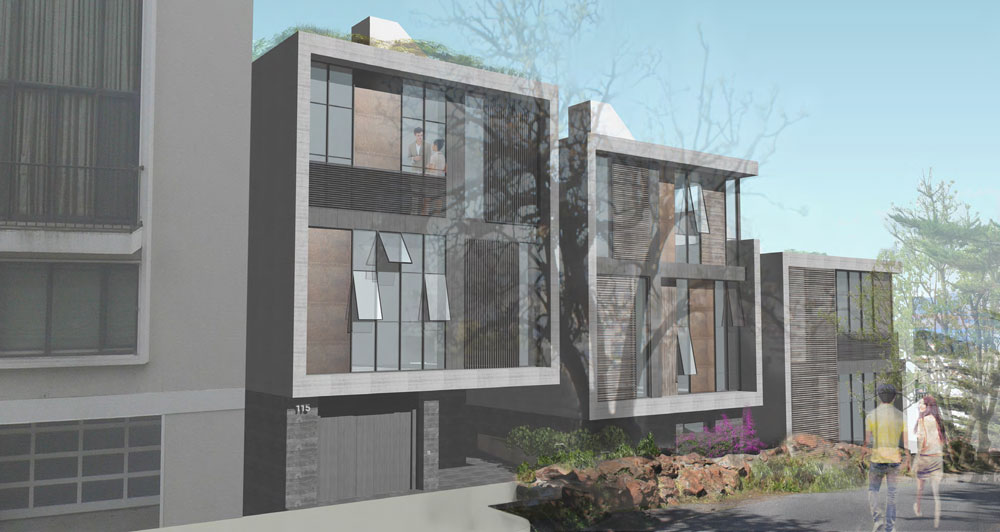 Peskin sent a letter to neighbors back in July of 2014 urging them to oppose the project for several reasons, including that it would block views from Pioneer Park. Ricks wrote a letter rebutting many of Peskin's assertions about the project. Neighbors have tried and failed to stop approvals at the Planning Commission, Board of Supervisors and in court, all of which have concluded no views would be blocked.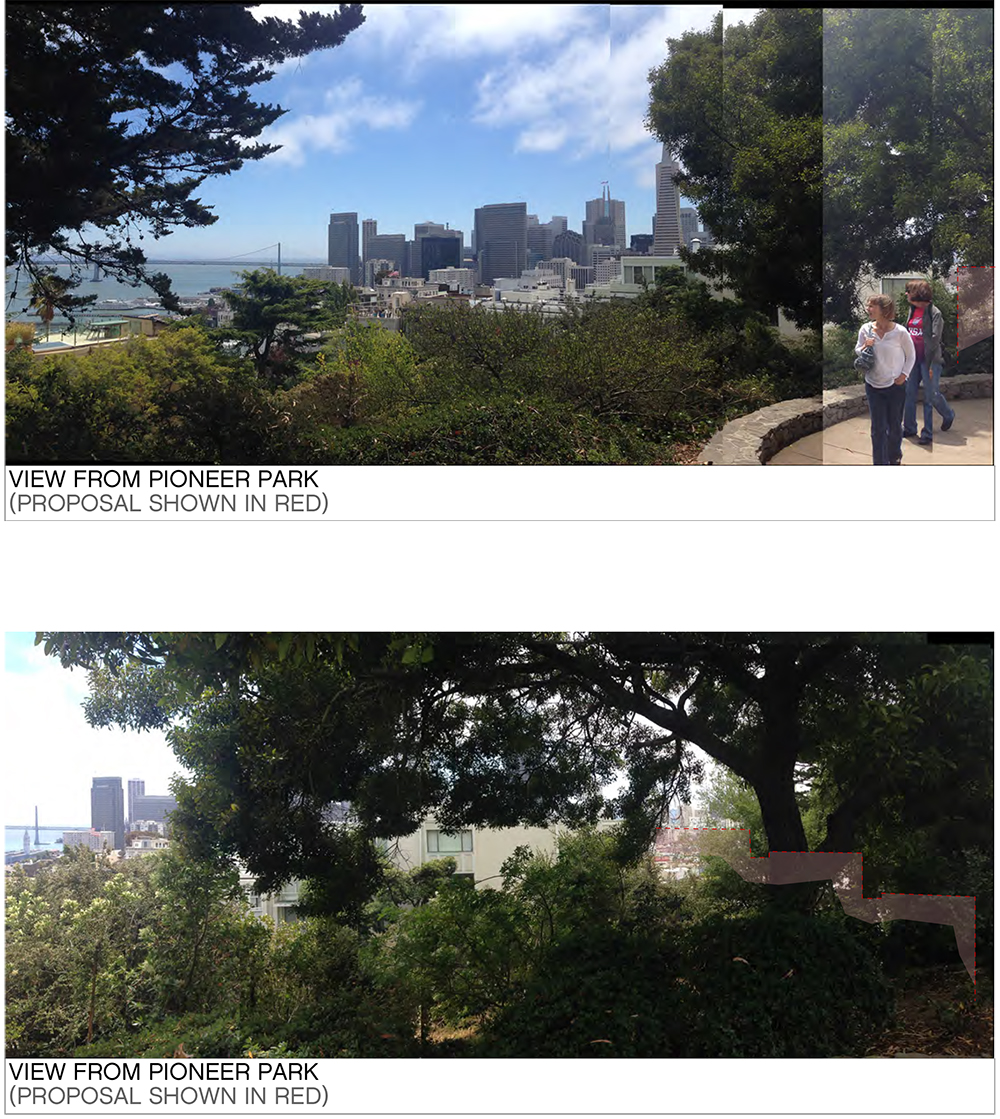 The matter is now facing another appeal in Superior Court by the group opposing the project, which calls itself Protect Telegraph Hill, but Ricks is moving ahead with it. "Given that we have won at the Planning Commission and at the Board of Supervisors and the judge emphatically ruled in our favor, we see there's no reason not to begin construction," he told us before the meeting, which he didn't attend.
Stan Hayes, president of Telegraph Hill Dwellers, told us after the meeting, "We're really disappointed that the developers appear to be going forward with the project even though there is an appeal in the process to the higher court about their permits and the permitting process." He said they'd like Ricks to hold off on building until another decision is made in the courts.
The meeting began with David Swetz, project manager for Butler Armsden Architects, giving a quick overview of the project, which includes three luxury townhomes of more than 4,000 square feet each, a renovated existing 1,000-square-foot cottage and a 3,700-foot, three-car underground parking garage with a turntable so vehicles can pull in and out nose-first. A temporary construction platform would be built where all of the staging would take place, he explained, adding that construction should start in the next two to three months.
Lewis Butler, architect with Butler Armsden Architects, and Jeff Bognar, senior general superintendent for Centric General Contractors, answered most questions after that—and there were many. People asked how long construction would take, how many truck trips would be required, how much water would be used for dust abatement and where it would run off, pile driving noise, what will happen if historical artifacts are found, how neighbors would access their streets and garages, how people in wheelchairs and with strollers would access to the street, compliance with the Slope Protection Act, whether street parking would be taken up and how a pedestrian tunnel would be built, among other questions. One woman even noted that the "girl coyote" lives in that area, and wanted to know what would happen to her.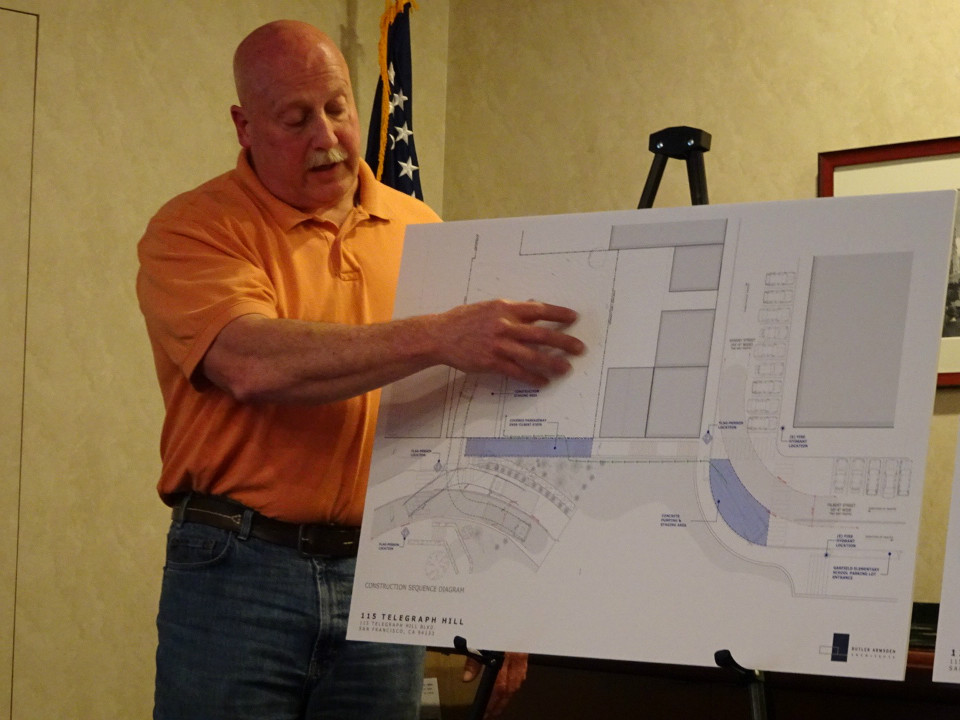 One of the first questions, from Hayes, was whether the construction trucks would adhere to a 6,000-pound weight limit. Butler said there's an exception for construction vehicles, so they expect to use 20,000-pound trucks. He added, "Why don't we make a point of following up on that? I think it can be read both ways."
If 6,000-pound maximum trucks are used, Hayes noted, a professional engineer hired by the opponents estimated that it would require 10,000 trips to complete the project for soil removal, bringing in concrete and more. That's a truck trip in or out every 12 minutes, eight hours a day, five days a week, for a year, he noted. Bognar disagreed, saying they estimate "hundreds" of trips, and Butler said he believed 10,000 trips was "an erroneous number." Hayes asked if they'd filed a construction plan with the city, and was told, "We will."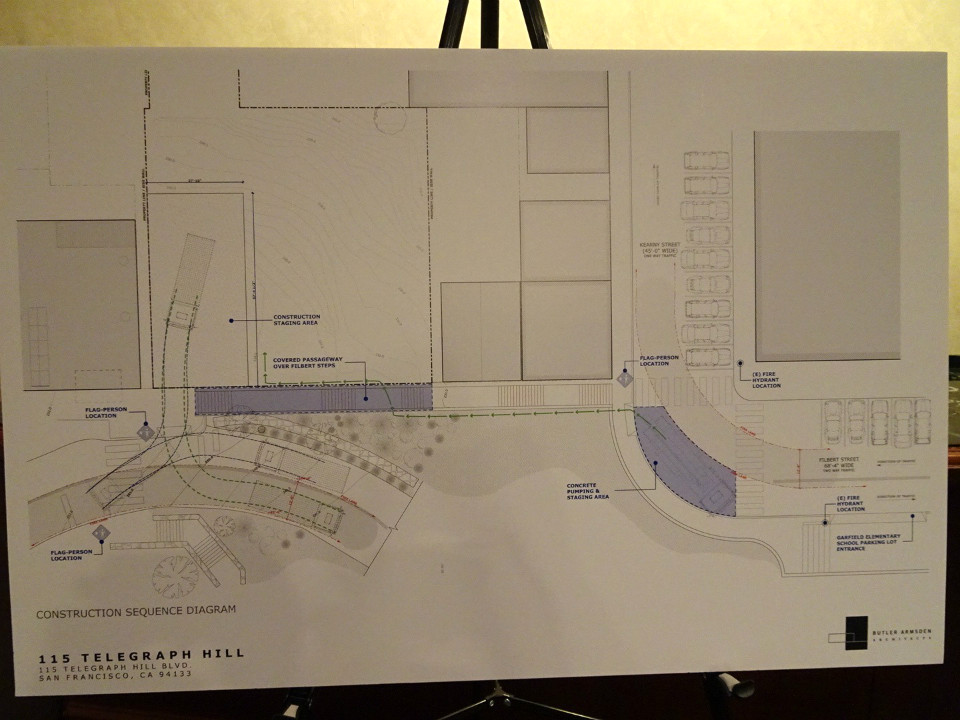 After hearing on many fronts that specifics were unavailable, a woman said, "Until you have those details I think you're wasting everybody's time here." Someone else shouted, "This is bogus." Hayes also said, "It seems to me that an awful lot of the details that are necessary for us to make an informed decision really aren't available yet." He added that they need to explain those specifics in a way that's easy for a layperson to understand.
Butler assured the crowd that no street parking spaces would be used during construction staging, and that all workers and supervisors would park off-site and take shuttles to the work zone. He said flag people will be on site at all times during construction to maintain traffic flow. He also agreed to look into covering neighbors' windows to prevent any breakage from flying debris, and also said another meeting will be held when more details about construction specifics become available. "This is a meeting to hear what the issues are most likely to be that are most sensitive to the neighborhood," he said, noting they'll come back with hard numbers.
Hayes said a developer of any project on the parcel would need a strong plan for mitigating traffic disruption, given the heavy traffic to Coit Tower and the Coit-39 bus route on Telegraph Hill Boulevard. "It's a narrow street," he said. "It's one that requires special treatment, no matter what project would be built on that site."