As we noted briefly, a wild hit-and-run on Saturday evening saw a driver crash into multiple cars, drive against traffic on Fell Street, and end his spree at Fillmore & Duboce, where he crashed into a building. Miraculously, no one was hurt aside from the driver, who sustained minor injuries. 
Whoa. How this guy barreling down Fillmore onto Duboce didn't kill anyone is beyond me. pic.twitter.com/Hzpm29YAX8

— Mario Diaz delaRosa (@MADdelaRosa) June 26, 2016
SFPD spokesman Carlos Manfredi told us that the first calls began coming in around 6:46pm, once the car began hitting parked cars.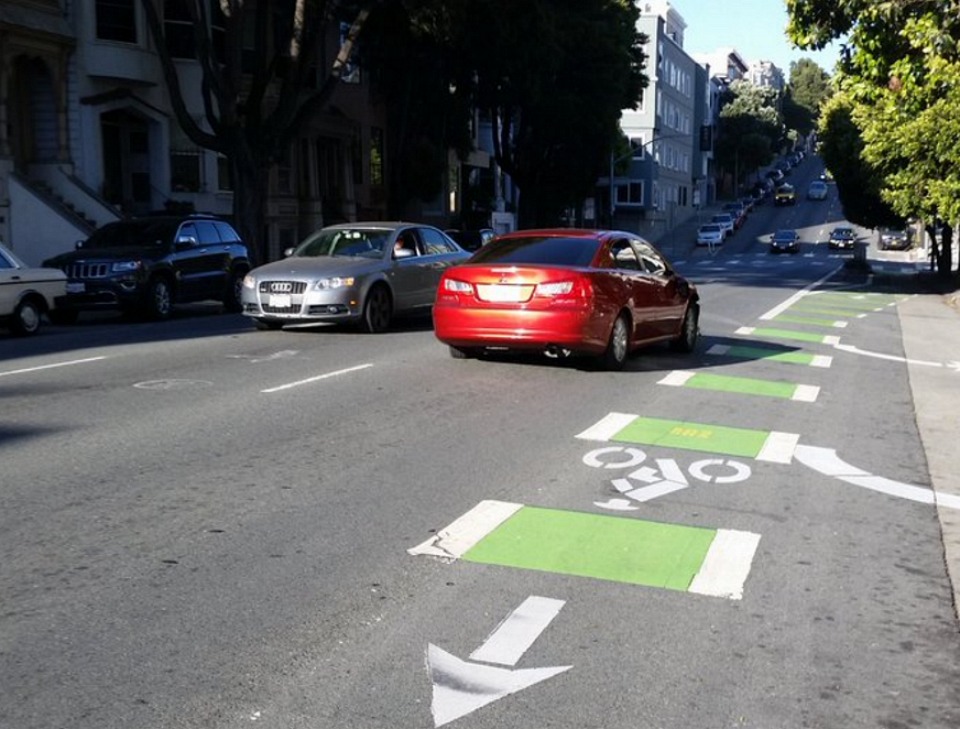 Witnesses first noticed the vehicle near Divisadero & Fell. Reader Adam F. tweeted us a photo, saying that he saw the car "on Fell and Divisadero hit-and-run another car. Driver pulled out of Arco going against one-way traffic, kept going up Fell after."
"The car happened to go by the Church of 8 Wheels (roller skaters) on Fillmore. It crashed into some parked cars there," Michael S. wrote in the comments of our last story. "Folks on skates took chase." (We'd love photos of that, by the way.)
An anonymous reader wrote in with a first-hand account:
I was involved in the multiple hit-and-run incident from last night that ended at Fillmore and Duboce. He hit the car behind me so hard that mine was pushed more than 10 feet up onto the curb at the corner of Fillmore and Fell. The car behind me lost its bumper and grill, but Volvos are like tanks, so it looks pretty much the same, but died. RIP Ilsa. The oil stain in the photo is where the car WAS parked.
The suspect car then headed south on Fillmore, smashing more cars along the way. "The red car also smashed into a parked Getaround car at Waller and Fillmore and left its front bumper behind!" wrote Amy M. on our Facebook page.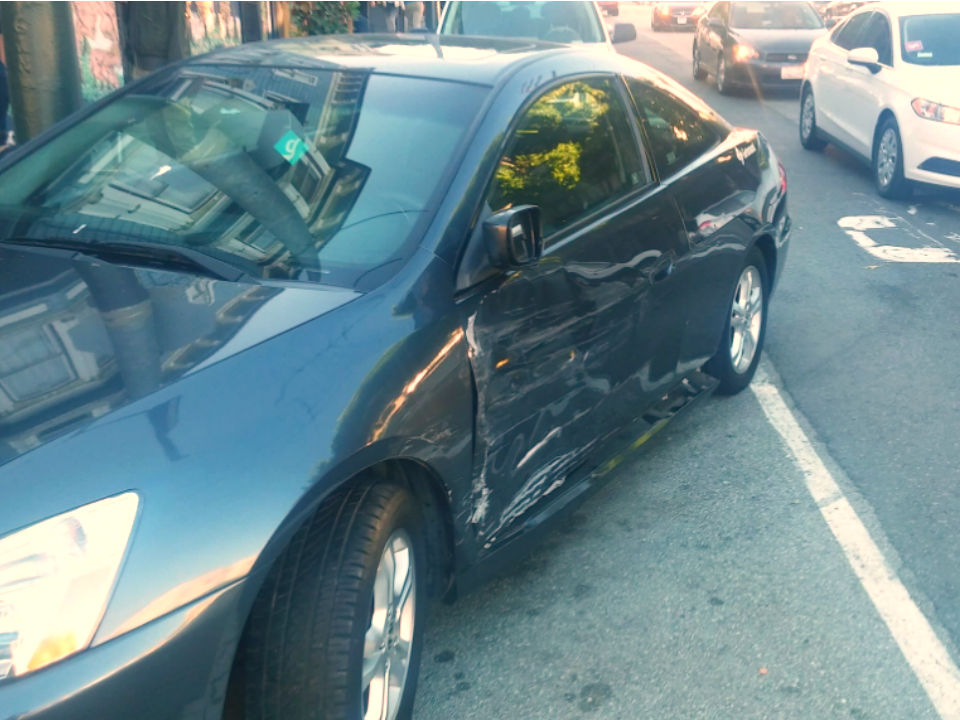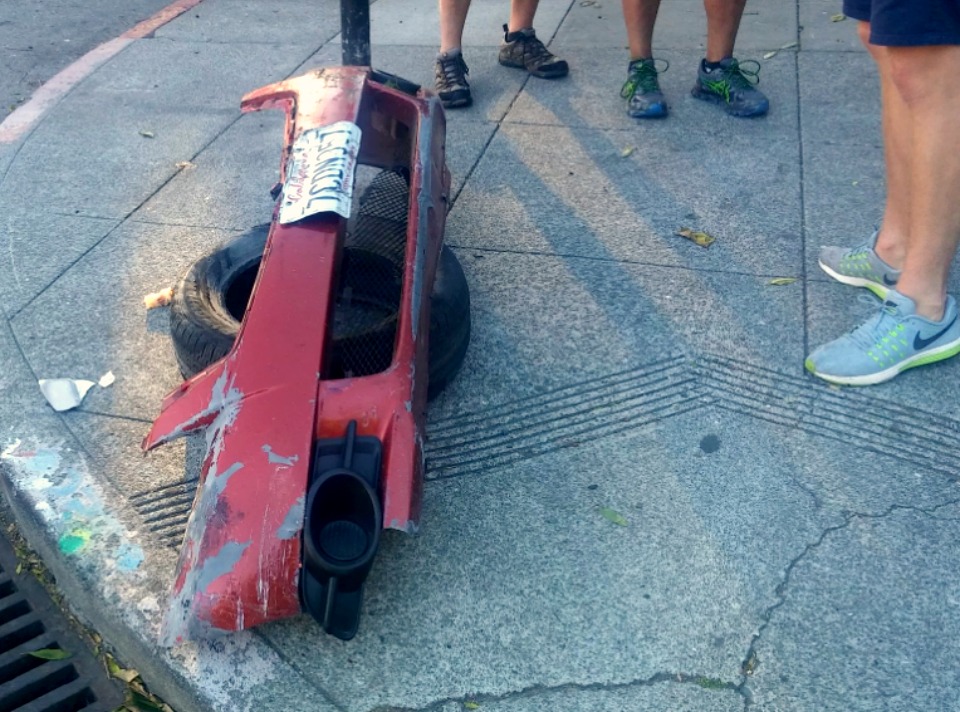 The driver's rampage ended when he crashed his car into the apartment building at 435 Duboce Ave. Officer Manfredi told us that the suspect was arrested, and transported to San Francisco General Hospital with minor injuries. He appears to have been intoxicated, according to Manfredi.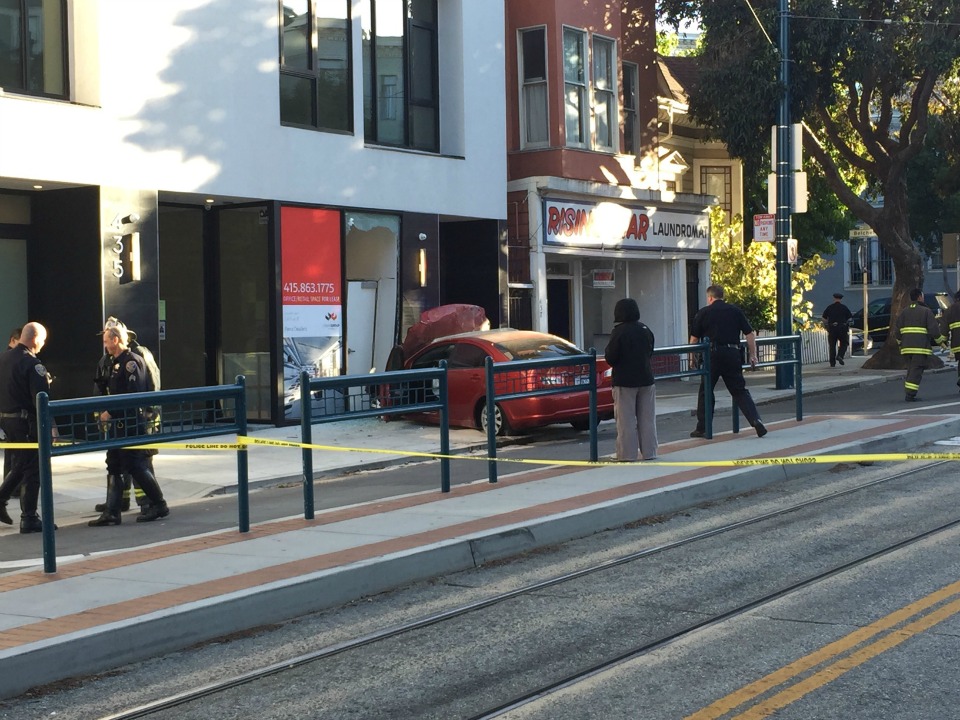 This is at least the fourth hit-and-run to take place in the city in less than a week. On Wednesday evening, two drivers fatally struck cyclists in SoMa and Golden Gate Park, then fled the separate scenes (one was arrested, while the other remains at large). On Thursday night, a hit-and-run in North Beach left one pedestrian with serious injuries. 
If you happen to have captured more photos or video of this incident, please send them along to [email protected]