The end has come for yet another Tenderloin dive. The Brown Jug at Eddy and Hyde, which is believed to have been in continuous operation since 1941, has closed—and it appears that a mysterious liquor license suspension is the culprit. 
According to a notice posted on the bar's brown facade, the Brown Jug's liquor license was suspended on June 16th, and is not eligible for reinstatement. The bar's door was open this morning, and while owner Max McIntire wasn't in, a man at the bar confirmed that it is permanently closed.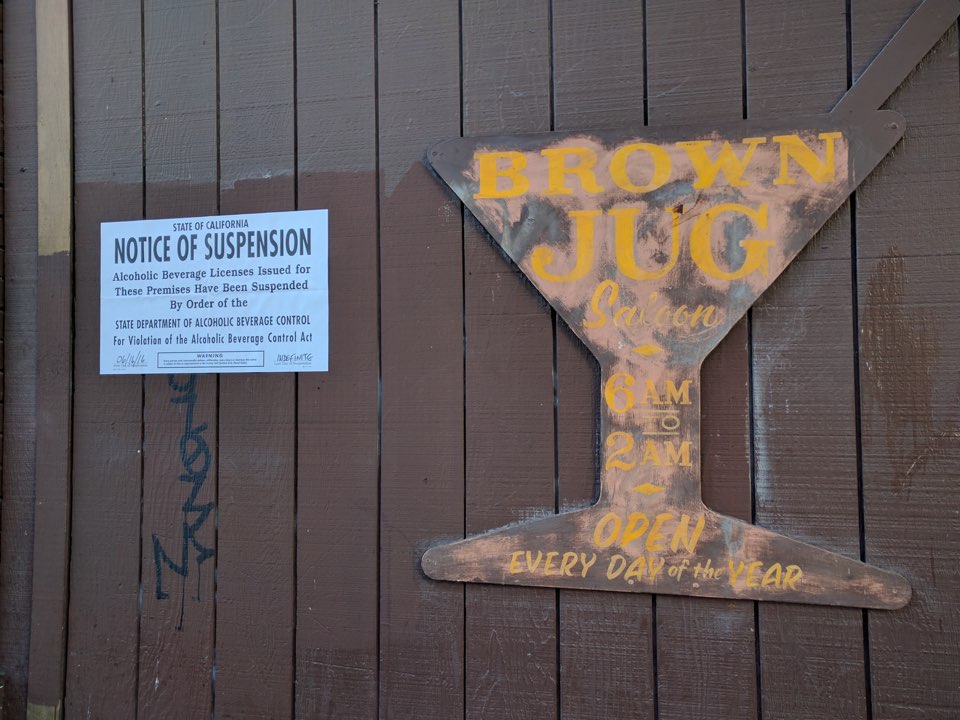 We've reached out to several parties to get more details on the reason for the suspension, including the Department of Alcoholic Beverage Control headquarters in Sacramento and the local bureau, the SFPD's Alcohol Licensing Unit, and SFPD Tenderloin Station, but have yet to hear back from any of them.
However, multiple tipsters have emailed Hoodline to say that the suspension was the result of an undercover sting conducted by the SFPD. We're continuing to investigate, and will share more details as soon as we know more.
[Update, 2:25pm, 6/17] Eric Hirarta, deputy division chief with the California Department of Alcohol Beverage Control, has confirmed that the ABC conducted an independent investigation into the Brown Jug after receiving a citizen complaint. Over five months, one undercover agent attempted to sell purportedly stolen alcohol to the bar and buy drugs. The agent was successful in doing so on four different occasions.
To clarify how the alcohol sales were handled, Hirarta explained that the undercover agent was clear that the alcohol offered was stolen. In terms of drugs sales, the sale of cocaine to the undercover agent from a patron was facilitated by a bartender. Hirata also confirmed that the bar owner and multiple bartenders were involved in these transactions.
Regarding which agencies were involved in this investigation, Hirata said that the ABC conducted this investigation independently. However, the agency did involve the SFPD on June 2nd, when ABC agents arrested two individuals—a bartender, Samson Christopher Eric Baker of San Francisco, and a patron, Erik Javier Montoya-Marquez of Oakland, who facilitated the sale of cocaine to the agent.
Given that the liquor license is indefinitely suspended, Brown Jug owner Max McIntire has six months to transfer the license to another business—away from this location. If another bar opts to occupy 496 Eddy St., the business will have to wait one year to apply for a liquor license.
Up From The Deep, a historical website run by neighborhood resident, photographer and Brown Jug regular Mark Ellinger, noted a few years ago that the Brown Jug had been in continuous operation since 1941. But despite its reputation as one of the neighborhood's true iconic dives, rumors have long been circling that the bar was struggling.
In a lively episode of "Dirty Old Bar" filmed in 2013, one of the saloon's long-time bartenders shared that it was far less busy than it used to be. Hoodline has also heard numerous rumors in recent months that McIntire was looking to sell the business, but despite repeated visits to the bar, we were unable to speak with him. No sales listings or ownership change documentation for the bar have surfaced as of yet.
However, the closure may not have been as abrupt as it appears. Twitter shows that regulars like Ellinger got word late last month that the party was coming to an end, and organized a farewell gathering.
@thetens @troy The Brown Jug will be closing down forever in 2-3 weeks, a month at most. Shall we meet to say goodbye?

— Me and My Shadow (@tobiemarx) May 28, 2016
For those who weren't able to say goodbye properly with one last shot, beer and jukebox tune, there are a few ways to relive the Brown Jug experience. Yelp reviews posted by locals and tourists over the years recount many of the bar's unique attributes and colorful characters. Or, for an even more immersive experience, you can always throw the bar's "Dirty Old Bar" episode on repeat.