A new mixed-use development wending its way through the Planning Department may bring 100 new units of housing to Hayes Valley. 
The development, slated for 1740 Market St., would sit adjacent to the new-ish 8 Octavia, and across the street from a proposed development at 1699 Market St., where Flax Art is winding down operations after opening a new Oakland location. It's also half a block down from a proposed 42-unit, seven-story development at 1700 Market St. 
The current building at 1740 Market was constructed in 1940, and contains the offices for David Rio (whose chai bar is located at Sixth & Market), as well as Proposition Chicken. There's no word yet on what the future will hold for the businesses which could lose their spaces as part of the proposed development.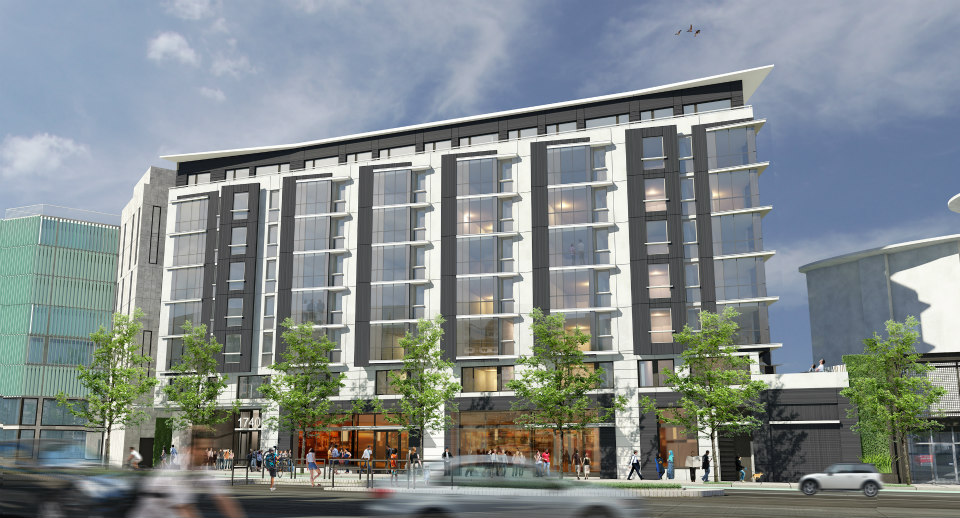 According to documents filed with the Planning Department, the nine-story, 85-foot building would include 100 units, as well as 7,630 square feet of commercial space on the ground floor, facing Market Street. No car parking is planned, but 110 bicycle parking spots would be included.
The project is being developed by Divco Group, which is behind such buildings as the 42-story office building at 333 Bush St., a five-story building at 631 Howard, and a ten-story building at Grant & Geary.
The architect is Warner Schmalz of Forum Design, whose name you may recognize his name from our coverage of the project at Divisadero & Grove, and the building which might replace Lucky 13 further up on Market.
A Planning hearing will take place to review the project on July 28th; stay tuned for updates as the project moves along.