Last month, we reported that small sandy lot at the southwest corner of the DMV had been transformed into a lush garden, thanks to the work of longtime local resident Brian Poppyseed. 
But according to Poppyseed, the nascent garden project has already been condemned. "Sadly, On Monday [of last week], while working on the plot, I was informed personally by the woman in charge of the SF DMV that my garden was deemed illegal, and that she had forwarded pictures to the head office and had scheduled workers to remove the garden," Poppyseed wrote.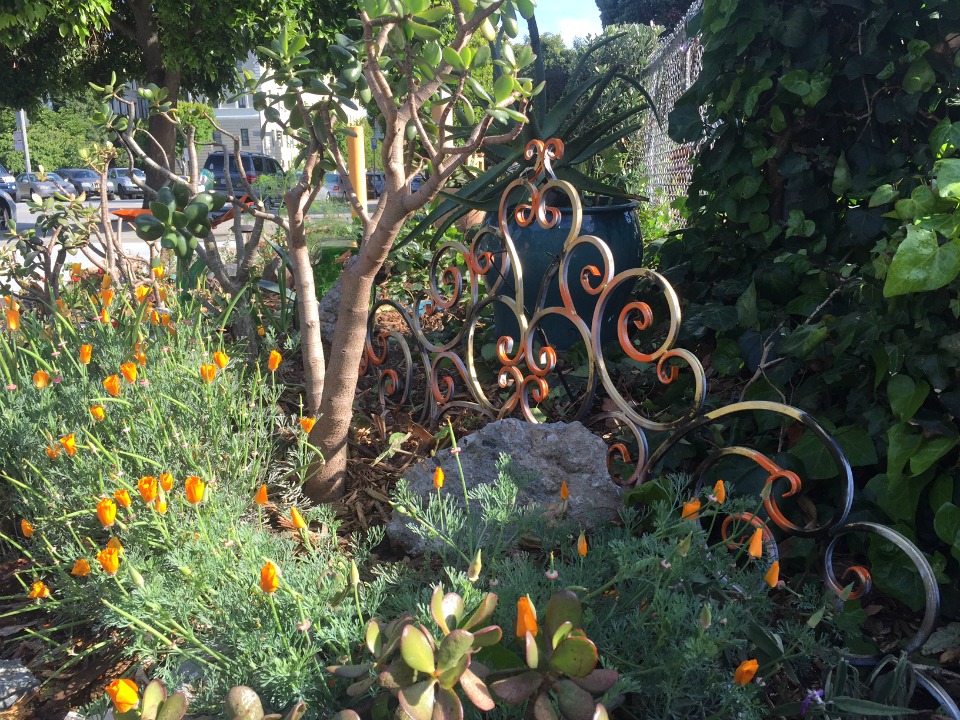 Poppyseed had planted California poppies, jade plants, aloe and succulents over the span of several weeks, as well as installing handmade sculptures and a little path. But Jessica Gonzalez, Assistant Deputy Director of Public Affairs at the DMV, told us that "the individual did not receive permission to plant on State property or install decorative items and a brick pathway."
Before the DMV could dispose of his succulents and sculptures, Poppyseed moved them himself—around the corner, to the foot of a tree on the sidewalk bordering Oak Street. It took him a full night of work to move everything, but he's pleased with the results.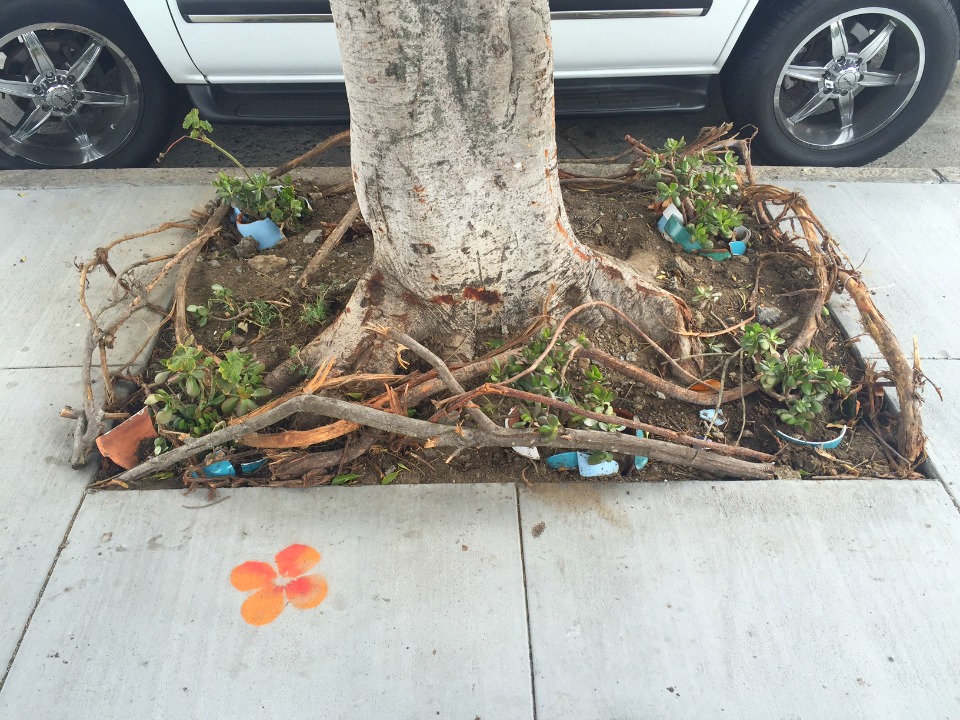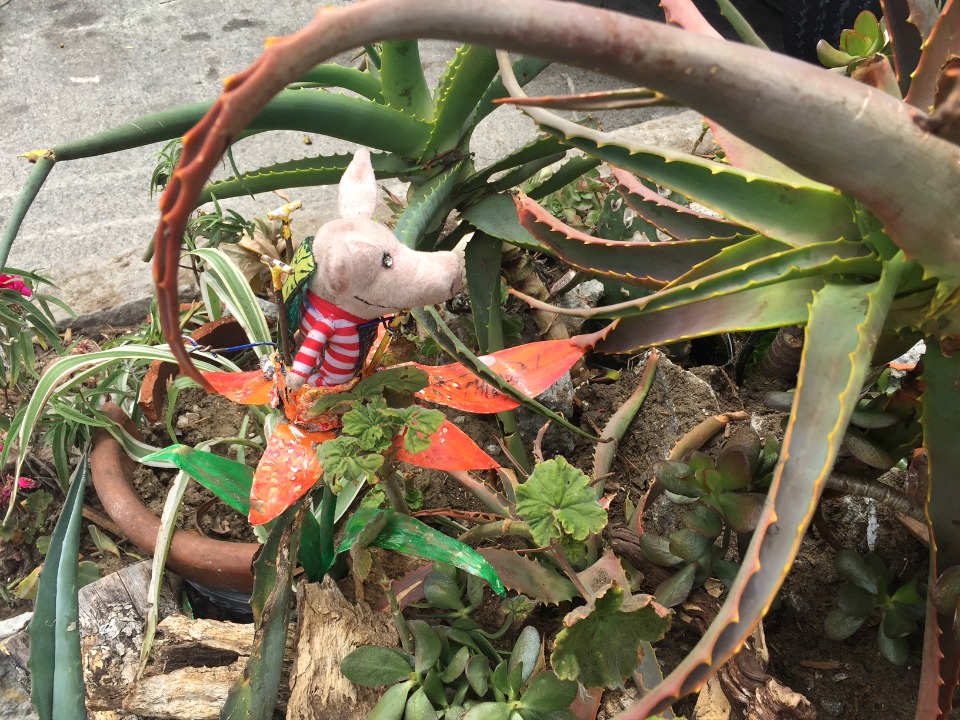 "I now have 'guerilla gardened' nearly the whole block of Oak between Baker and Broderick," Poppyseed told us. "I am especially proud of my latest ploy, which is at the Broderick end of the block.  I created two sculptures using bike gears that I had previously recovered from the garbage at the DMV. It's a perfect example of one man's trash being used as another man's art."
As to whether the gardens will be allowed to stay: that's up for debate. Poppyseed is planning on reaching out to local Supervisor London Breed to make her aware of the public's support for the gardens, and to ask for her help in keeping them around.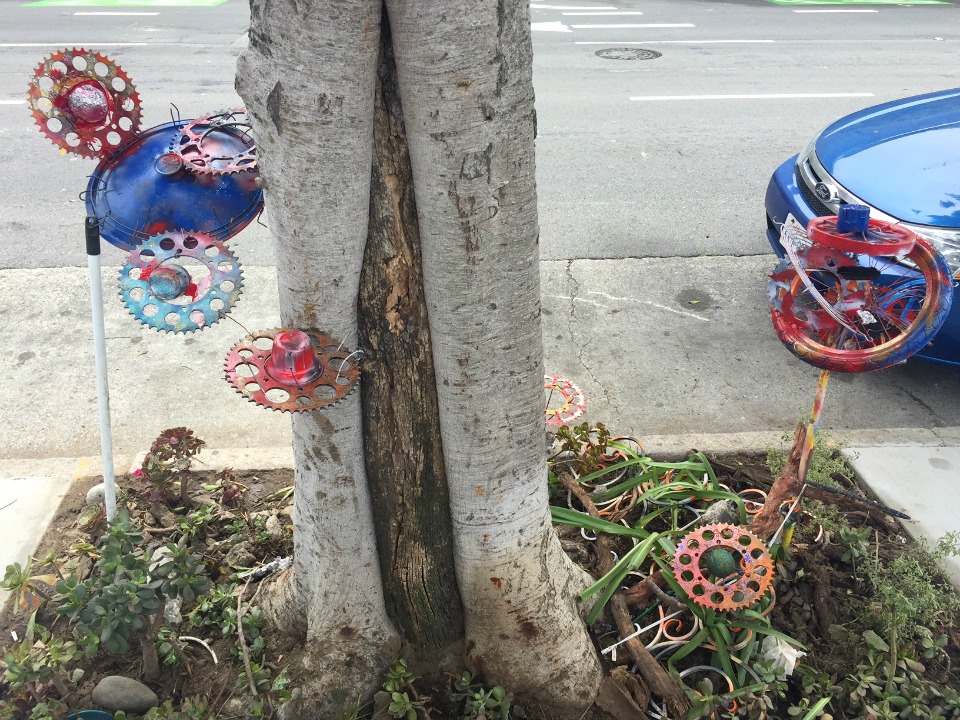 Meanwhile, the sandy plot of dirt at the corner of Oak & Baker has returned to its prior state.