In Cool Gray City of Love, local author Gary Kamiya declares that "... Glen Park now holds the James Taylor title as Country Road Capital of San Francisco." Sure enough, a trip to the neighborhood reveals three dusty roads—Poppy Lane, Penny Lane and Ohlone Way—snaking their way through the middle of the city, paying no heed to the hard-edged urban landscape around them.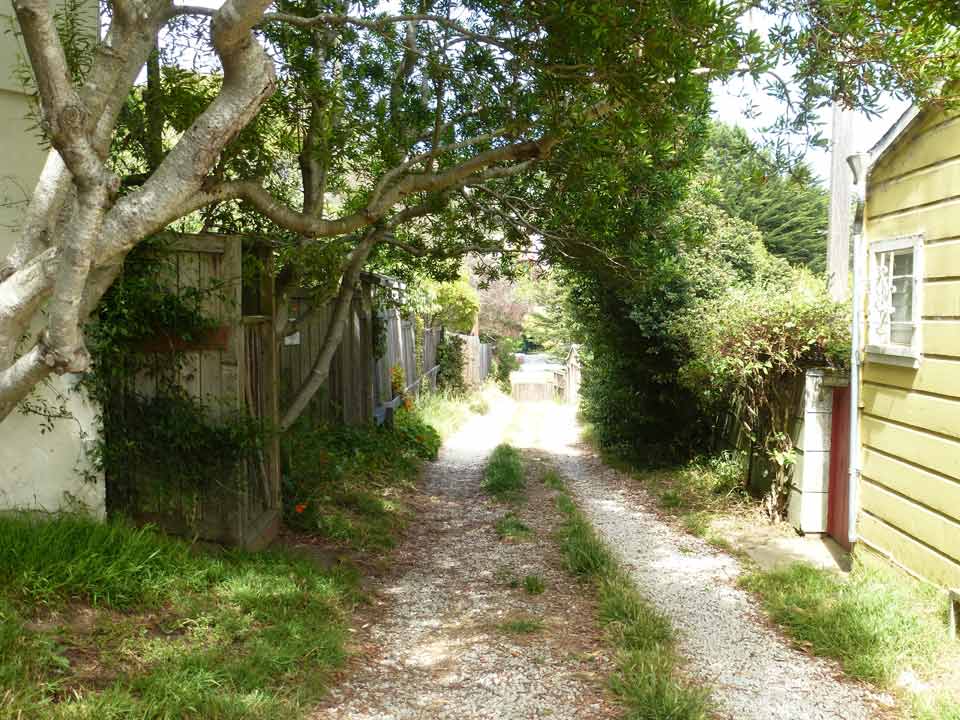 Surfaced with loose gravel, dirt, vegetation and pine needles, these soft streets sneak between back yards, their boundaries defined by leaning fences and lush flowering bushes. If it wasn't for the occasional honking horn or the distant rumble of BART, you'd swear you were wandering the countryside.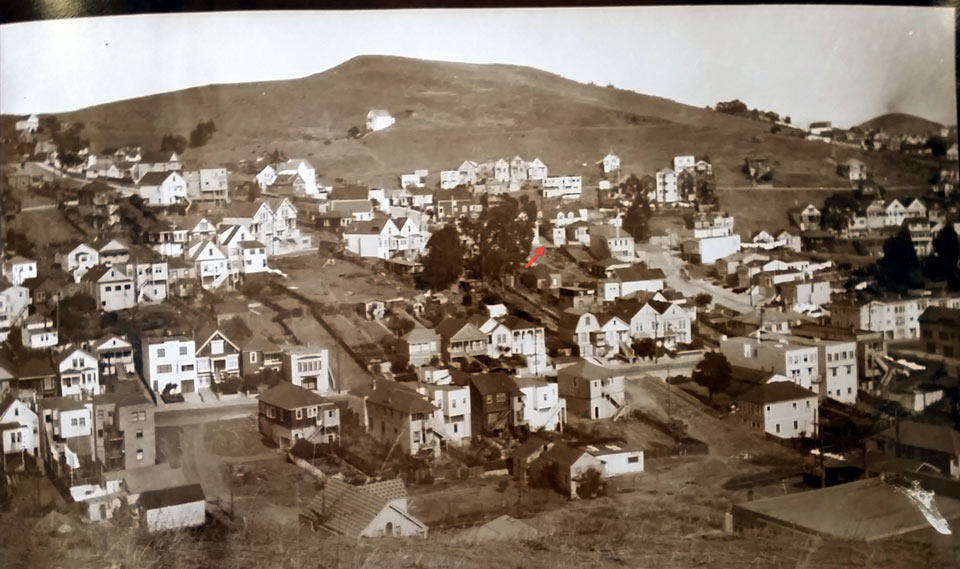 Evelyn Rose, chair and founder of the award-winning Glen Park Neighborhoods History Project, tells us that these lanes were originally constructed as carriageways. Walking along Ohlone Way, you'll see a few of the old carriage houses lining the path, and half expect a horse to come trotting around the bend.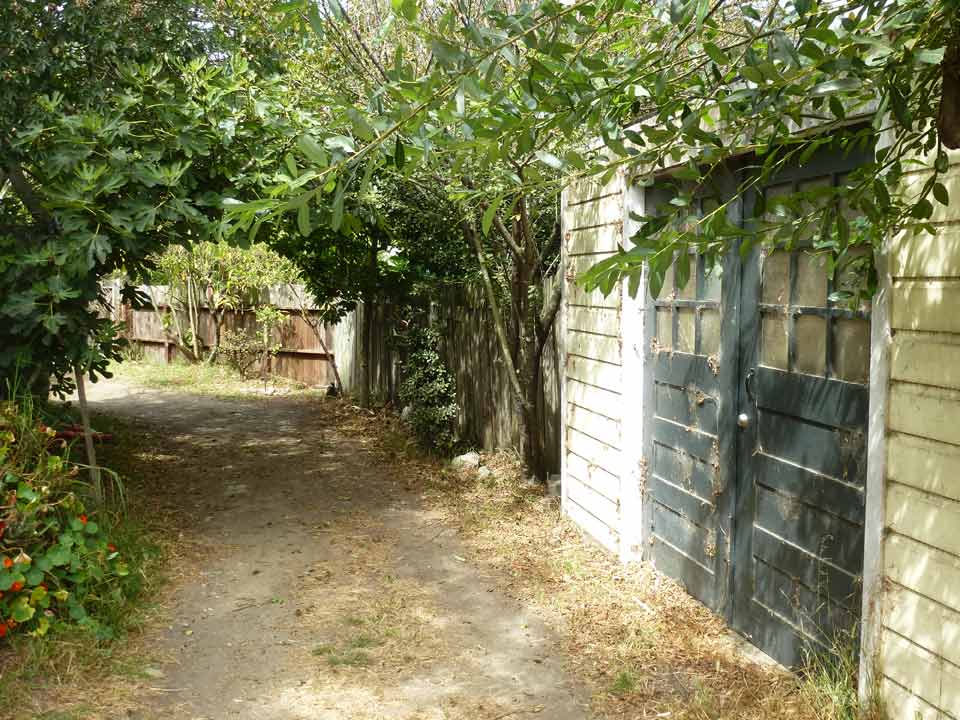 Poppy Lane, the longest of the three roads, spans both sides of Diamond Street, beginning at Conrad Street and dead-ending into a wild brush above Bemis Street on a steep hillside overlooking the city. Trees arch over the rough road as it rolls along. A scattering of garages face the lane allowing for limited local vehicle access.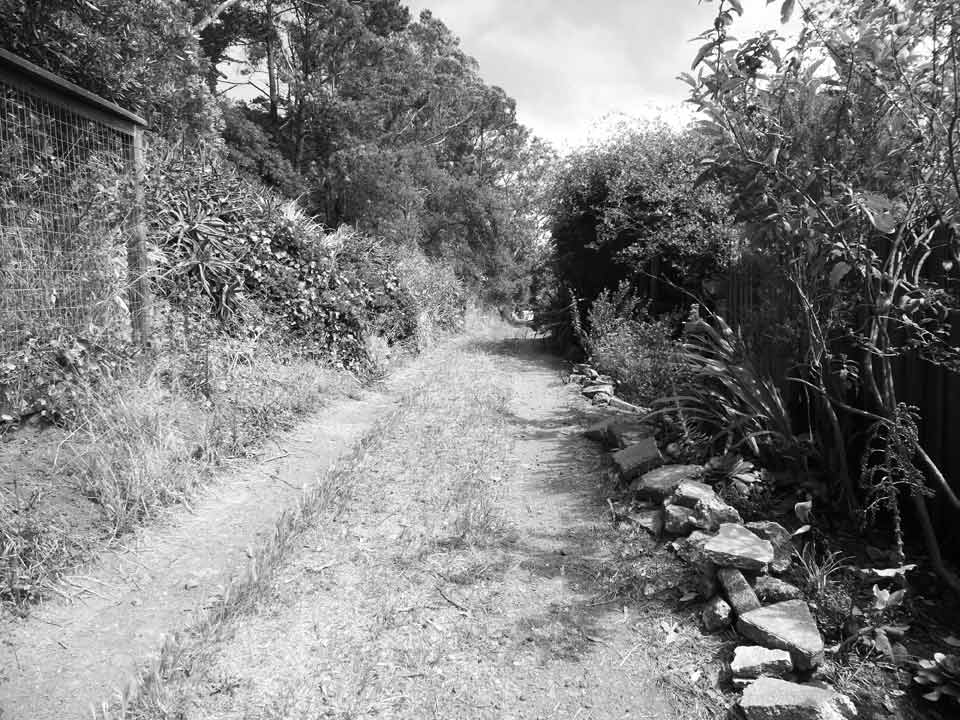 East of Diamond Street between Sussex and Surrey streets, Penny Lane meanders along the hillside framed by bougainvillea, wild roses and nasturtium - a veritable butterfly heaven. Backyard gates line the road, ready to open onto this linear paradise. After about 200 yards, the road ends and a landscaped stairway steps down to Surrey Street, a project designed and constructed by neighborhood residents.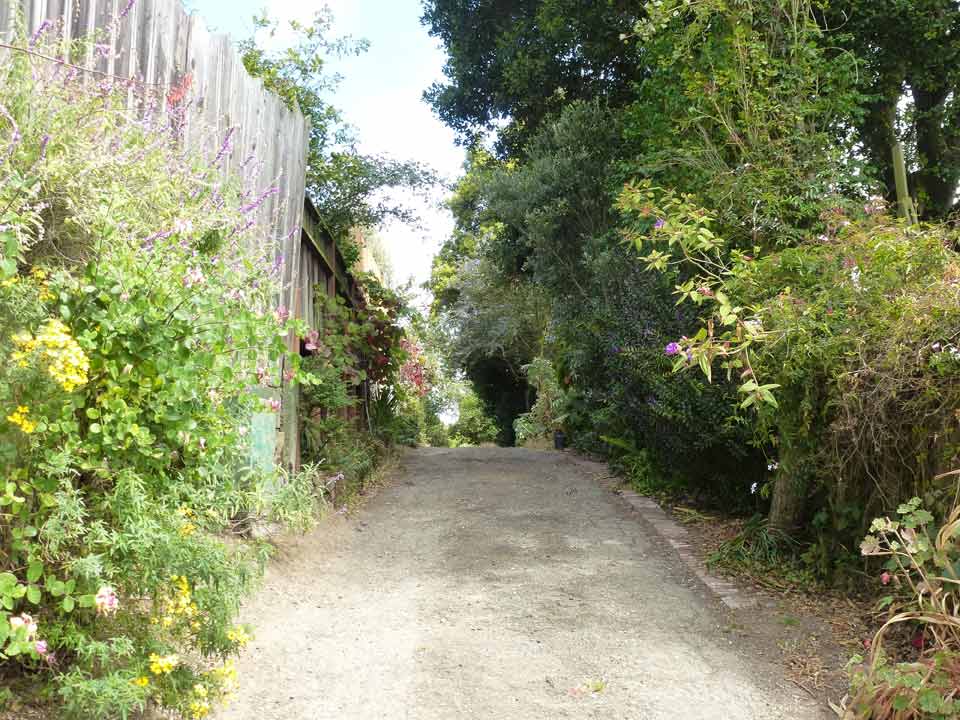 According to
a history of the lanes
compiled by Ms. Rose, Ohlone Way remained nameless until 1992. An adjacent property owner cleared the brush that had accumulated in the alley and spearheaded an effort to name the passageway after the Native Americans who had once lived in the Bay Area. Ohlone Way is very narrow—about 13 feet wide—and with a steep slope to Sussex Street, vehicle access is strongly discouraged.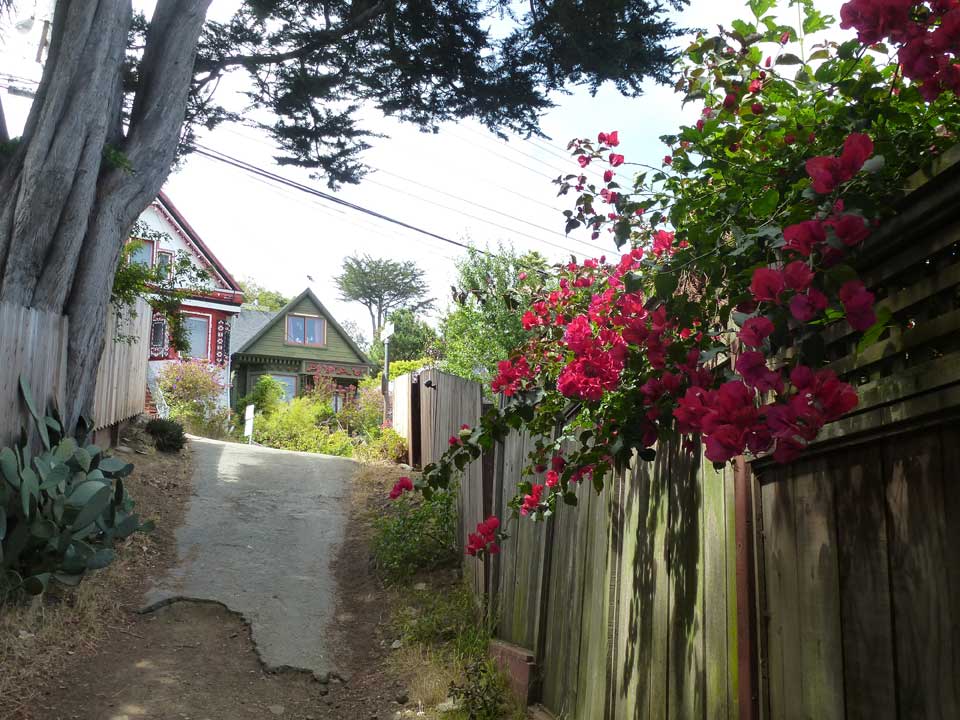 The unpaved roads are shown on maps and marked with street signs. All of these streets, totaling one-half mile, are owned but not maintained by the city. The Department of Public Works calls them "unaccepted streets" because these rights-of-ways do not meet city standards for street construction. Your first instinct might be to feel sorry for these remnants of the past that have been excluded from the official public road network, but they are cared for by adjacent property owners.
San Francisco Public Works tells us there are approximately 1,017 miles of streets in the city and approximately 869 of those miles are "accepted streets," maintained by the department. "Paper streets," those that are planned but not yet developed, are included in the total mileage of city streets. Found in such places as Hunters Point, Treasure Island and Yerba Buena Island, paper streets will likely be added to the list of accepted streets once they are constructed.

There is no official city inventory of natural surface streets, but there are more out there, hiding among their paved cousins, waiting for you to discover them.
Getting there: A short walk up Diamond Street from the Glen Park BART station or a ride on the Muni 52-Excelsior bus takes you to these rural outposts. The streets are clustered near  Diamond, between Moffitt and Surrey streets.