At the corner of Funston and Clement stands a rather unusual sight: a large, pearly white building bookending a row of unassuming Central Richmond homes. While the impressive institution could be mistaken for a museum, or perhaps a curiously-placed courthouse, it is in fact a former church that now houses San Francisco non-profit the Internet Archive.
You may have heard of the Internet Archive, or even if you haven't, chances are you've taken a digital trip down memory lane using one of its more well-known creations, the Wayback Machine. In addition to preserving 1 billion web page captures a week (essentially "backing up" the Internet), the team at the Archive has also cataloged and digitized millions of books, films, live concerts, games, and software, which have been made publicly available on its website archive.org. And unbeknownst to many, much of this archival work takes place right in the heart of the Richmond District.
Mark Graham, Director of the Wayback Machine project, tells us how the Archive came to reside in the neighborhood.
"The Archive was founded in 1996," says Graham. "Our headquarters were in the Presidio before that, but when this site became available, our founder Brewster Kahle took one look and said, 'That building looks just like our logo!'" Naturally, says Graham, they couldn't refuse the opportunity.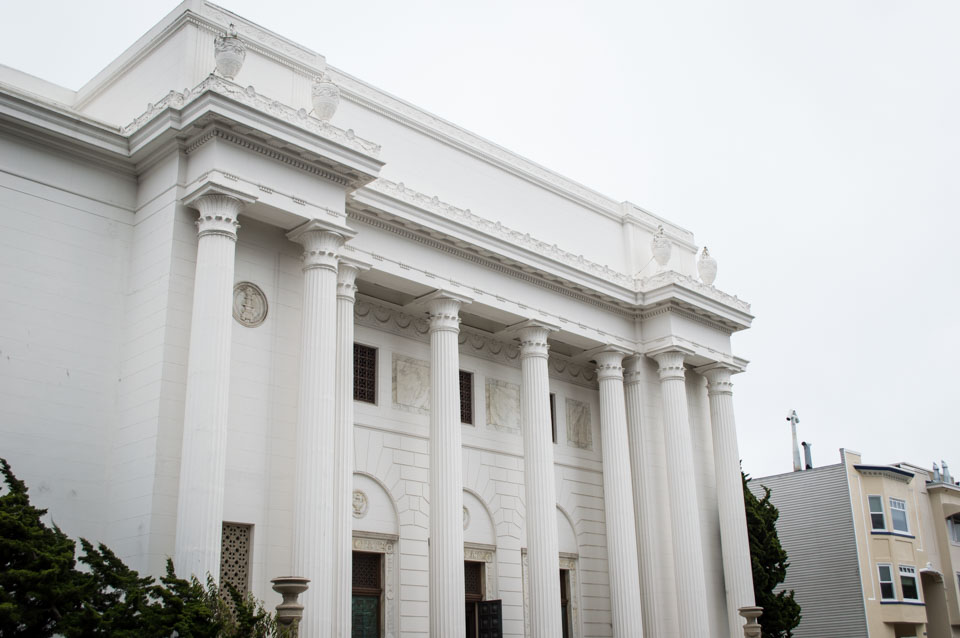 The building, a stately neoclassical standing at the corner of Funston Avenue and Clement Street, was built in 1923. Up until 2009, it was home to a Christian Science church, complete with a worship hall on the upper level and Sunday School rooms downstairs.
Today, the upstairs auditorium (now called the "Great Room") has retained its pews and intricate stained glass windows, but with some added technological flair. Next to the altar, in a space normally reserved for hymn numbers, there are instead rows of digits representing Pi and the Golden Ratio. Stacks of blinking servers stand under arches where religious statues may have once watched over church-goers.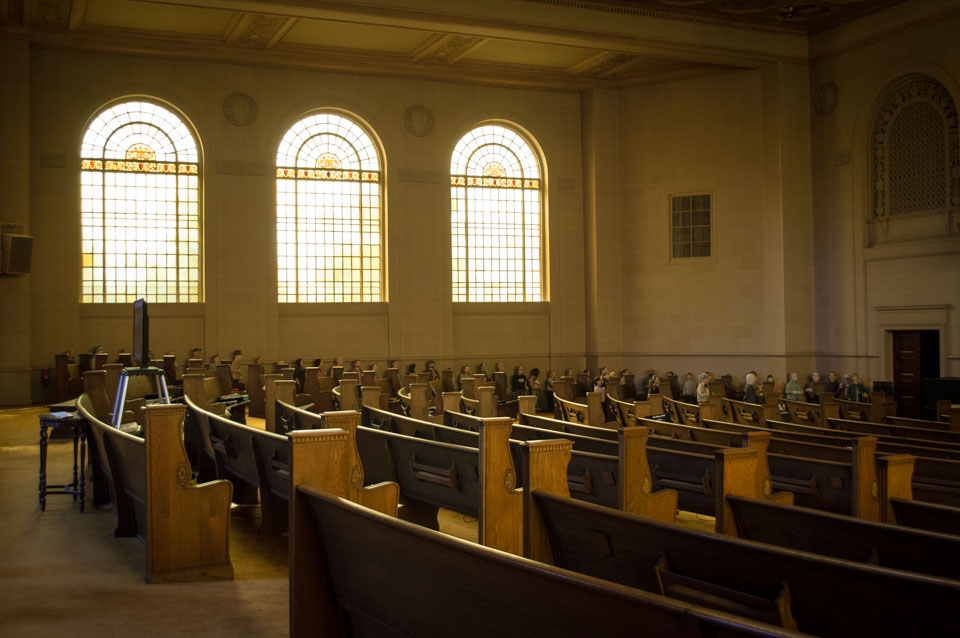 "This is where we hold our events," Graham says of the Great Room. "Last month we hosted the Decentralized Web Summit, which you may have heard of, and in October we'll be using this as the venue for our 20th anniversary." Most recently, the space was used this week for an event focused on the "humanitarian use cases for Bitcoin." The Great Room also doubles as a workplace, evidenced by a small group of employees and volunteers sitting in the back pews, diligently digitizing CDs during our tour.
Employees at the Archive come from a variety of backgrounds; from Ivy League graduates to self-taught programmers to non-profit workers, all share an unbridled enthusiasm for research and technology. We learn that many of the staff began as volunteers, and enjoyed the experience so much that they joined the team full-time. 
In fact, employees who have worked at the Archive for at least three years even get their own statue dedicated to them, Graham tells us, which explains the 100+ miniature figures lining the pews of the Great Room.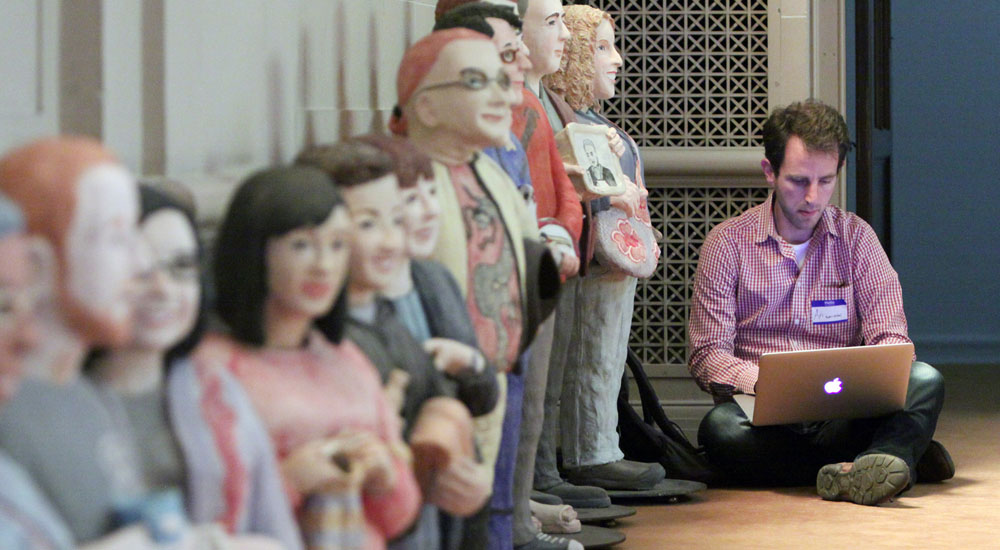 The Archive's San Francisco headquarters is a unique collaboration between 60 engineers, librarians, researchers, and volunteers, whose day-to-day jobs vary depending on the latest request. 
"Last week I came to work and our entire lobby was filled with VHS tapes," Graham recounts, a statement that would seem like an exaggeration in any other context, but completely normal here. The tapes—like much of the Archive's physical inventory—had been donated, in this case by a local video store that had gone out of business. 
As we tour the building, we pass an archivist who stops to show us several boxes filled with the letters, notebooks, and tapes of Marion Stokes, a talk show host and fervent recorder of news broadcasts. Downstairs in the lobby, staff members affix the film reels of a medical documentary to a giant machine, preparing them to be digitized. Donated materials like these provide invaluable historical and cultural significance, and yet, we're told, they would likely never be seen by the public if not for the Archive's efforts.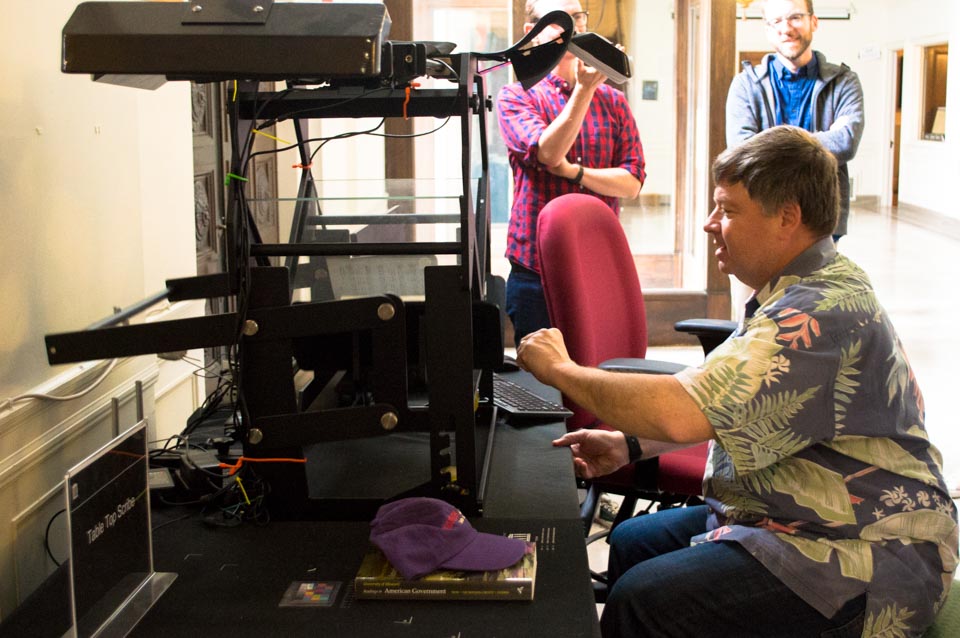 The Internet Archive's motto, "Universal access to all knowledge," is one that underscores its mission to not only preserve and share as much of the world's information as possible, but to provide the tools for individuals and organizations to do the same. As our host and many others have indicated throughout our visit, the Archive is a collaborative project, one that relies on partnerships and contributions from around the world.
It's a noble undertaking, and a challenging one at that. As Mark Graham explains:
The inherently ephemeral nature of digitally recorded data—including music, moving images, and the web) threatens our ability to reliably "look back" at our collective history.

At the same time, analog media like paper and film are becoming less available to people worldwide, as traditional libraries trim their holdings and close their doors.

The staff, volunteers and partners of the Internet Archive are diligently working to gather, preserve, protect and publish this material to millions of visitors, for free and, one day at a time, forever.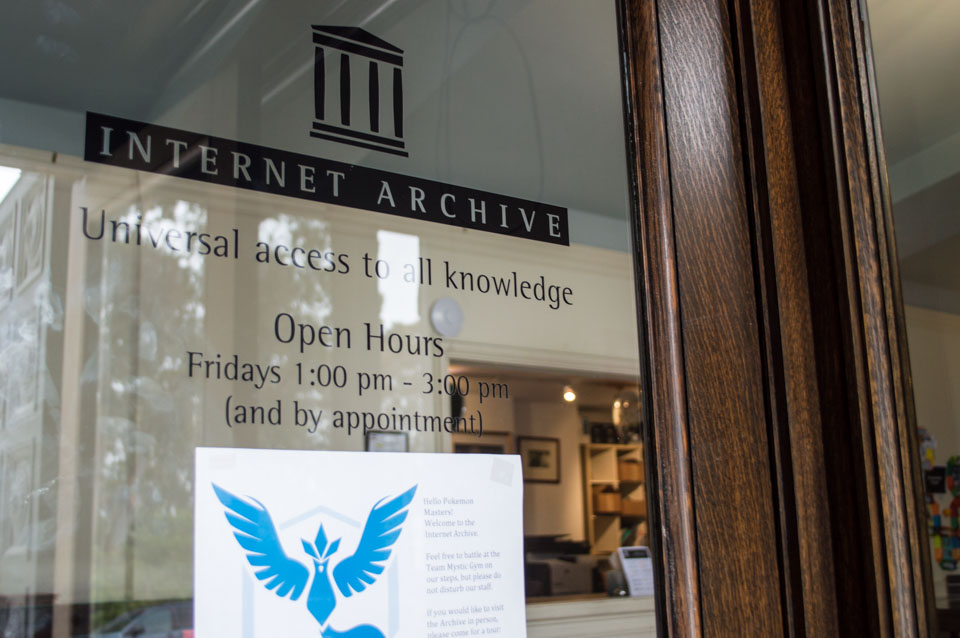 The Internet Archive offers free tours every Friday at 1:00pm. The non-profit organization celebrates its 20th anniversary this October.