Since our last roundup, there's been a wide spread of different kinds of crime & safety news, including a life-threatening stabbing, multiple robberies at gunpoint, checking in on the work of the Mayor's Fix-It Team, and the disappearance and rediscovery of a beloved neighborhood lemonade stand. Read on for the latest; all reports are in chronological order and come via the SFPD, unless otherwise noted.
Community Raises Funds For Brutally Beaten Badlands Employee
Early in the morning on August 11th, Badlands employee Tommy Castellani was brutally attacked after leaving karaoke night at The Cafe. He told us he isn't sure why he was attacked. "One of the ideas is that it might be revenge from someone who I may have had to ask to leave [Badlands] previously. Or it could be a random gay bashing. The only facts are it was brutal and nothing was stolen from me. I am currently trying to piece together info."
A GoFundMe page was set up to help raise funds to support Castellani's medical expenses following the attack. His injuries required emergency surgery on a fractured jaw, as well as additional fractures and breaks. As of today, 169 people have raised more than $8,300 to help Castellani, who posted this message on the page:
"You can bash my face but you will not get my spirit, you can not take the love that has been given to me from all of you.I am unafraid I only feel blessings. I will heal and I will still be beautiful. You have done nothing but brought bad karma and the promise of a long stay in hell. Your hatred and evil have only wrapped me in so much love from all around me, you have only increased my spiritual wealth."
SFPD Officer Injured In Traffic Collision
On August 17th at 3:15pm, an SFPD officer was injured when a vehicle rear-ended the officer's motorcycle at 16th and Sanchez. The driver of the other vehicle, a 30-year-old man, failed to stop, resulting in non-life-threatening injuries to the officer.
Eagle & Market Robbery With Gun
A woman, 30, and a man, 23, were robbed at gunpoint on August 20th at 2am near Eagle and Market. The two victims were arguing on the street when three male suspects, 19-21, exited a silver vehicle, pointed a gun at the victims, and demanded their property. The victims gave them laptops, backpacks, and a cellphone. The three suspects then fled in their vehicle and no arrests were made.
Dolores & 15th Robbery
On August 21st, a man, 41, was walking near Dolores and 15th around 1:30am when he was assaulted and robbed. A male suspect struck the victim from behind, causing the victim to drop his phone. The suspect took the phone and no arrest was made.
18th & Hattie Robbery With Gun, Part 1
Only 40 minutes later on the 21st, at 2:10am, another robbery occurred at 18th and Hattie. Three women, 23-24, were walking when a man, 20-25, pulled up in a red vehicle and pointed a handgun at the women, demanding their property. The three victims gave the suspect purses, phones, wallets, money, a passport, and a backpack. The suspect then got into the passenger side of the red vehicle and fled on 18th. No arrests were made.
Twin Peaks Robbery With Gun
On August 22nd, two men, 23 and 25, were taking photos near Twin Peaks when they were robbed at gunpoint. At 10:10pm, a 20-year-old male suspect approached them and put a gun to one victim's back, threatening to shoot both victims if they yelled. A second suspect, another 20-year-old male, took the other victim's backpack, tablets, hard drive, camera, camera lens, and money. Both suspects fled on foot, and no arrests were made.
Church Street Hot Prowl
A 36-year-old woman woke up to a male intruder in her room near Church & 18th on August 24th at 3:00am. The victim awoke to see the suspect in her room and yelled at the man, who then fled on foot with a stolen cell phone and other items. No arrest was made.
Hoodline Reader Recalls Attempted Robbery
Later on the 24th, we received a tip from an anonymous reader who reported a possible robbery situation:
"My girlfriend and I nearly got mugged at the corner of Noe and Henry streets in Duboce Triangle. Three teenagers walked past us, then they reappeared a few minutes later and walked up asking for a cigarette wearing ski masks and gloves while pulling something out of a bag. It's hard to believe it was anything else but a weapon, but we didn't see it.

We were standing right in front of the L'Ardoise windows (on the Henry Street side) where people were dining and could see us. As soon as they realized those people in the window could see them, they turned around and walked off. Those guys saw us earlier and decided to target us.

While we technically weren't "robbed," I'm 100 percent sure we were about to. Who walks up in a group of 3 wearing face masks and gloves on to ask for a cigarette on a dark street? What is so scary about this situation is that this is the corner where a mugging occurred a year or so ago, and one of the victims that tried to flee was shot in the back and killed."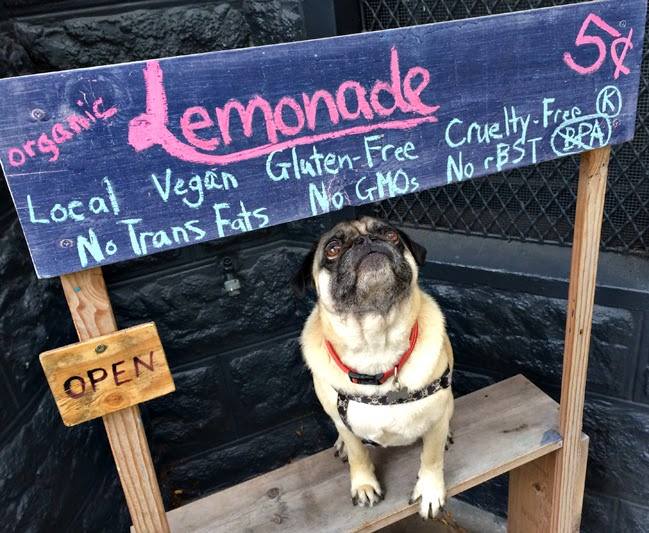 Beloved Lemonade Stand Goes Missing, Recovered Later
On August 25th, we wrote about the disappearance of the popular "Noe So Cute" lemonade stand on Noe Street in Duboce Triangle. A tip from a NextDoor user led neighbors to later find the stand near Duboce and Market. It has been safely returned to its home.
18th & Hattie Robbery With Gun, Part 2
A second gun robbery occurred at 18th and Hattie on August 26th at 1am. A 41-year-old man was putting belongings into his car when a younger man, 17-20, approached him, pointed a gun at him, and demanded his property. When the victim gave the suspect his cell phone, wallet, ID, and credit cards, the suspect ran to a getaway vehicle, which fled on 18th Street. No arrest was made.
Man In Life-Threatening Condition After Attack, Stabbing By 8-10 Suspects At Church & 18th
Yesterday, August 28th, at 6:15pm, a man, 25, was running away from 8-10 men of unknown ages through Dolores Park. He fell at the intersection of 18th and Church, where the group of men proceeded to punch and kick him. He was stabbed in his upper torso and transported to the hospital with life-threatening injuries. No arrests were made.
Diamond Street Robbery
A 32-year-old man was walking near Diamond and 19th this morning, August 29th, when he was robbed around 1am. A man in his 20s approached the victim and started a conversation. During the talk, the suspect punched the victim, knocking him to the ground. The suspect then stole a phone and fled. The victim was transported to the hospital for injuries, and no arrest was made.
Castro & 20th Robbery With Gun
Shortly later on the 29th at 1:50am, two women, 21 and 22, were walking near 20th and Castro when a 25-year-old man approached them. The suspect pointed a handgun at them, demanding their purses. The victims complied and the suspect fled down Castro Street. No arrest was made.
Early Review Of Fix-It Team Efforts
The Mayor's Fix-It Team recently came through the Castro and implemented a variety of changes based on locals' needs. A few months into the program, we checked in with the team, readers, and Castro CBD executive director Andrea Aiello to hear thoughts on the changes and the work that still needs to be done.
The general consensus from Aiello and the Fix-It Team is that the initial efforts were a good step, but that more work, primarily aimed at addressing issues with people living on the streets, is on the way.
"Ultimately, people are really afraid of those who are experiencing mental illness and drug addiction and living unhoused on our streets," said Aiello. "Fix-It is not fixing that."
Fix-It director Sandra Zuniga admitted that the biggest challenge was the ongoing efforts with outreach and services for people living on the streets, and that it will take time to get them connected to the city services they need.
Comments from our readers included discussion of specific behavior on the streets. "They are the ones engaging in anti-social and aggressive behaviors that not just affect our property, but also threaten our safety and dignity," one comment stated. "What I can't understand is how all this work requires a special 'fix it' team to complete," another said. Another commenter stated that the initial Fix-It efforts were "certainly a good start."
Additional Fix-It changes on the way will include some new lighting and signage, as well as helping inform residents of who to call and when to do so.
Did we miss any recent crimes around the neighborhood? If you've got info on a crime or neighborhood safety issue to share, send us a tip here or add a comment below.