An alley in Chinatown is not the most obvious place to visit an exclusive pop-up shop from producer/rapper and part-time clothing designer Kanye West. Yet, people set up chairs and covered themselves in blankets here Thursday night, in order to be the first ones to purchase merchandise from the artist's new The Life of Pablo album Friday morning.
The streetwear can also be bought at his upcoming U.S. tour, but creating buzz with 21 pop-up stores worldwide is a clever marketing stunt for both his fashion and his music. The shops opened Friday and will only be open through today.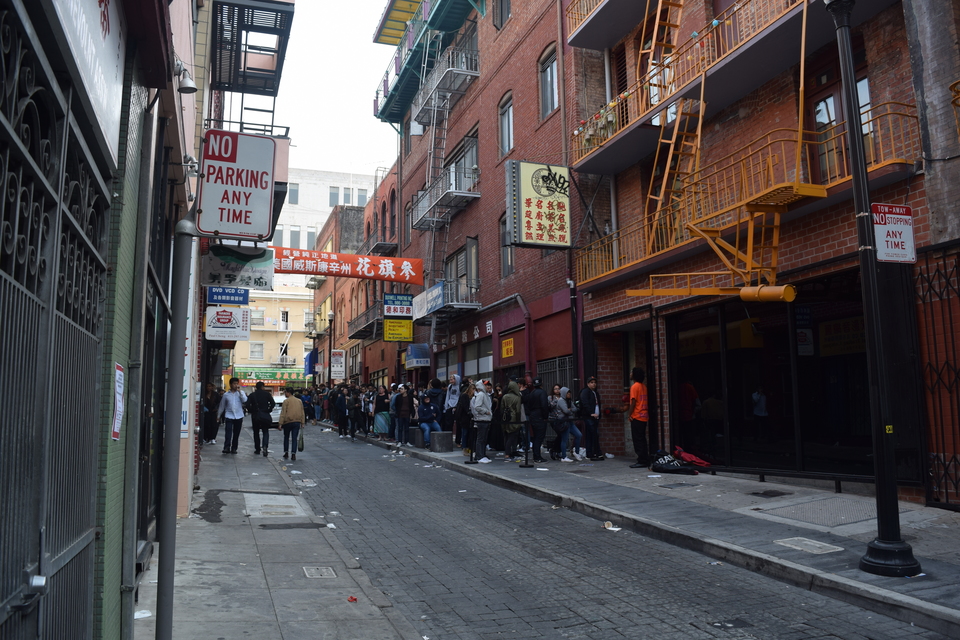 Every city is selling differently colored clothing which comes with the city's name as part of design. Only about 15 people can enter at once, and you get a 'menu'—a flyer with the items available, on which you mark the desired items and check out. Quick and clean, except for the line: A port-o-potty was placed on the edge of the sidewalk, and trash was strewn around the block.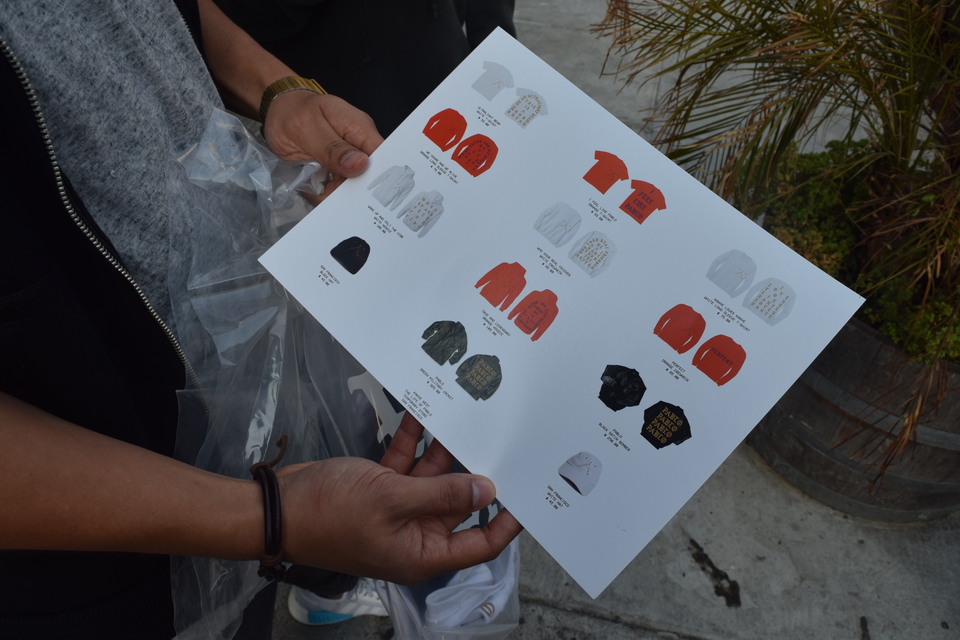 Friday's line initially wrapped around two corners, almost going all around and back to the store. In the afternoon the line had taken a different direction. It went from the shop's location, which is halfway up on Wentworth Place, across Washington Street, along Portsmouth Square Plaza to Clay Street. 

The shop closed at 8pm, although Kanye's website listed the closing time at 9pm. Not cool for the people who had been waiting for six hours and had finally gotten close to the entrance.
Kanye's fans seem to agree on one thing: he's the guy they can't help but admire, for some against their better judgement.

A couple exiting the store with their goodie bags spoke to why he would create this weekend-only limited edition with: "For money" (the girl) and "for his ego" (the guy). They admitted that they wouldn't have bought the clothes if it wasn't for this exclusivity. 
"Even though he's an asshole, he keeps it real," said Jasmine, who came from Emeryville. She was in line for the $350 jacket.
Three young guys were sitting in front of the store, debating where to go next. They were more than happy to explain their Kanye love. "He did what he wanted to do. It wasn't an easy story, he didn't just get a multi-million record deal. He worked." But there was more:

"I feel he's had a big enough impact on my life, that I want to spread the Kanye." 
"No one really ingrained [hard work] into me like him. It's a reinforcement thing. I listen to Kanye all the time. Unless your parents do this —my parents don't—unless there is somebody around you all the time giving you this positive reinforcement, you're not gonna get it anywhere ... It's partly self-validation."

"When I listen to Kanye I feel I can do more than I'm capable of."
This weekend, an unlikely alley in Chinatown has become the place to purchase a piece of the odd mix of talent, hubris and aspirational lifestyle that is Kanye West. You can get the $50 t-shirt, $100 sweater, or $325 jacket, until 6pm tonight (credit card only).
Kanye West performs in Oakland on October 22nd and 23rd.