During the Taraval Station Captain's Meeting, held Thursday evening at the West Portal Library, Captain Denise Flaherty focused heavily on changes to the station's policing practices in light of recent local and national events and ongoing concerns regarding use of force.
Flaherty began the meeting by acknowledging that use of force concerns and recent attacks on police officers have had an impact on SFPD officers and the way the station responds to calls.
A few changes that been implemented as safety precautions: Officers are now responding to calls with other officers, plain-clothes officers are now in uniform and officers previously on a foot beat are now in radio cars with a partner.
Flaherty acknowledged that these changes have affected traffic enforcement, which is down, and may be contributing to the recent uptick in burglaries. "This is the culture we're in," she said.
But Flaherty also noted, "We have to get back to our daily operations and still address crime and traffic enforcement and community safety. We're going through a lot of changes at SFPD, a lot of cultural changes, meaning how we do things differently."
During a Q&A session, Flaherty assured attendees that these altered policing practices at the Taraval Station and the SFPD as a whole should not reduce police presence on the streets. "We're just trying to be very smart and cognizant of our officer's safety as to how we deploy [them]," Captain Flaherty said.
In response to whether there had been any direct threats to SFPD or Taraval Station, Flaherty confirmed that other stations had received threats, but not Taraval. She explained that threats against police are not necessarily new, but they were more isolated, individual incidents. Now, due to recent events in Dallas and Baton Rouge, these threats must be taken more seriously.
"We have to change our thought process," Flaherty said. "It's just the reality of what we're facing right now … but our priority is always the community. We're here to serve and protect you. I say it all the time, when everybody is running from the danger, it will be us running towards it. And we do it instinctually. We do it without thought and we do it because that's why we took this oath and we believe in this oath."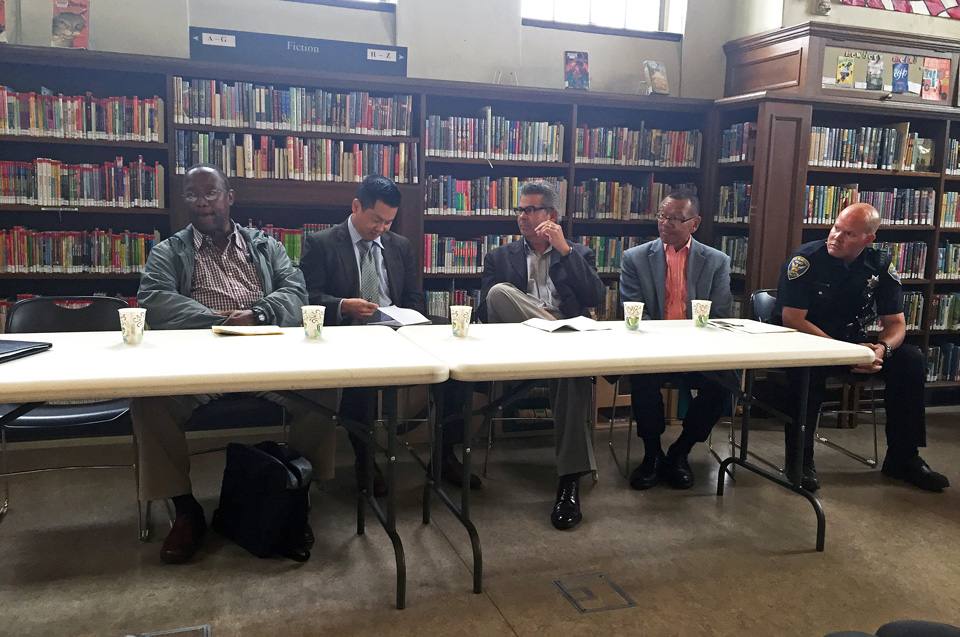 Another recent change: Taraval Station now has five officers wearing body cameras.

The Bayview and Ingleside stations are piloting the department's body-warn camera program, and all of their officers are now wearing body cameras, Flaherty explained. Taraval officers will begin wearing them as well, as soon as each officer has completed the necessary training. The hope is that all officers, from lieutenants down, will be wearing body cameras by the end of summer or early September, Flaherty said.
Of the new body cameras, she told the meeting, "That is going to change not so much how we do our job, but our ability to look at incidents differently for us. It will be a learning tool for all officers. It will give us a chance to see how we can do things better."
Flaherty also noted that the use of force policy, which had not been changed since 1994, is under review. "Chief Chaplin is coming up with ways of de-escalation and [implementing] 'time and distance'," she said. According to Flaherty, Chief Chaplin's stance is that once a person is contained, officers allow whatever time is necessary to bring the incident to a close without an escalation in force. "What we're starting to see [is that] time and distance [are working]," she stated referencing a recent incident with police and a 13-year-old autistic boy armed with a knife. 
"I try to explain to the community and to the officers [that] cultural changes for law enforcement … will take a while. It's not going to happen overnight," Flaherty said, before adding, "I think it's only going to get better for us as a department and for you and the community."
Moving on to crime updates, Flaherty said, "We've been very fortunate in recent months." In June there were only 106 break-ins to vehicles as opposed to the over 200 in January. The district has also seen a dive in burglaries, counting only 19 in the first 27 days of June.
But recent changes in the station's policing practices may be affecting crime rates in the district. Between June 27th and July 10th, there were 15 burglaries. That trend continued as Taraval counted 16 burglaries in following week alone. 
Flaherty also addressed the recent series of robberies "in which suspects were specifically targeting elderly Asian females."
A group was arrested in the Richmond District for the same crime, she explained, and though they don't believe it was the same group from the Sunset, they "think the two groups are connected because that MO and that robbery series is now on hold." She also advised that their investigator is still following up on the cases.
Following Captain Flaherty's discussion, a panel of city and neighborhood representatives addressed additional crime and safety concerns for the district.
Of the many presenters, the security director for Stonestown Galleria noted that there have been 139 vehicle crimes so far this year, up by 8 percent. 76 percent of those were vehicle break-ins.
"We transitioned to a new [security] company," he explained, "and we had fewer officers out there so that was a huge problem … earlier this year." However, he advised that deployment of staff is now back up, and they have had their first month with a significant decrease in crime numbers.
He attributed the decrease to different factors, including increased foot patrols and building awareness with customers. He noted there is a "heavy emphasis on educating" customers, passing out fliers and experimenting with different signage to make people aware of the potential for vehicle break-ins.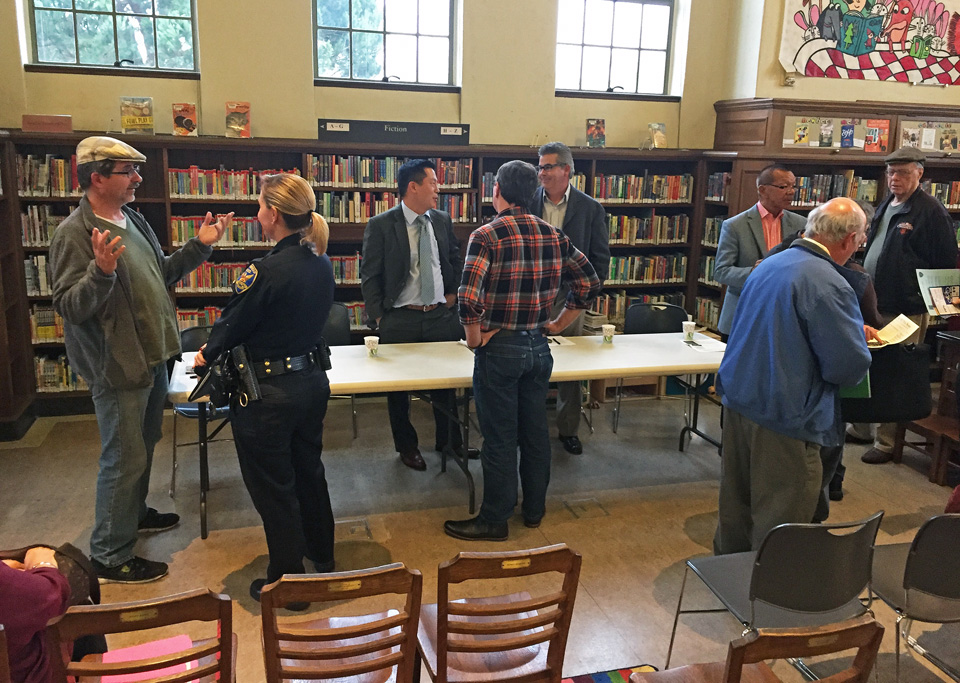 Supervisor Norman Yee also spoke at the meeting. His district, District 7, is covered by three different police stations. While he has been meeting with the individual captains for the last year or so, he recently held a joint meeting with all three police captains and the commander. "It was a great discussion," he said, "because we have so much in common with issues facing this district."
Yee also updated the meeting on the Board of Supervisors' recent vote to approve the SFPD budget. He noted that he continues to push for an increase in police officers for District 7, and successfully convinced the board to increase the budget for SF SAFE, the first increase they've received in eight years.

Another idea he was able to push through: offering small grants residents can use to install cameras on their properties. "[Residents] would get the money to buy their camera, and the trade-off is that the police department or the DA would have access" to any footage captured of crimes in progress. He advised that it was going to take some time before the grant money is available, but it had been approved.
Finally, Officer Dan Rosiak, the Homeless Outreach Officer for Taraval Station, addressed an uptick in homelessness in the area. Rosiak confirmed that the area is "seeing a larger influx of [the homeless population] from downtown coming out to the Taraval." The ease of access via MUNI and word of mouth that the area is safer are both contributing to this influx. He added that though he offers services to the people he encounters, 95 percent haven't accepted the offer of assistance.
Closing out the night was an announcement about National Night Out. "[It is] the opportunity for the police and the community to interact and get to know each other," said Mary Harris of the Taraval Station Community Police Advisory Board (CPAB).
The event takes place from 5-8pm Tuesday, August 2nd, at the Minnie & Lovie Ward Recreation Center, and will include a BBQ, music, a bouncy house for children and visits from the SFPD's horse-mounted and canine units.