By
Fiona Lee
- Published on September 13, 2016.
A coalition of city agencies—led by Supervisor Katy Tang and the Department of the Environment—is set to make protection of pollinators city policy. A new resolution, set to go before the Board of Supervisors on Tuesday, would make San Francisco part of the national Bee City USA network, and further commit the city to "reducing pesticide use on city properties and restoring natural habitats." 

The announcement took place at this weekend's Pollinator Fun Fair at Outer Sunset's Playland at 43rd Avenue, where even the speeches themselves were powered by eco-friendly means: the audio equipment used power generated by cyclists on a standing bike.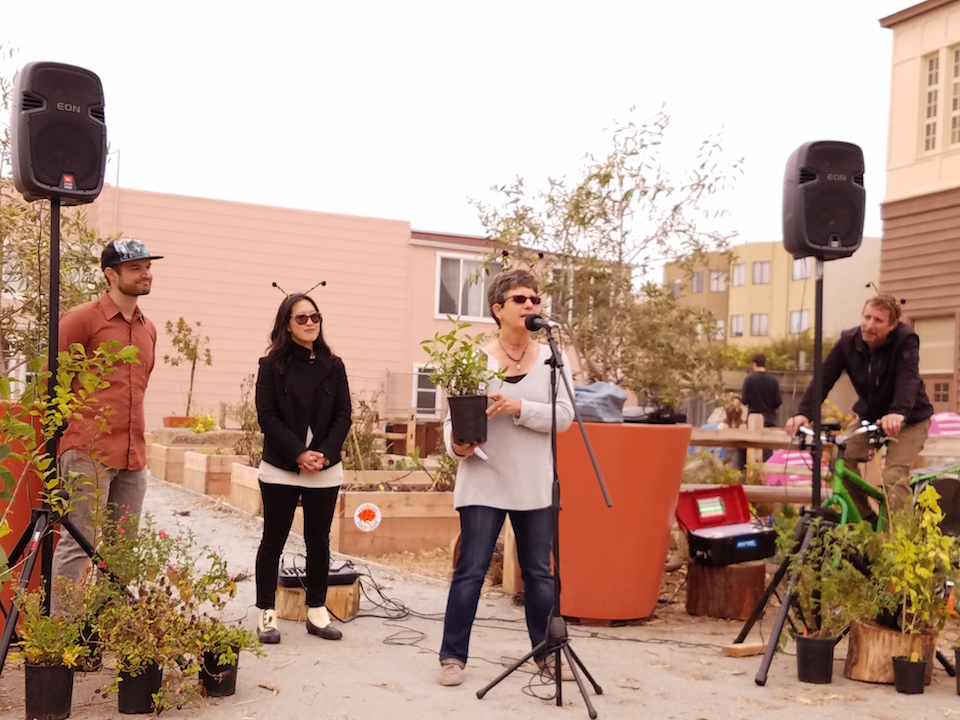 Over the past few years, bees and other insect pollinators (like butterflies, moths, and beetles) have had a tough battle. Colony collapse disorder has seen worker bees mysteriously disappear, causing their hives to die. Monarch butterfly populations have declined, losing habitat to development. 
While San Francisco has a thriving natural ecosystem of insect pollinators, with 150 species of native bees and a network of hives from Sea Cliff to downtown, it isn't immune to the larger forces at work.
Gardeners in the Outer Sunset are particularly challenged by the chilly fog that wreathes the neighborhood, making conditions tough for the flowering plants that pollinators need to thrive. But it's still possible to make it work. 
"The Sunset is a perfect place for pollinators," says Debbie Raphael, director of the SF Department of the Environment. "People may not think of it as the garden spot, but you just have to plant the right plants."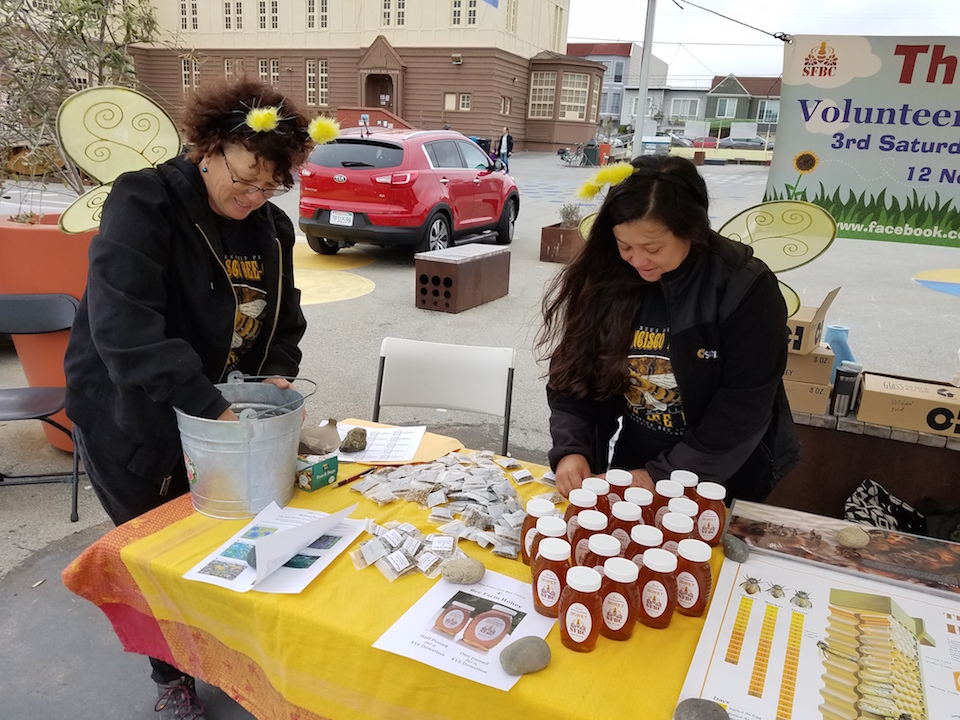 Supervisor Tang is hoping to encourage more gardening in the neighborhood with the Front Yard Ambassador program. The program, operated in conjunction with organizations like Friends of the Urban Forest and the Surfrider Foundation, aims to replace paved-over front yards in District 4 with drought-tolerant gardens, at a cost of only $100 per home.
In addition to supporting pollinators and adding green space to the Sunset, the new gardens help the city conserve water. "After six rounds, we've broken up over 7,000 square feet of concrete," explains Tang. "That means that each year, we're diverting 84,000 gallons per year from stormwater round-off." 
Interested in starting a garden of your own? Here are some tips from Debbie Raphael: 
Plant the right plants: There are many plants that will even thrive in foggy or rocky environments. Go to SFPlantFinder.org

 to see what plants would work for your garden. 

Stay away from toxic pesticides: Choose non-toxic pesticides that have been labeled "Our Water, Our World." These have been designated as not being harmful to pollinators (where even small amounts can affect their behavior) and water systems. 
Become a Bay-Friendly Gardener: Gardeners can become certified and educated on how to create pollinator habitat, use non-toxic pesticides, and other sustainable practices.