The line was a block long and moving slowly on Valencia between 18th and 19th streets, as The Chapel—a former mortuary turned music venue in the Mission—prepared to screen the first presidential debate between Hillary Clinton and Donald Trump last night.
Inside, lines were equally long behind the venue's three bars, which were busy churning out food and drinks for hundreds of viewers.
Paul Chalker, marketing and public relations manager for The Chapel, told us the venue was expecting a full house, since more than a thousand people RSVPed. Watch parties are a staple at The Chapel, which welcomed viewers for Warriors playoff games and the primary debates on its 24-foot screen earlier this year.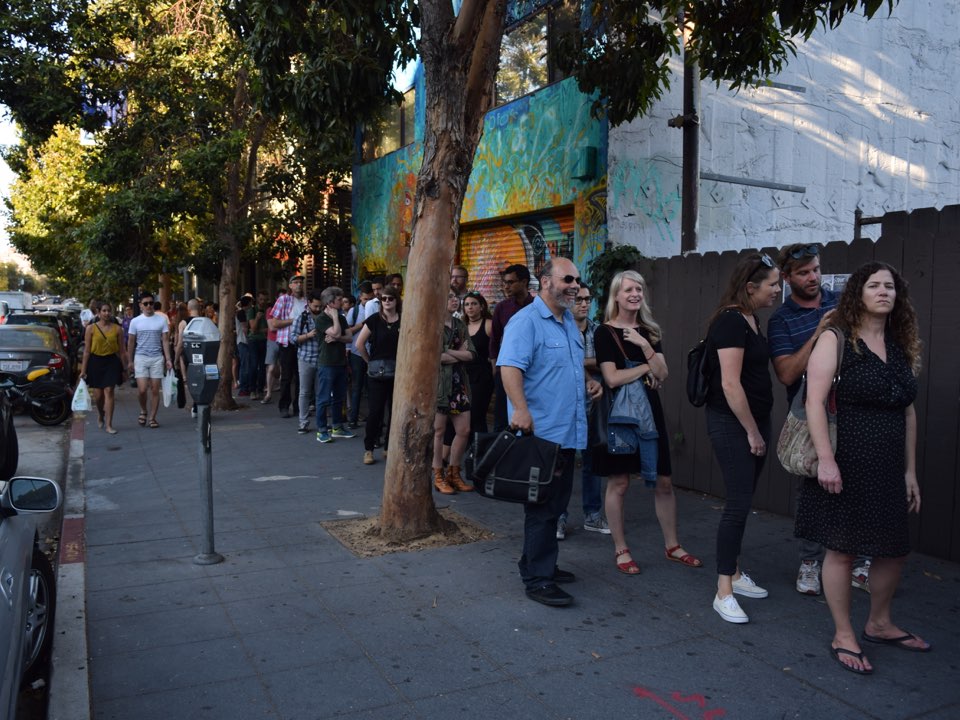 One older man, who had a front-row balcony seat, was in town from San Diego visiting his daughter. "I'd really like to see Clinton be more aggressive," he told us. "Somehow, people listen to Trump, to the plans he's going to make, but he doesn't have a plan. To me, he's bullshit."
Gopal, a Clinton voter standing in the back, was looking forward to "a circus" on TV, he said merrily. Asked if that frightened him in any way, he responded, "Yes, of course!"
"To the people who support Trump, seeing someone who doesn't respect the rules of the debate, talking over the other person, being a bully—that's being strong," he said. "So to them, he is winning."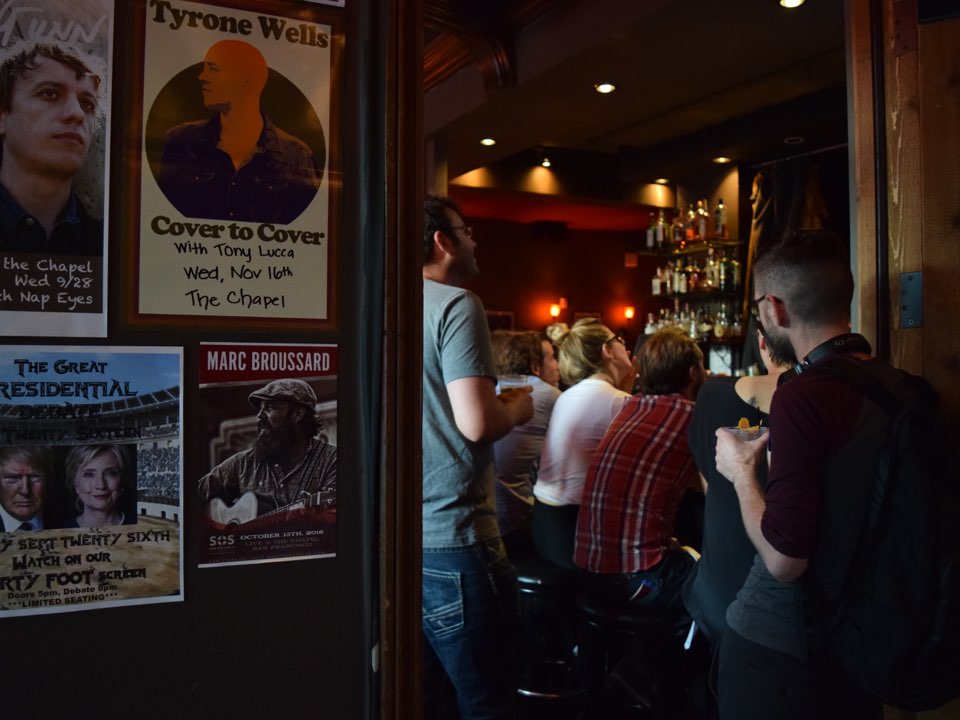 But another viewer, Melanie, said she found the debate very tame. "I think [Clinton] was going to try to have [Trump] show his bad side, so that he looks un-presidential, and she hasn't done that."

Like most of last night's attendees, she is voting for Clinton, and thought it would be hard to find anyone in San Francisco who was still undecided.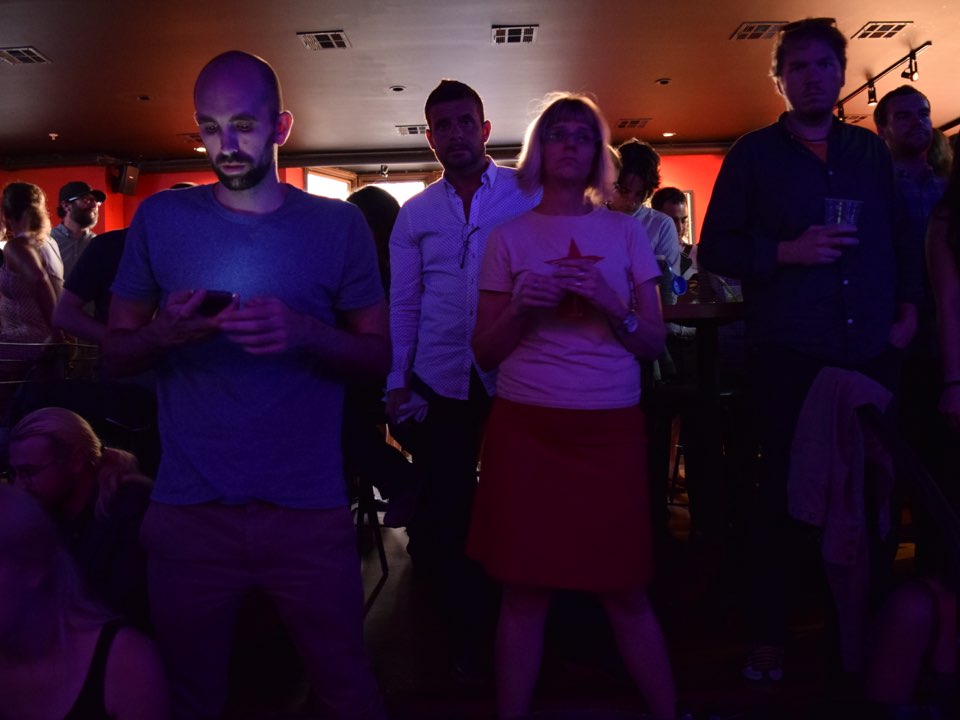 Antonio, a doorman at The Chapel, said he wouldn't have been watching the debate tonight if it wasn't for the TV hanging right next to him at work. He'd rather play music. 
He didn't vote in the primaries this year: "I don't like both of them. Not only did I not vote, but I just feel like, you know, that my vote doesn't even matter." As far as he could remember, he didn't vote in the last presidential election, either.
"Was music your passion then too?" we asked.
"No, it was football."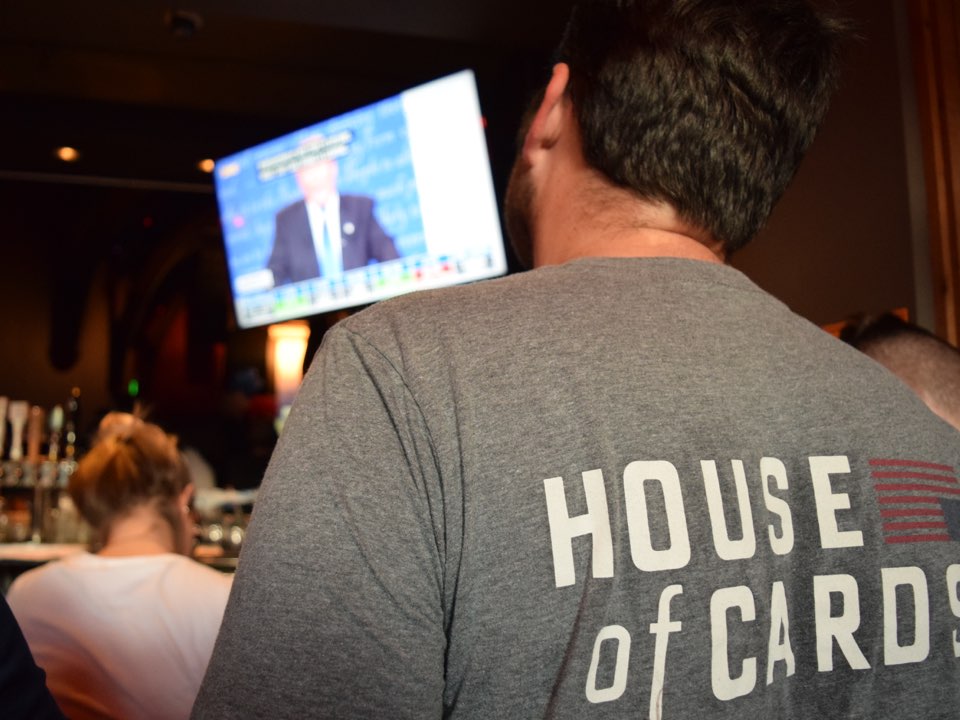 Tom, a man in his 50s with wild hair, was one of a few in The Chapel's fairly tame crowd to occasionally shout during the debate. After the telecast ended, he was deep into a post-debate debate with Robbie, who voted for Bernie Sanders in the primary, but told us he will vote for Clinton without hesitation.
"My dad [in Florida] will vote for Trump, because his girlfriend is libertarian," he told us. "She is so into Trump, it's not even funny. It's frightening. I don't get it."

Asking what would happen if Trump wins, Tom stepped back and entered the conversation with arms outstretched. "That's where you have to hope ... that American is greater than its leader. That's what you have to hope. It's a big country, there are a lot of different groups in this country. Trump is very narcissistic, but no one is greater than America. America as a collective group will win."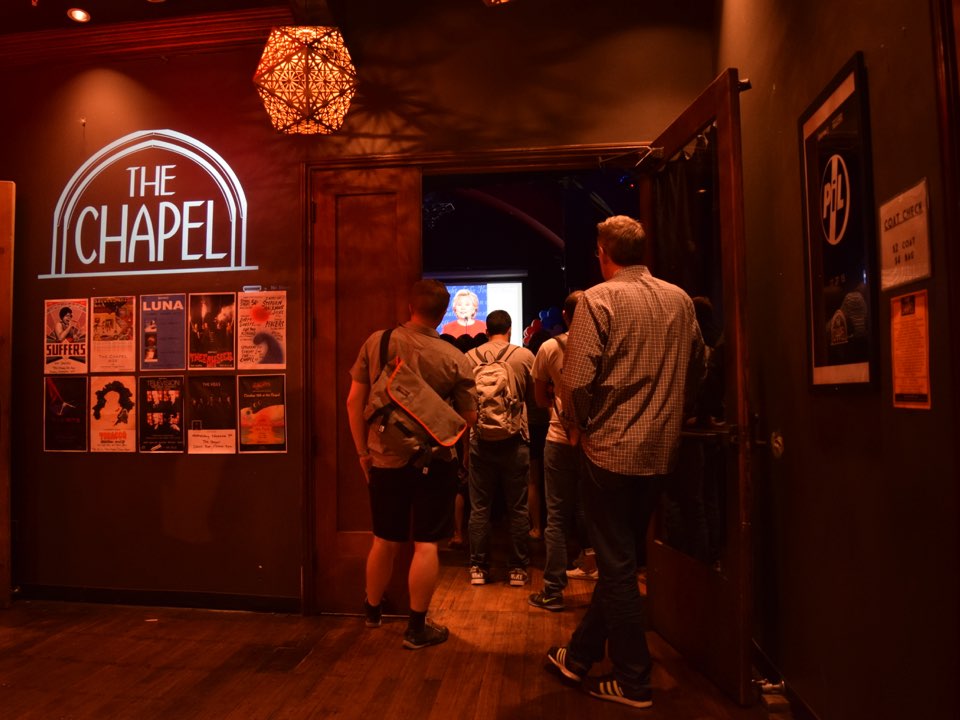 Tom and Robbie both work in the school system; Robbie is in IT and Tom is part of Early Morning Study Academy, which supports drop-outs in getting their high school diplomas.
"Forget the debate!" Tom said. "Global warming. That alone determines who to vote for. I don't need any debates. I'm only doing this for my students who dropped out of high school. I wasn't even gonna watch this. They started talking about it. Global warming should tell you everything you know about who to vote for. Everything and then some."
"And [Trump] blamed it on China!" Robbie added.
---
Did you watch the presidential debate last night and have a similar—or drastically different—experience? Let us know in the comments.
With the next showdown coming Sunday, Oct. 9th, we're also curious to hear your favorite places to tune in. So far, a couple of viewing parties are already on the calendar: