Tomorrow night, city officials will lay out details on planned repaving, reshaping and utility upgrade projects that they say will make Van Ness Avenue and Polk Street safer and more accommodating to pedestrians, vehicles and commerce.
But, as with last year's hotly contested bicycle lane additions on Polk, there's a good chance they'll get an earful from at least some of the people living and working along the corridor.
The work will encompass not only repaving and redesigning the streets, but also replacing underground sewer and potable-water pipes. None of the pipes are lead, but some of them have been in place since the 19th century, Muni spokeswoman Kate McCarthy said. The work will also include the removal of the century-old Van Ness lamp posts for a new rapid bus lane.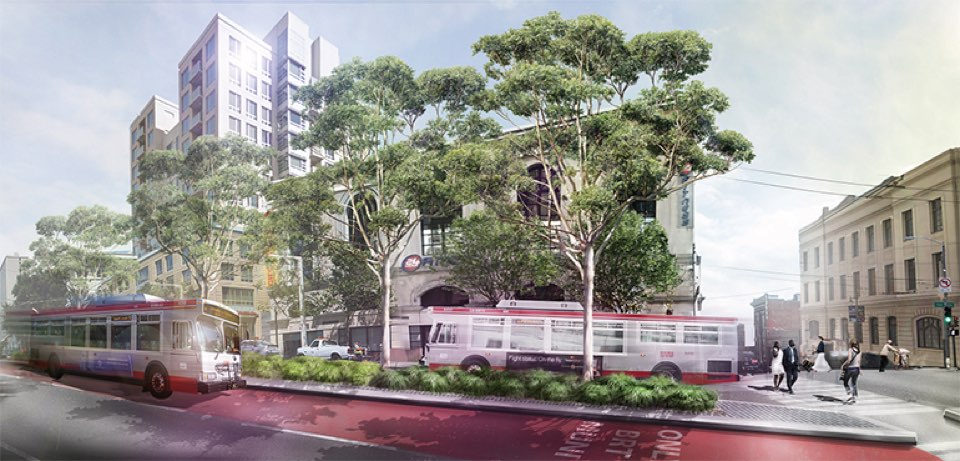 While Wednesday's event might be a forum for conflicting views, the contracts are already signed and sealed, and the two projects, which will occur simultaneously and are expected to take about three years to complete, are soon to move forward.
SFMTA officials' advice to people who live in, work in or traverse the corridor is to "pack your patience." But they also told reporters last Friday that during most of the project period, vehicle traffic and public transit services will continue flowing in both directions on both streets.
"Polk Street is open for business," said Luis Montoya, livable streets director with Muni's Sustainable Streets Division, reassuring merchants fearful that the construction will chase off customers.
One of them is Stephen Cornell, a member of the Polk Street Merchants Association's board of directors who works part-time at Brownies Ace Hardware (1563 Polk St.), which he once owned. He acknowledges the improvement work is necessary, but thinks "it's going to hurt life here" during and after construction.
Cornell believes the elimination of many parking spaces on one side of Polk, and of a traffic lane and most left-turn pockets in each direction on Van Ness, will clog traffic on those streets, on Franklin Street and Gough Street to the west, and on perpendicular streets linking the north-south thoroughfares.
While they've fielded extensive public comment on the project, Cornell says agencies like Muni, Public Works and the county Transportation Authority don't really listen to it, and they fail to conduct economic impact reports.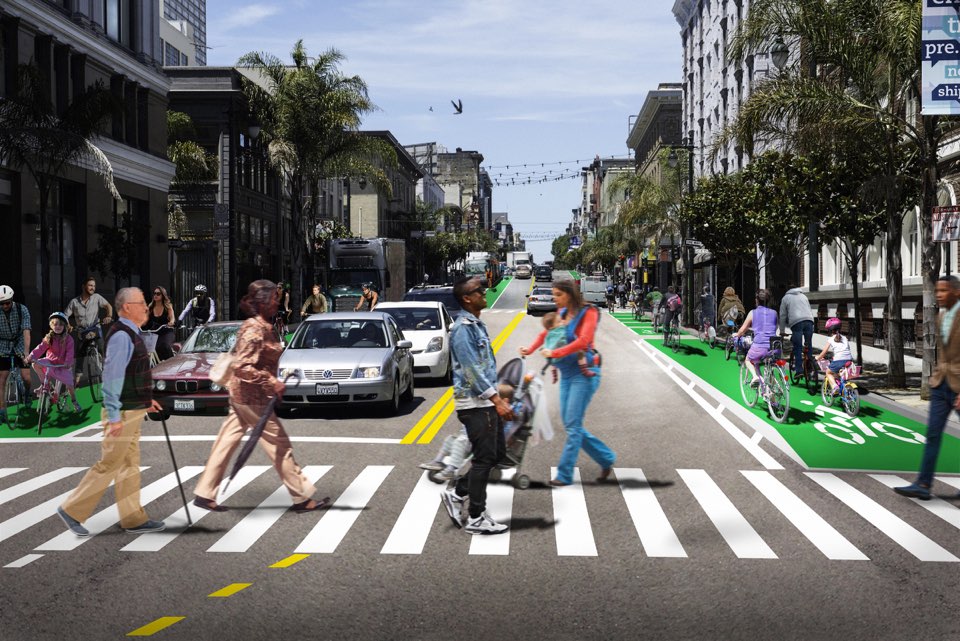 But the SFMTA remains confident that it's making the right call for the two busy corridors. As Montoya told reporters on Friday, the changes have been in the works for years, with dozens of meetings and walking tours with community stakeholders and copious attention in the press since the planning and contracting process was set in motion in 2012. 

You'll be able to get the project details and a chance to vent (or gush) at Wednesday's open house, which will run from 6-8pm at the Tenderloin Community School (627 Turk St.) Here's how to get additional information on the two projects:
For Van Ness, text "YES" to (415) 413-4201 or sign up for updates at sfmta.com/vanness.
For Polk, contact Coma Te at the Department of Public Works, [email protected], (415) 558-5283, or sign up for updates at sfpublicworks.org/polk.