Yesterday, Abraham Lincoln High School, at 24th Avenue and Rivera, held an unofficial 'bring your antique car to school' day. '50s rockabilly music blared from a stereo in the school's parking lot, which featured two dozen antique cars parked between the basketball hoops.
Organized by the Lincoln Alumni Association, the event was one of many benefits that helps raise money for students. The association raises as much as $45,000 per year, distributing the funds to students, who are nominated by their teachers, to help with college expenses.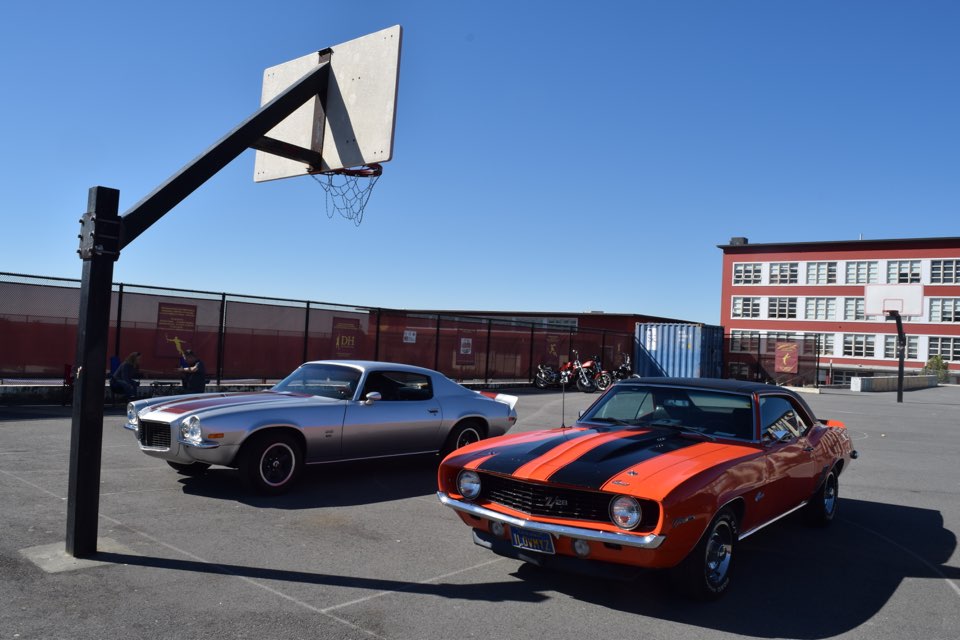 One active member of the Lincoln Alumni Association is Jimmy O'Keefe. His family has lived in San Francisco since the 1870s. He grew up at 42nd and Vicente, in a house his parents bought new for $14,000 after World War II.
O'Keefe had a habit of buying cars as a teenager, which he had to hide from his parents because he drove them without insurance. (To conceal them, he parked them around the block.) At the time, he could easily afford the cars, but not the insurance—which was required by law even in that era, though cars didn't yet have seat belts.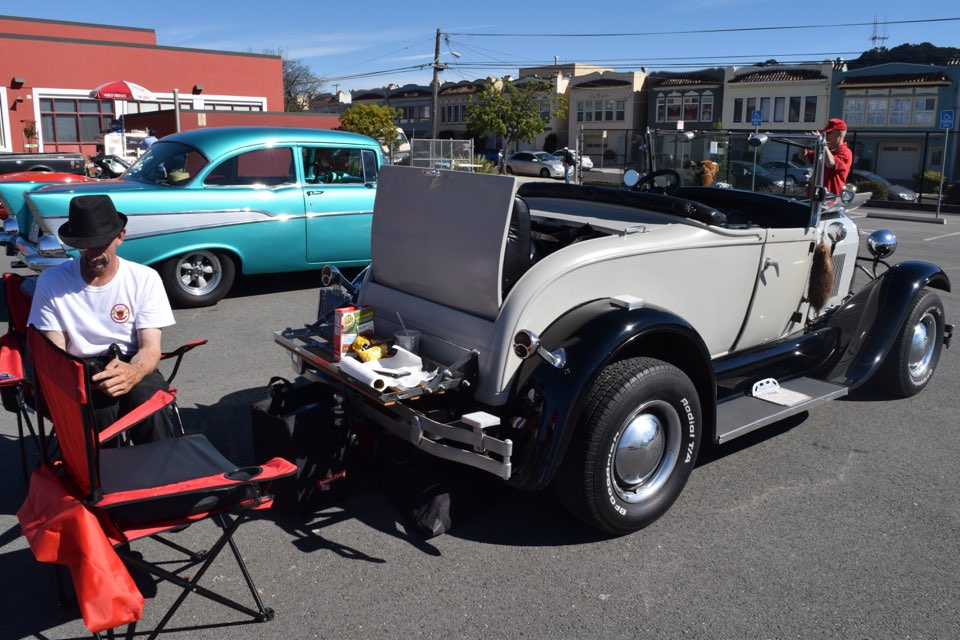 He earned his money at a local burger joint, Jumbo's (now Pasquale's Pizzeria, though its raggedy building remains the same) on Sloat Blvd. and Great Highway. Jumbo's sold burgers for $0.19 each; Jimmy was paid $1.50-$2.50 per hour to flip them. O'Keefe told us it was a popular hangout before and after drag-racing on the Great Highway. 
What if there weren't any other cars to race? "There were, but we would race over it anyway," O'Keefe said. "Those cars couldn't go very fast, though."
After he graduated from Lincoln High, O'Keefe was sent to Vietnam. Before he went, he sold all of his cars except his '40s white Super Deluxe 8 Ford, a.k.a. the Woody Wagon, because half the car is made of wood.
At some point during the war, O'Keefe's family sent him a photo of the car. He told us the snapshot of the Woody Wagon is what got him through the war.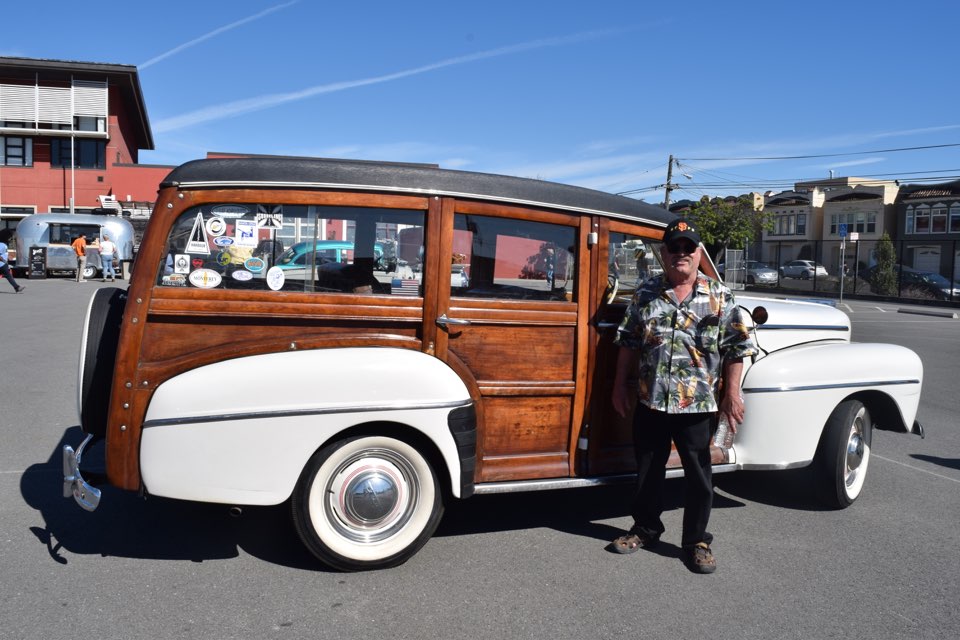 Today, he keeps the Woody Wagon in the garage at his home in the Richmond. The original price tag was $250. Its estimated value today: $50,000.
O'Keefe still loves cars, and organized Jimmy's Old Car Picnic, an annual event in Golden Gate Park, for the past 25 years. After ongoing struggles with the Park Service (for which he also worked as a gardener) over high permit fees, he shut down the picnic in 2014.
However, some fans have decided to revive it, and this coming Saturday, hundreds of old-time vehicles can be admired at the SF Old Car Picnic in Hellman Hollow.
O'Keefe wasn't the only Lincoln High student whose world revolved around cars. Goose Gosland graduated from Lincoln in 1958. He had a red '54 Mercury, although he said he foolishly parted with it to buy a sports car.
Gosland taught school for 37 years, first in South San Francisco, then Mountain View. He's now retired in Carmel Valley, and he still meets up with his old Lincoln principal, in his 90s now and living in Arizona. We caught Goose chatting with Bill, another alum who he recognized from high school football practice. 
"My grandparents stopped driving when I was 15 and a half," Bill said. "They had a '37 Ford four door, with 'suicide doors' in the back, but they didn't give the car to me—they turned it in. We all had Depression parents; they didn't have money, kids didn't have money for insurance. But a dollar would give you gas for a few days. $0.24 a gallon."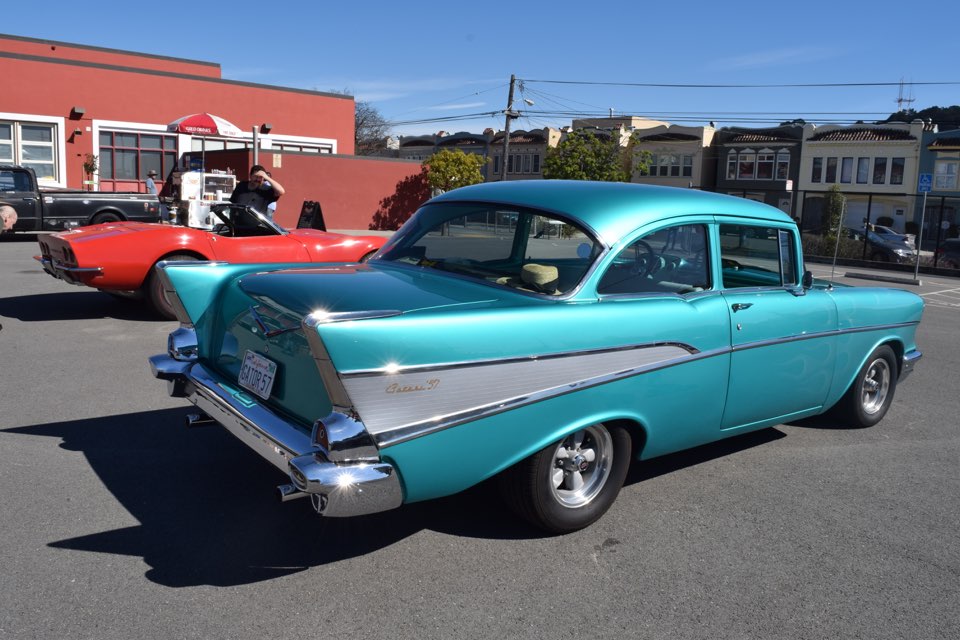 Gosland started working when he was 13. "When you're a car guy, and you see the cars your friends have at school, you want one too," he said. "I took two, three jobs, and was playing sports and trying to study too."
Lack of insurance was always a concern for teens. "In those days, all our parents came through the Depression; they saw where their grandparents were, and what they went through to get to the United States, and everybody was scared to death of a lawsuit. There were always those kind of lawyers, ambulance chasers."

"Two years ahead of us, there was this guy with a 1930 Buick; we called it a gangster car, and when he graduated, he didn't want to take it to wherever he was going," Bill said. "We could have bought it for $15, but we didn't have that."