The SFMTA Board of Directors has approved a set of safety improvement plans for Seventh and Eighth streets, from Market Street to Townsend Folsom.
According to the SFMTA's latest blog post on the project, construction will begin this winter and the following safety improvements will be complete by May 2017:
Parking-protected bike lanes

 on both streets to separate people driving vehicles from people riding bikes.

A new "protected intersection" design,

first installed at Ninth and Division, to separate cyclists from right-turning vehicles.
Reduced vehicle travel lanes on Seventh Street—to match the reduction implemented on Eighth Street in 2012.
New Muni boarding islands at bus stops. (Bike lanes will be placed between the islands and the sidewalk.)
Painted safety zones to help make pedestrians crossing the street more more visible.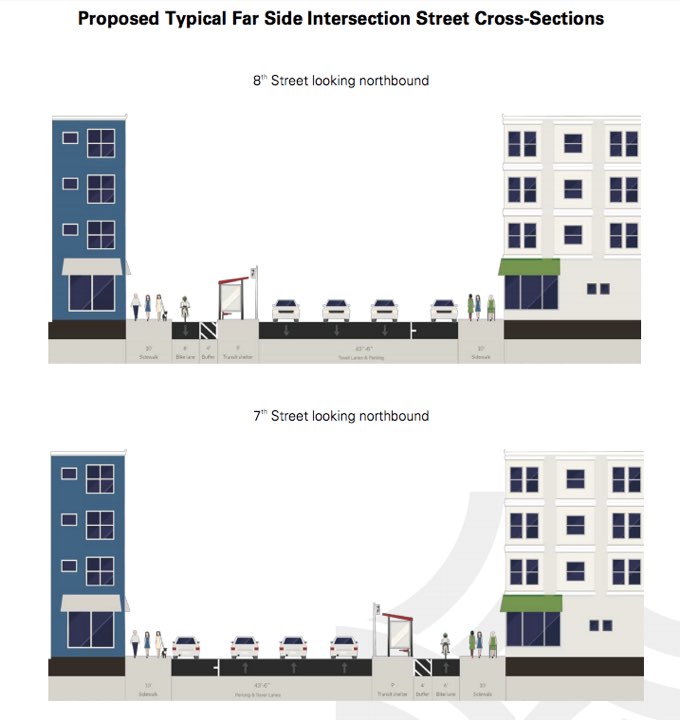 Illustrations of how all of these changes will look collectively are available for Seventh Street and Eighth Street.
One portion of the original proposal that will not move forward this winter is changes to the 19-Polk route. According to the SFMTA, those alterations were postponed by the board of directors "for further evaluation."
The Seventh and Eighth Street Safety Project was expedited following Mayor's Ed Lee directive to speed traffic safety projects following hit-and-runs that killed two cyclists on the same night in June.

With approvals for this project now in hand, SFMTA is returning to the neighborhood next week to discuss proposed safety improvements for Howard and Folsom—two high-injury corridors spanning the South of Market.