After 14 years of planning and months of heated exchanges between environmental activists and dog owners, the Golden Gate National Recreation Area (GGNRA) has finally released its proposed rules for dog management.
The proposed rules, set to be finalized in early 2017, affect a number of areas under the GGNRA's purview that are popular with both dog owners and professional dog walkers, including Fort Funston, Crissy Field, Ocean Beach, Baker Beach and Lands End. Most notably, the plan prohibits off- and on-leash dogs from most of Ocean Beach.
They offer concessions to both sides of the debate: preserving some off-leash space for dogs, but curtailing the overall amount of off-leash space to help preserve habitat for endangered birds and other wildlife that reside in the area. 
In total, the areas overseen by the GGNRA contain 8.8 miles of beaches and 137 miles of trails. After the new rules go into effect, the number of dog-accessible beach miles will drop from 7.2 to 2.8, and dog-accessible trail miles will drop from 74 to 47.
A PDF version of the GGNRA's hefty full statement can be accessed here, but we've boiled it down to the key takeaways. Most notably, dog owners will see an overall reduction in areas where dogs are allowed, and professional dog walkers will have to obtain permits if they wish to keep their normal walking routes in the GGNRA. 
I'm a dog owner—what do I need to know?
The largest and most popular affected areas in San Francisco are Crissy Field, Baker Beach, Ocean Beach and Fort Funston. 
Crissy Field's beach, which currently welcomes off-leash dogs, will soon be divided into an off-leash beach and a dog-free beach. Dogs may play at the Central Beach, but cannot access the East Beach.
The Crissy Airfield, which currently has no dog restrictions, will become 20 percent on-leash, 40 percent off-leash and 40 percent dog-free.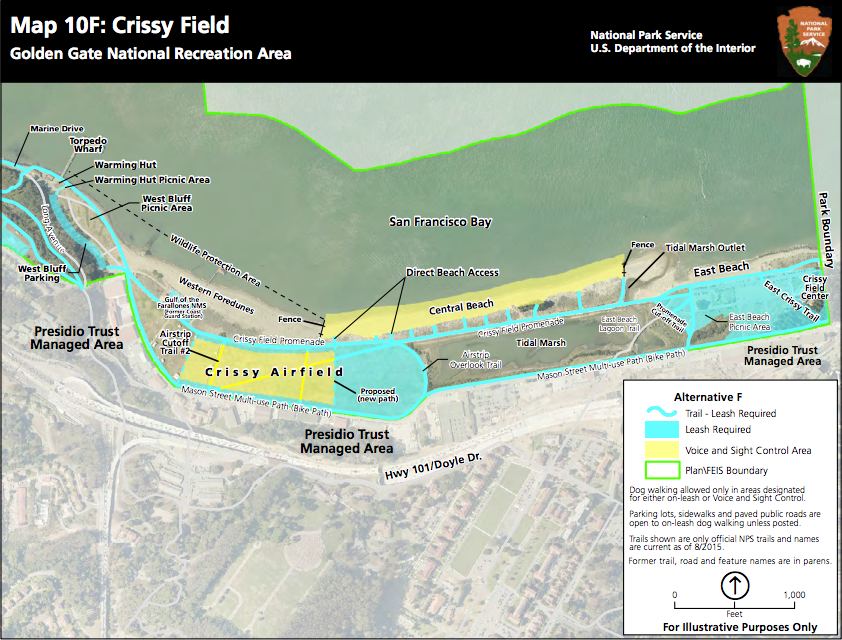 Today, dog owners at Baker Beach can let their pets roam within voice-and-sight control (equivalent to "off-leash"), so long as it's north of Lobos Creek.
Under the new rules, Baker Beach will be dog-free in the south and on-leash-only in the north, which begins at Access Trail #2. 
Ocean Beach will experience the most significant trimming. Today, dogs are allowed between Sloat Boulevard and the beach's north end, but come 2017, they will only be allowed north of Stairwell 21. That stretch will be an off-leash area.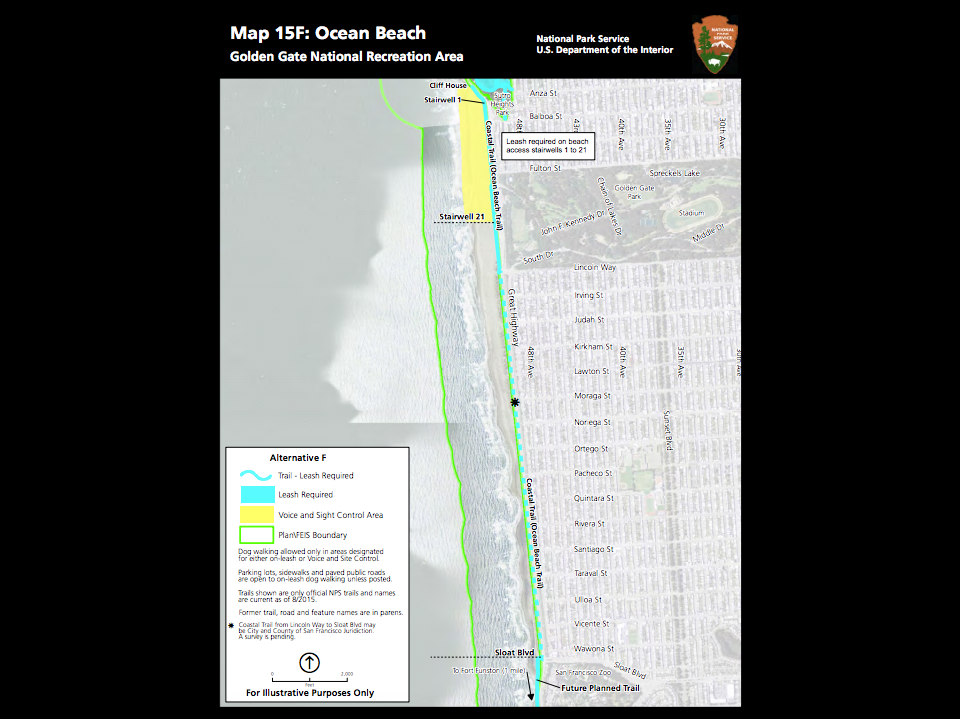 At Fort Funston, beach access will be largely unchanged. An off-leash trail will be added, but accessible uplands trail mileage will be reduced overall.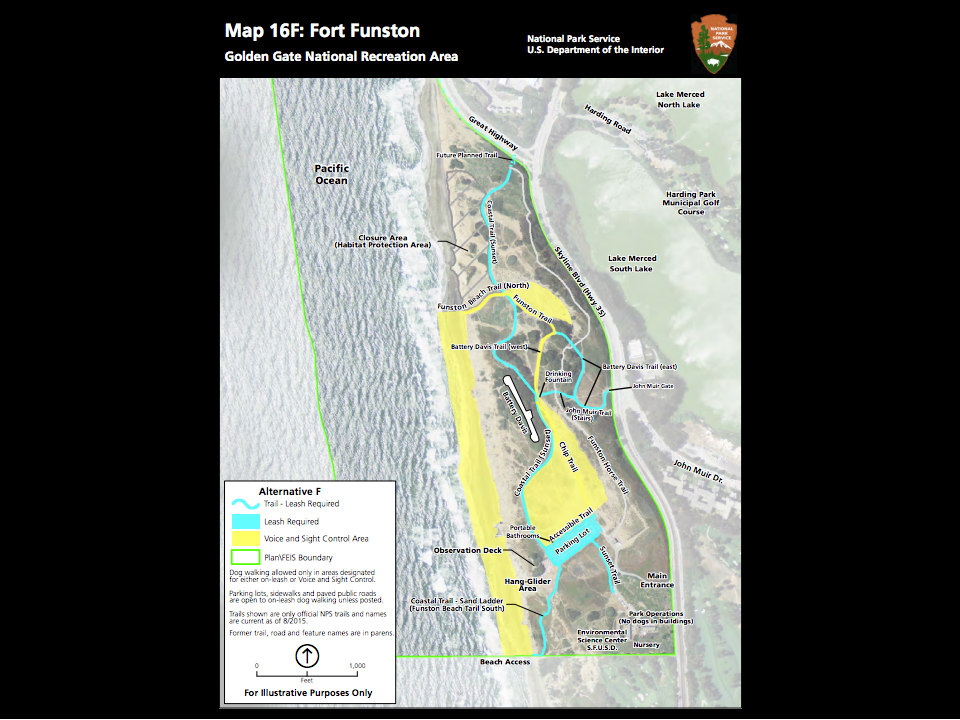 What if I'm a professional dog walker, or have more than three dogs?
Professional dog walker or not, you'll need a permit if you plan on letting four to six hounds (but no more) tug you around for a few hours on any GGNRA trails or beaches.
Special Use Permits (SUPs) will be issued for four San Francisco areas only––Fort Mason, Crissy Field, Baker Beach and Fort Funston––and will allow dog walkers park access only from 8am-5pm on weekdays. 
The new permitting requirements, which haven't yet been released, will likely reflect the current interim requirements, which the GGNRA introduced in 2014. The cost of an annual SUP consists of a $75 application fee and $300 fee per individual dog walker. 
Permit-holding dog walkers will have less access to trails and field space than park visitors with fewer than four canine companions. 
At Crissy Field, permit-holders will not have access to the central section of the promenade, its access paths to the Central Beach, the field space near the East Beach picnic area, or the path along the water from the West Beach to the Warming Hut. 
Baker Beach permit-holders are barred from the Coastal Trail stretch between Lincoln Boulevard and Access Trail #1, and from the space around the North Picnic Area.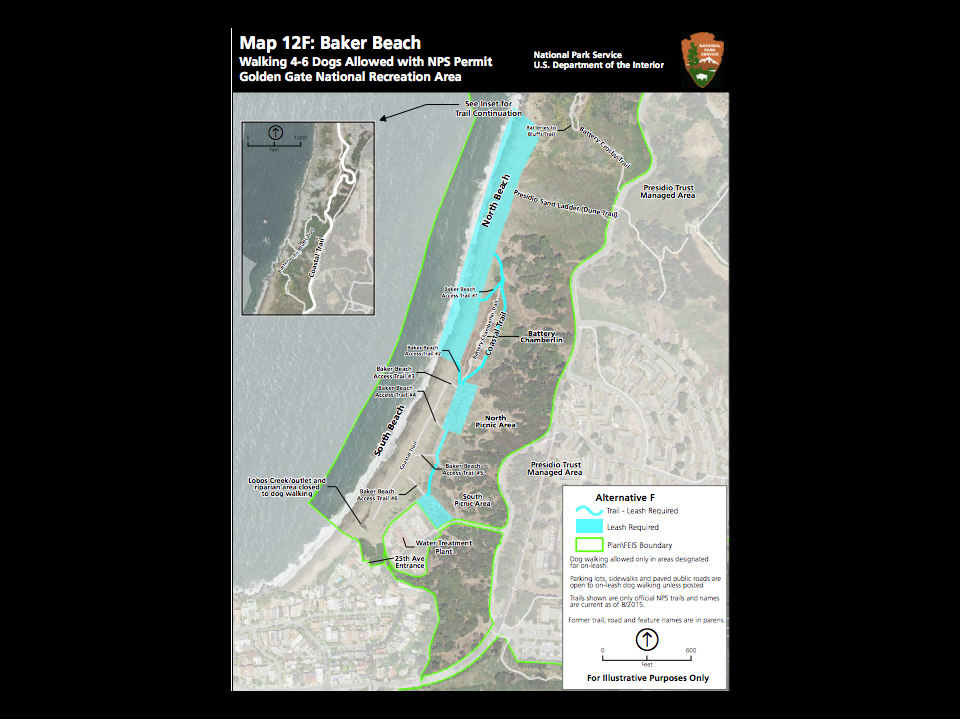 Permit-holders at Fort Funston will have to stay south of the Funston Beach Trail. The northern section of the Coastal Trail is off-limits.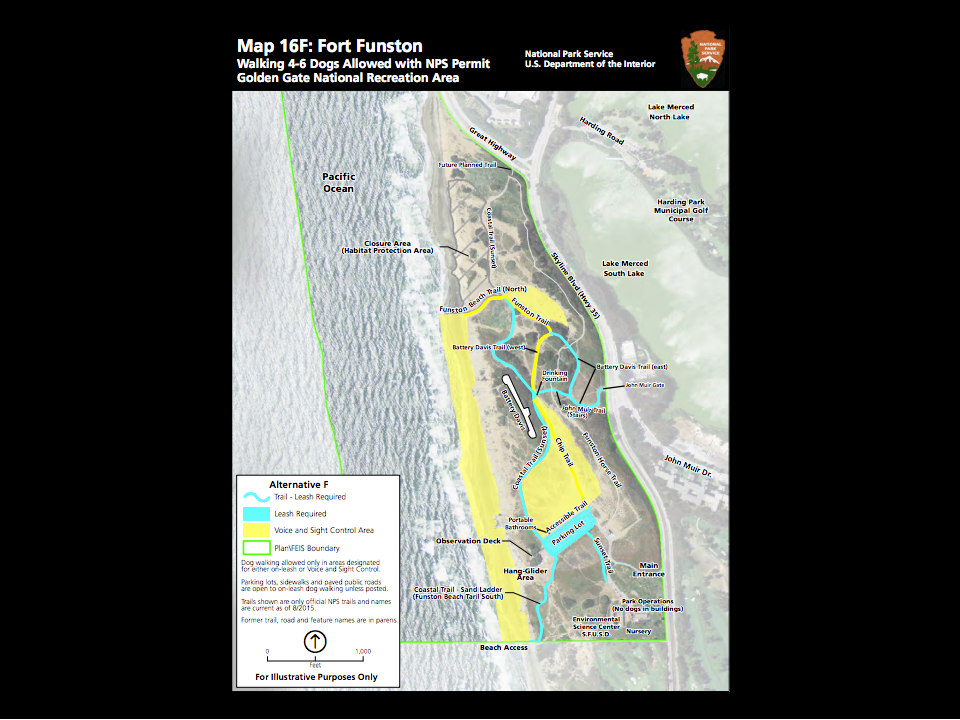 Can the rules be changed?
Given the debate's contentious history, the GGNRA anticipates feedback from both environmentalists and dog-walkers.
"There's no consensus on this issue," GGNRA spokesperson Nathan Sargent said. "Some people will wish that the proposal reflected more restrictions on dogs, and some people will wish that it reflected greater access for dogs."

In a Facebook post last Thursday, District 4 Supervisor Katy Tang came out as an opponent of the proposed rules. "I understand the need to protect our public lands and our beloved snowy plovers," she wrote. "But I believe the current regulations along Ocean Beach are sufficient—they just have not been sufficiently enforced."
Tang also noted that there will be no formal public commenting period. But those seeking changes to the rules can send suggestions to Jim Milestone, the GGRNA's acting general superintendent, at Building 201, Fort Mason, San Francisco, CA 94123-0022.
After a 30-day waiting period, the final rules will go into effect, followed by public outreach, education and signage. 

For more information on the proposal, and to see how you might have to adjust your dog-walking routine, check out these FAQs and maps on the GGNRA's website.