This year, the celebration of Hanukkah, the Jewish Festival of Lights, coincides with Christmas, with the first night on December 24th (a.k.a. Christmas Eve). For eight days, Jews around the world will light candles and exchange gifts with loved ones and friends. 
Looking for some fun ways to celebrate Hanukkah around San Francisco? Here's where to go and what to see. 
For the entire month of December, the Jewish Community Center of San Francisco (3200 California St.) has been hosting Hanukkah Frydays, with free fried treats each Friday afternoon at 4pm. On December 23rd, they'll have fried piroshki from Cinderella Bakery & Café, the Bay Area's oldest Russian bakery; on December 30th, it's DIY donuts with yummy toppings.
Seeking something to do on Christmas Day, when many places are closed? The Contemporary Jewish Museum (736 Mission St.) is offering free admission to all that day, with live music, food from Wise Sons Deli, and more. Most businesses will also be closed to observe Christmas on Monday, December 26th, when the CJM hosts Drop In Art Studio—Studio of Light. Stop by from 11am-3pm to create art that shimmers, reflects, and glows, in celebration of Hanukkah.
Presidio Heights' Temple Emanu-El is offering three opportunities to celebrate. On Wednesday, December 28th, the Congregation's Young Adults group will meet at Mayes Oyster House (1233 Polk St.) for a "crazy" fifth night of Hanukkah with sufganiyot (jelly donuts), no-host appetizers and drinks. (Ignore the restaurant's name—all the food will be kosher.) 
The following evening, over in Noe Valley, Emanu-El will host a pop-up menorah lighting for its Gen E group (for those in their 30s-40s). The lighting will be followed by happy hour at Hamlet (1199 Church St.)
Finally, on Friday, December 30th, families can light candles at Emanu-El's main sanctuary, then enjoy a family-friendly community dinner buffet with live entertainment—including "the greatest animal show on Earth" for the kids. 
Interested in sampling classic Italian-Jewish dishes? Head to Fiorella (2339 Clement St.), where chef Dante Cecchini, formerly of Marlowe, has created a special Hanukkah menu that will run for the eight nights of the holiday. Dishes ($10-13) include braised artichokes with chickpeas, fried sardines with raisins and almonds, crispy winter squash, and tuna mousse.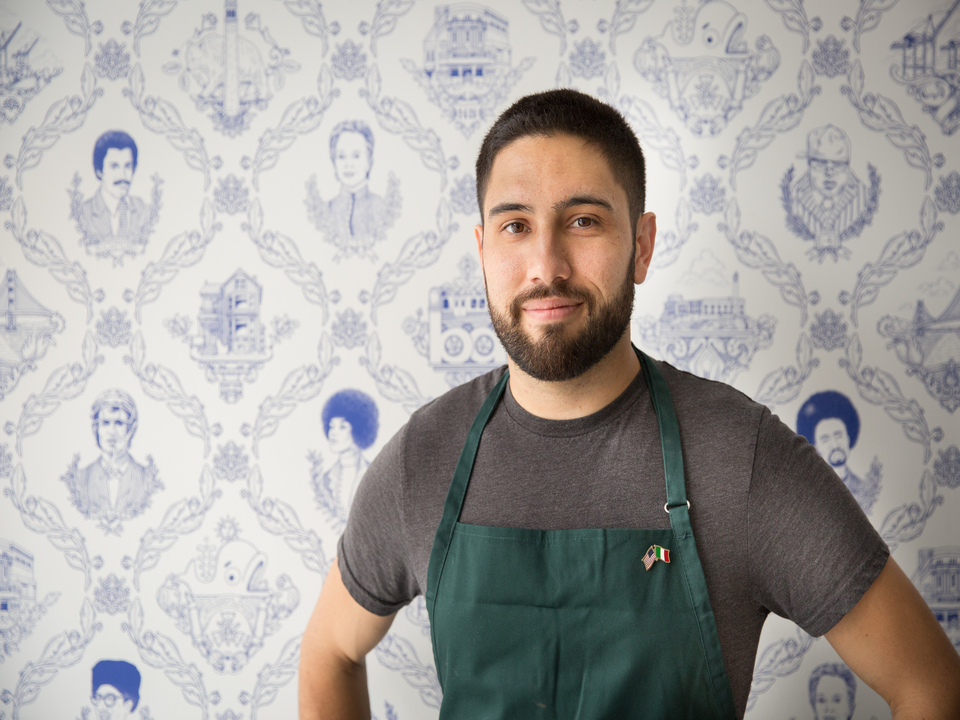 With many businesses closed on Christmas, it's now "required by law" for Jews to go out for Chinese food, jokes local comedian Lisa Geduldig. 24 years ago, Geduldig decided to expand the tradition even further with Kung Pao Kosher Comedy, which offers three nights of Jewish comedy in a Chinese restaurant, from December 23rd through Christmas Day.
This year's headliner is Elayne Boosler, and Eddie Sarfaty, Alex Edelman, and Geduldig herself will also perform, offering Jewish-themed laughs at Chinatown's New Asia Restaurant. Each night has a seven-course dinner show (5pm), and a cocktail show with vegetarian dim sum (8:30pm), with proceeds partially benefiting services that help Jewish seniors and fight domestic violence. 
Finally, LGBT Jews, along with their family and friends, are invited to celebrate Hanukkah in the Castro with Congregation Shaar Zahav on Wednesday, December 28th. They'll have dancing, candle-lighting, dreidels, and more. 
Have a great Hanukkah!