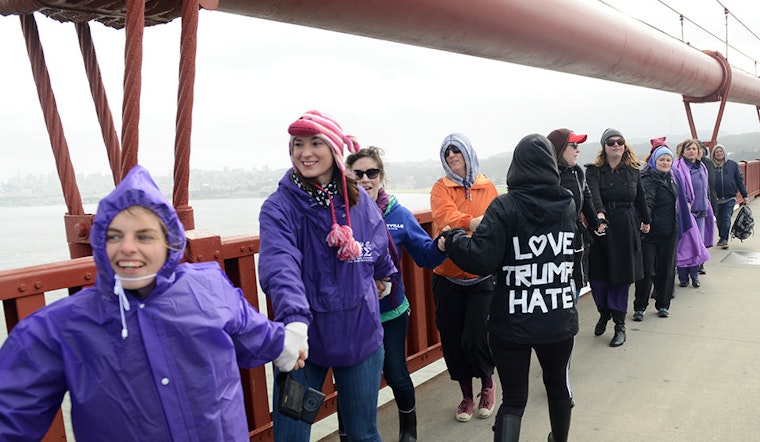 Published on January 20, 2017
The Golden Gate Bridge is often packed, with tourists and cyclists snapping photos along the footpath, as trucks and cars whizz past only feet away. 

But today was a little different. As Donald Trump was inaugurated around 10am, hundreds of pedestrians dressed in purple lined the bridge, holding hands in a "Bridge Together" demonstration that aimed to "celebrate unity and love in the face of divisiveness and hate." 
"This is basically in response to the hateful rhetoric that has been permeating our media in the previous election cycle and into where we are today," said Nick Brandon, lead producer of Satoriteller, the art-based production studio that organized the event. "Our response is, we are stronger together." 
Volunteers were encouraged to wear purple as a sign of unity. "Red and blue, together they make purple," Brandon said. "Together, we are united."
Santa Rosa residents Victoria Tonski, left, and Cathy Crowley, who were making their way north on the Golden Gate Bridge, rode a completely full charter bus to San Francisco for the event. They said they came to be a part of the positive energy.
"I took too many things for granted in the past eight, ten, fifteen years," Tonski said. "It's time to stand up and make our voices heard."
Christine Case-lo walked along the bridge, displaying her customized purple poncho.
"They said we couldn't have signs because of the safety hazard of them blowing away into traffic, so I wanted some way to get my message across," Case-lo said.

Colleen Culver Jaffe said she's already ready for the midterm elections.
"We're putting the Republicans in Congress on notice that we're watching them," Jaffe said. "Midterms are coming, guys. You better start doing the right thing."
"We may look different, but we're all the same. We're all human beings," said June Solomon.
Solomon's husband Zack Phillips, wearing tie-dye, said he usually takes a day off work for MLK Day, but this year, he took off on Inauguration Day instead, as he did in 2009 for Obama. That year, he said, he rode around the city on his motorcycle, wearing an Uncle Sam suit.
"You can't hate the haters," Phillips said. "You have to find a balance. Gotta love the haters. That's why we say love trumps hate."
Phillips' and Solomon's neighbor Jimmy Ashmore observed the contrast of this event to one of President Trump's key campaign promises.
"He's building a wall," Ashmore said, "We're building a bridge."
San Jose resident Fons Espiritu, who served two tours of duty in Vietnam from 1968 to 1970, said he wore his Vietnam Veteran hat to make sure veterans were represented. "We're not all one person," he said. 
April Ellis said her mom, Leann, 74, couldn't be here, so she made ten of the nationally popular "pussy hats" instead.
"The pussy grabs back," Ellis said.
Bridge Together volunteer Barbara Ditz said the event combined her love for performance and environmental art.
"We are demonstrating in a visual and visceral way that the Bay Area is opening up the mouth of the bay, to speak out against bullying, bigotry and discrimination," she said. 
Sonoma resident Grant Stedman waved to passing cars on the bridge. He said many honked back, in a show of solidarity.
"We are a majority, and we are not going to allow bullying to take place in our democracy," Stedman said. "We're from California. California is going to show the world how to do it."
Carrie Abraham said that she is showing her children how to peacefully protest, to use their voice.
"I remember them being in pots and pans when they were two when Obama won," Abraham recalled.
"We're standing together against what Trump says about us," said Abraham's 10-year-old daughter, Kinsey. "We don't like it."
Rev. Chris Rankin-Williams, the Episcopal priest of St. John's in Marin, said divisiveness and hate can win an election, but a country can't be run like that.
"I feel our faith calls us to speak out on behalf of our vulnerable," Rankin-Williams said. "Right now, there are a lot of people in our country who are feeling very vulnerable."
"The people who are here are people care about the future—about my future," said Mia Harrash.
Ina Gotlieb, Diana Wang, Amy Landers and Ingrid Riley referred to themselves as "Marin moms," "a refugee," "a big fat lesbian," and a "skinny lesbian."
What brought them together today? "We're all human," Gotlieb said.
Matthew Hansen showed off his Bernie Sanders shirt during the event. "I would've liked to have seen him being inaugurated," he said.
"It's a weird day for me. I don't agree with who's coming into office," said San Francisco resident Lauren Miller.
"Here, we're coming together and doing something to show love and unity, rather than divisiveness."
"We're out here, trying to fend off low blood sugar and a hungry child," said Brendan Hughes, noting that the vibe on the bridge had been great all day.
Chris Clark said his 12-year-old son, Alistair, came up with the idea of wearing pink-and-purple ties when they went to the thrift store looking for purple items.
"I skipped school to come to the bridge, but I did send a picture to my principal," explained teacher Anita Collison, adding that she was glad she wore her flannel pants in the chilly weather.
"I'm missing school for this," said Lilly Datnow, 15. "We're freezing for a good cause."