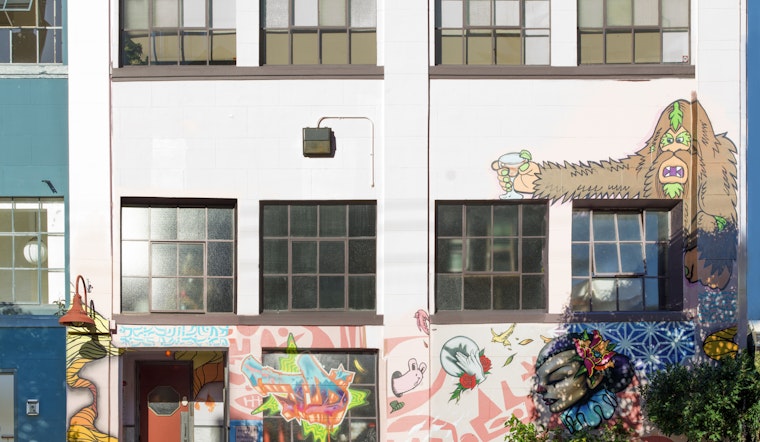 Published on January 11, 2017
Twice a year, Mission cocktail bar Trick Dog launches a new menu constructed around a different theme, ranging from a record album to a calendar of dogs. For its ninth menu, owners Josh Harris, Scott Baird, and their team (a.k.a. The Bon Vivants) called upon 14 local artists to create public murals around the city, including a collaborative mural by some of the artists on the bar's exterior.
The resulting menu is actually a book, "Trick Dog Mural Project," that includes photos of all 14 murals, as well as a menu with cocktails named for each of the artists.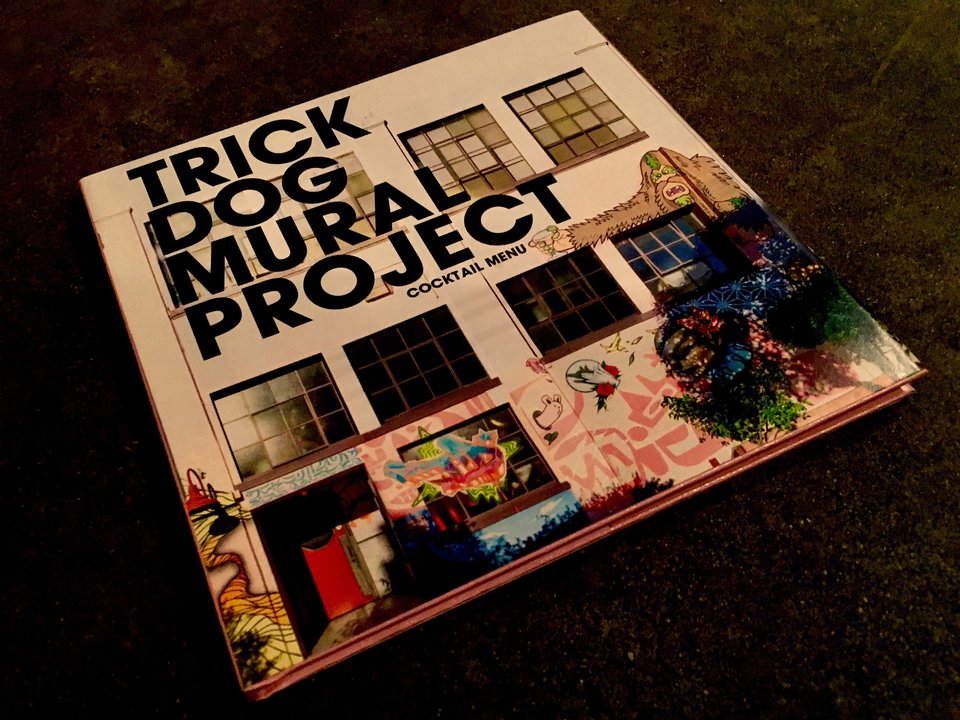 Trick Dog is selling the book for $40, with $20 from each book purchase benefiting local nonprofits Precita Eyes and Creativity Explored. (The remaining $20 will go towards production costs, Harris said.) No proceeds from any of the cocktails sold will go to charity. 
The project was coordinated by artists Sam Flores and Ronnie Buders, who also painted murals for it. To ensure the menu stayed secret, Buders explained, they didn't tell the artists for whom they were painting the murals—only that they would be for a charitable cause. The artists weren't paid for the murals, though the bar did cover the cost of supplies. 
Some of the artists learned the source of the project just after the new year, when they were invited to paint the collaborative mural; others only found out after the project had launched, some of them via Instagram. 
Interested in seeing the 13 other murals in the project for yourself? Here's where you can find them, along with links to the artists' work and previous Hoodline coverage of them. 
Castro/Duboce Triangle
We caught wind of both of the Castro's mural contributions late last month, when we were told they were part of a mysterious "charitable book project." 
In keeping with his moniker, Bigfoot's contribution depicts a group of Sasquatch-like creatures. "It depicts the conflict between the respect for nature held by the cast of Bigfoot characters and the destructive agenda of mankind," he told us in December. 
This mural is a bit tough to find: it's hidden in the parking lot adjacent to Lucky 13 (2140 Market St., at Church).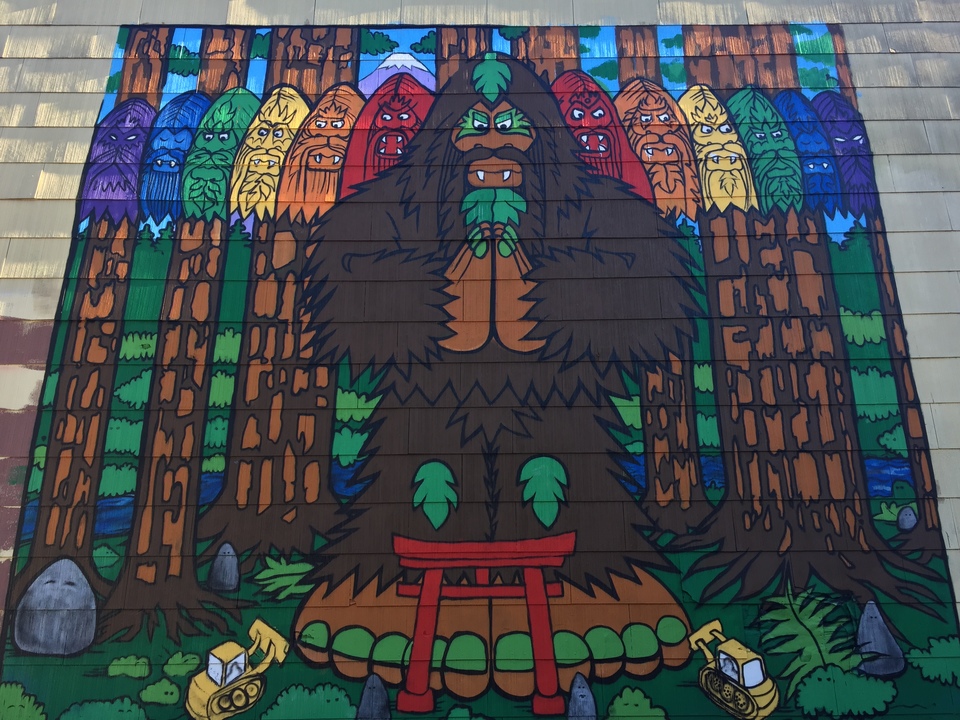 Greg "Pnut" Galinsky's mural has a calligraphy-like design that resembles Sanskrit and Farsi—a hallmark of the artist's work. It's on the Sanchez Street side of the Catarra Real Estate building at Sanchez & Market.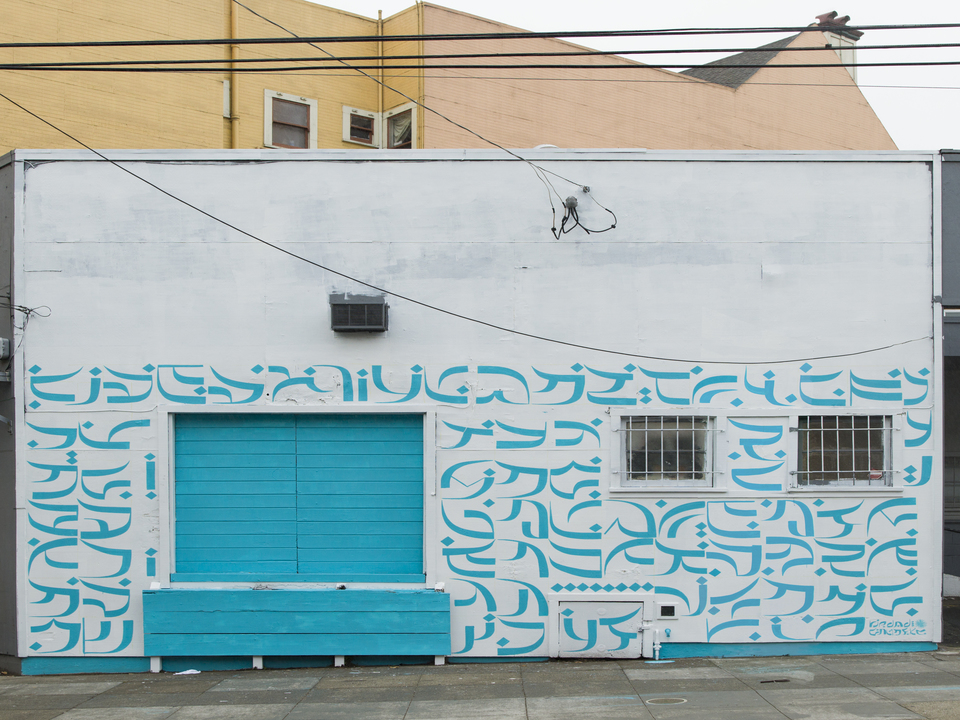 Dogpatch
Kelly Tunstall & Ferris Plock's mural is the only one in the project that's indoors, but Trick Dog wouldn't tell us what building it's inside—only that it's at 3rd and 22nd streets.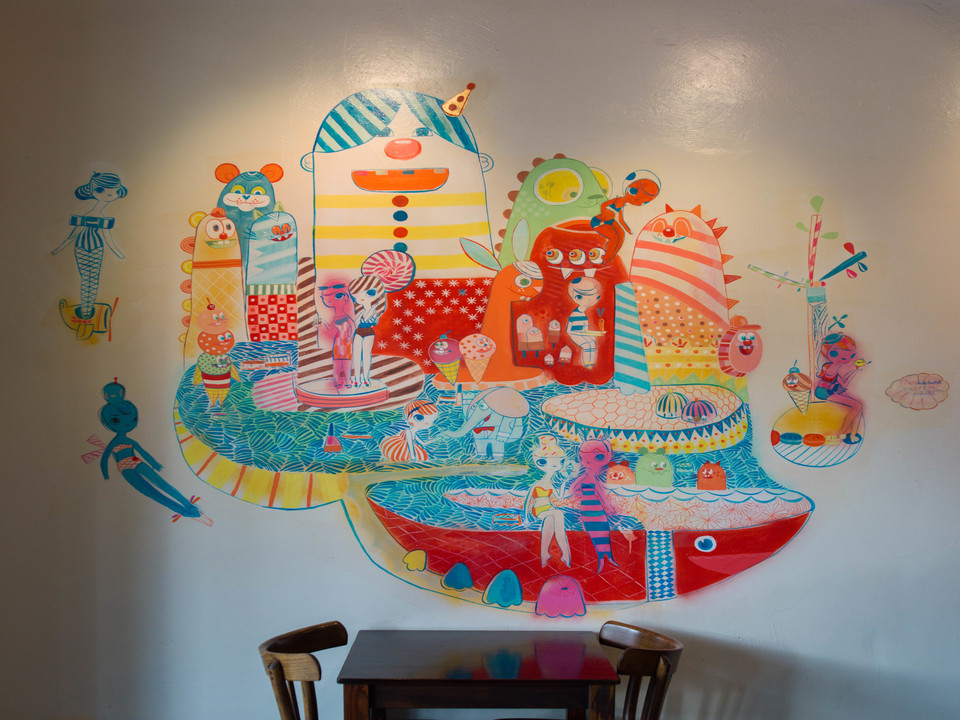 You'll also have to hunt for the contribution from mural project co-organizer Ronnie Buders—it's somewhere on Pier 70.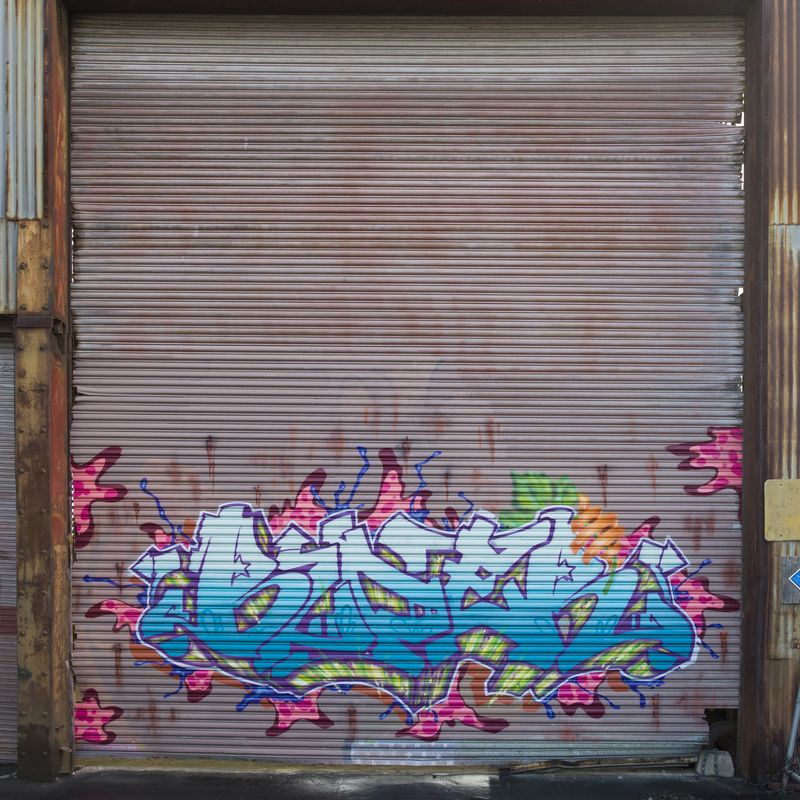 Mission
Project co-organizer Sam Flores' colorful floral mural is located at Valencia and 17th streets.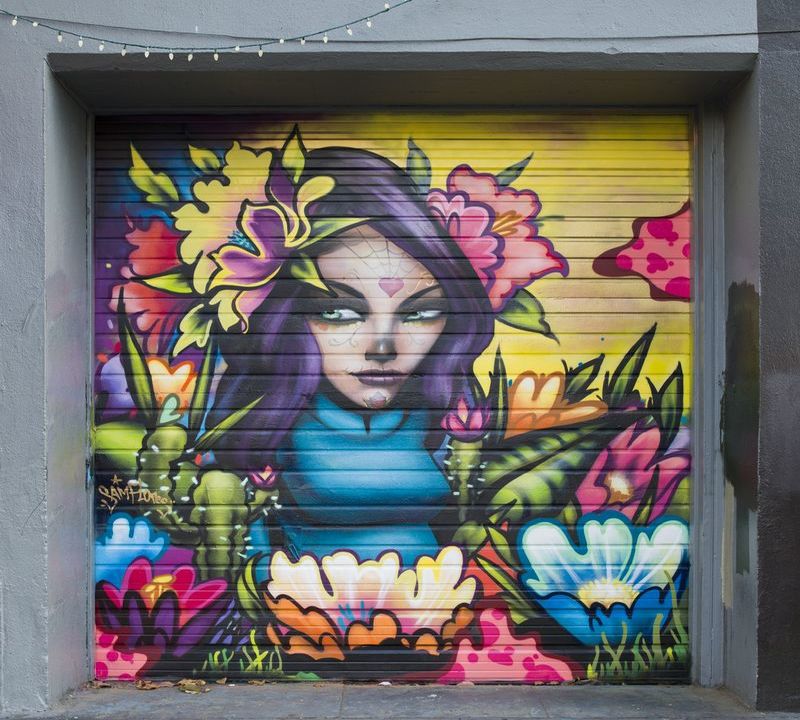 Optimist's mural is just a short walk from Trick Dog, at Treat and 19th streets.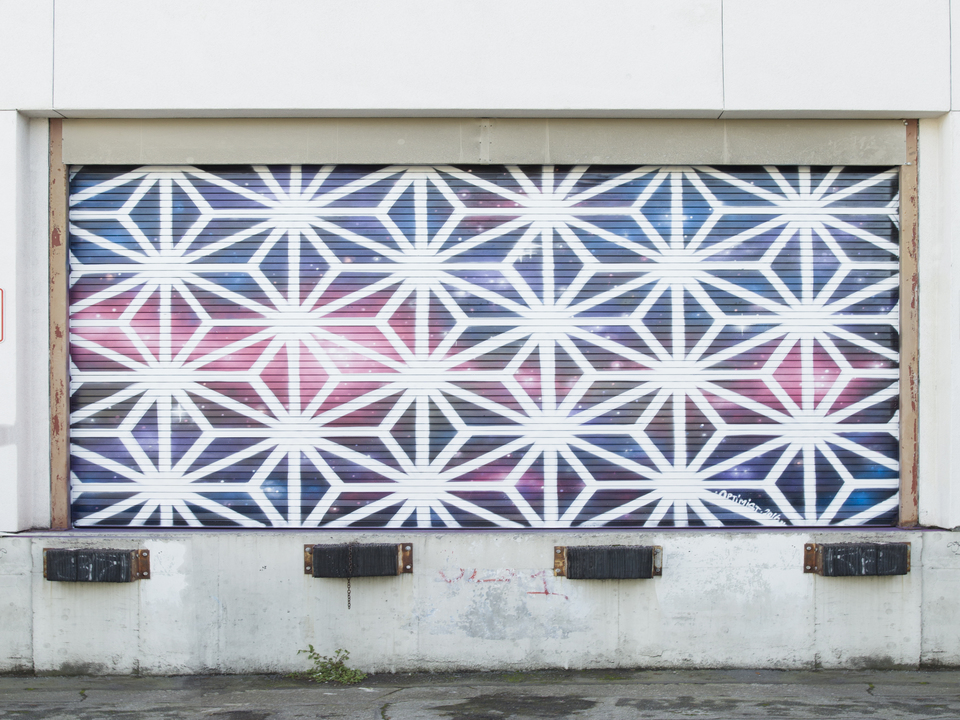 Mission Bay
Known for his work in the Mission, Sirron Norris ventured out to Mission Bay to paint one of his famed "blue bears" at 4th Street and Mission Bay North Boulevard.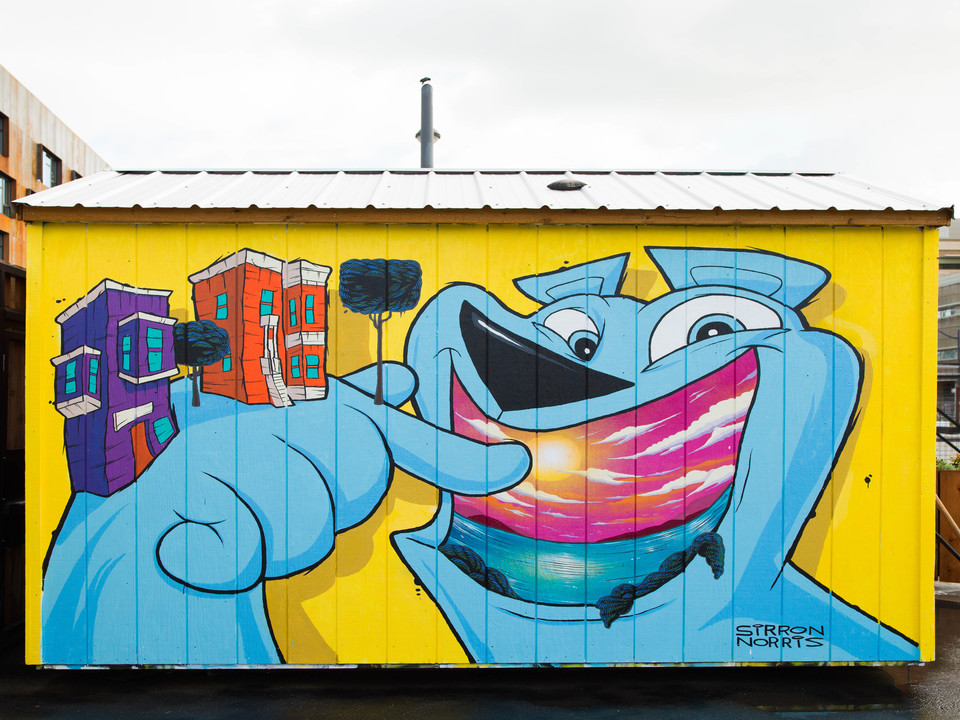 (A bonus mural to check out: Norris was also the lead illustrator for Fox's popular animated show Bob's Burgers, and back in November, he painted a mural of lead characters Bob & Linda Belcher on the roll-down gate of Rhea's Cafe—located just a block from Trick Dog, at 20th and Bryant streets.)
SoMa
Strider's abstract piece adorns the side of bar and nightclub Monarch, located at 6th and Mission streets.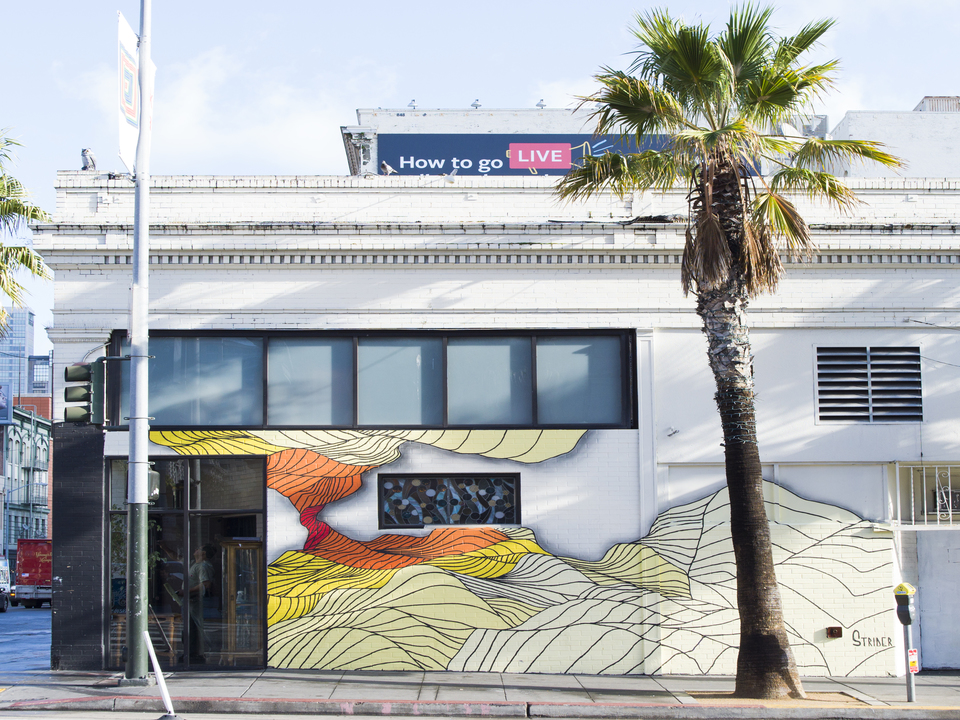 Rogelio Martinez's colorful skull is located on the exterior of screenprinting shop Babylon Burning, at 5th and Bluxome streets.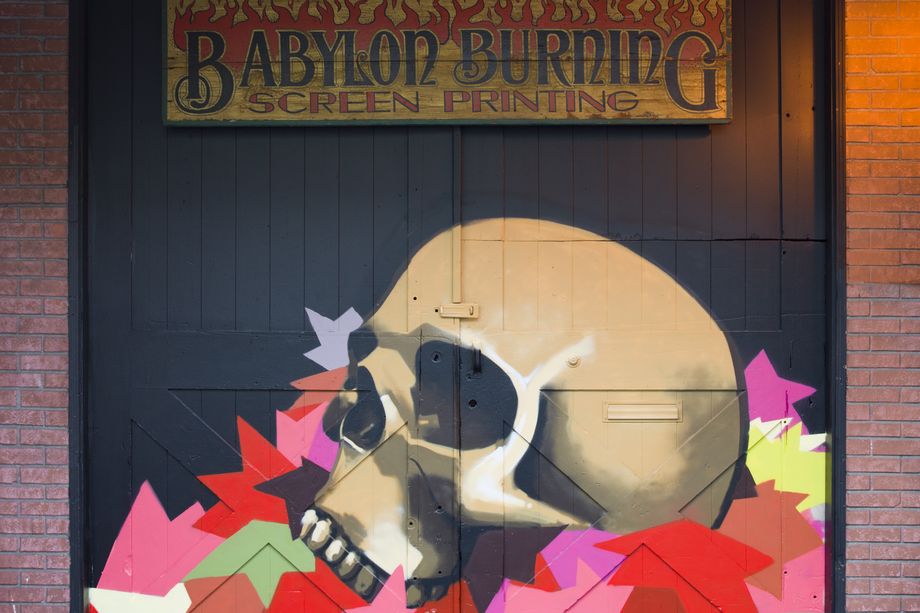 Tenderloin
You may recognize Brian Barneclo's work if you've ever ridden Caltrain: he's the artist behind the giant mural in the Caltrain rail yard at 7th & Townsend, which was the largest mural in SF at the time it was painted in 2011.
His smaller mural for the project is located on the side of Chambers restaurant at the Phoenix Hotel, which is at Eddy and Larkin streets.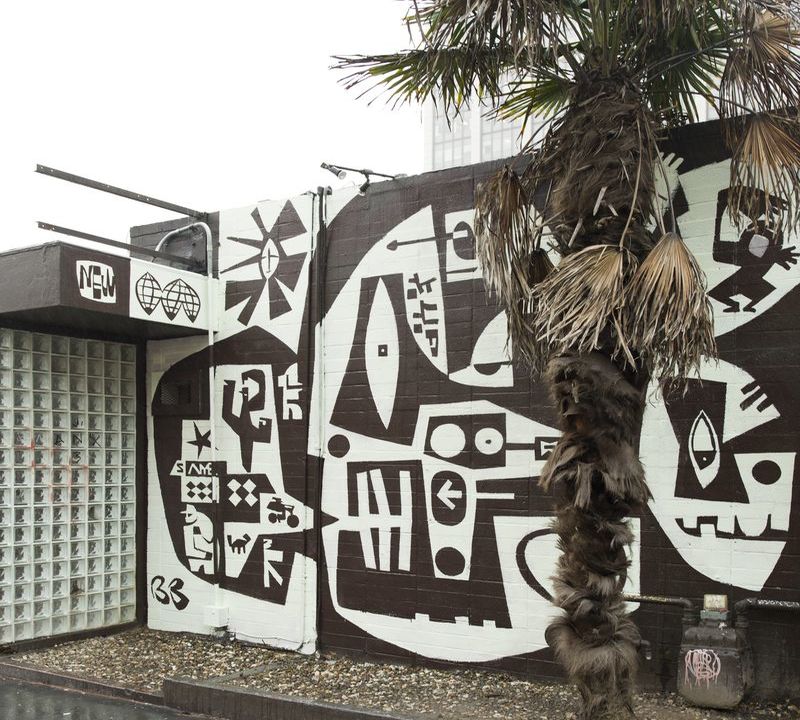 Upper Haight
Mel Waters' contribution to the project, which depicts Jerry Garcia, has been in progress since the summer. You can find it at Haight and Cole streets. To learn more about Waters, who's known for work that pays homage to famous figures like Prince, Gandhi, and more, check out our interview with him from June.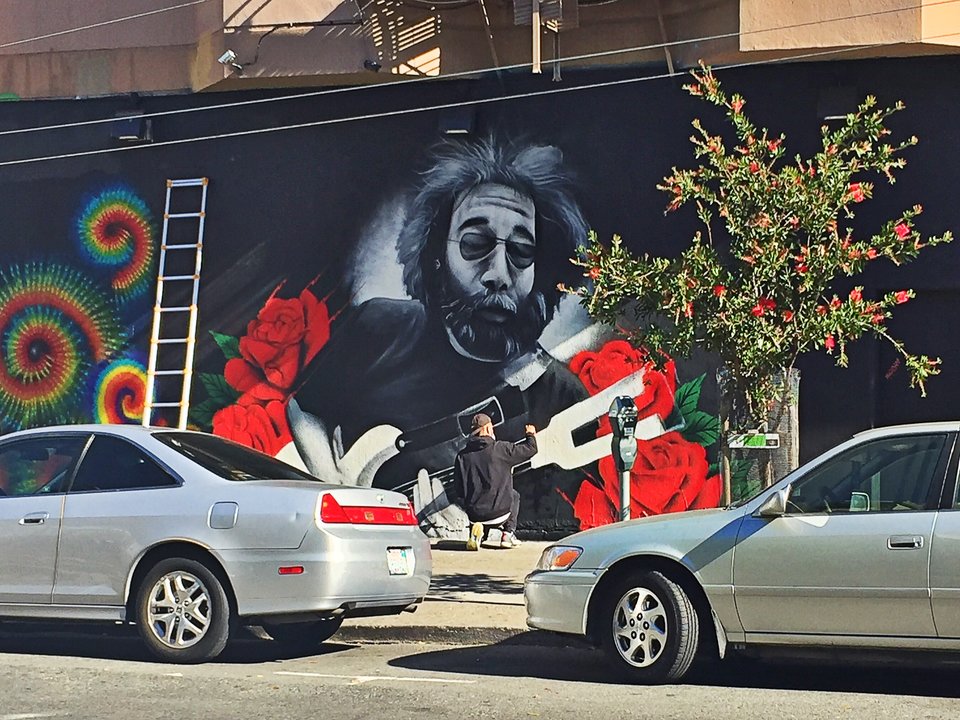 Van Ness
Norman "Vogue" Chuck's mural of a stormtrooper can be found at Van Ness and Market, on the side of the soon-to-be-demolished All Star Cafe.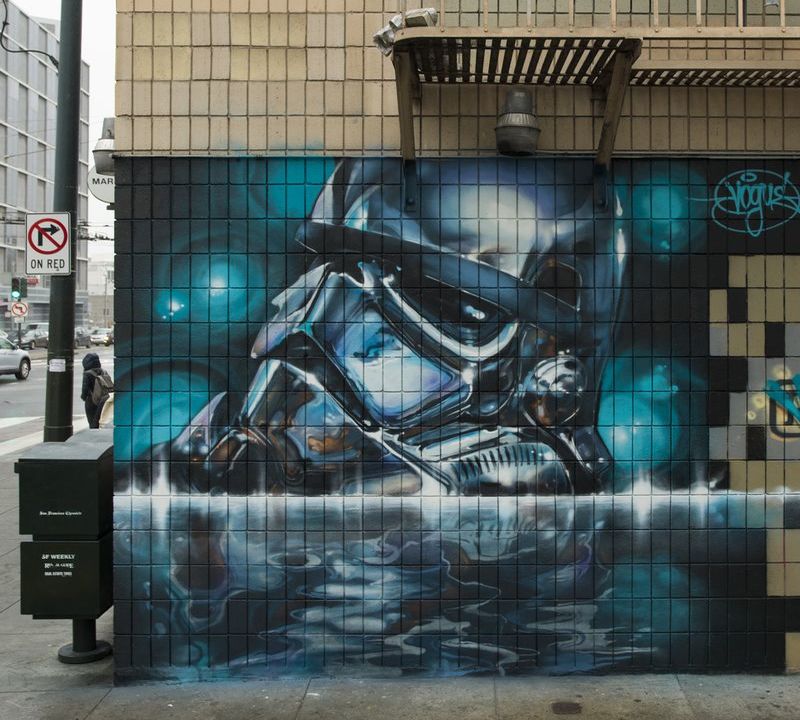 Jeremy Fish's mural depicting a bunny-wrapped "turkey sandwich" is located on the exterior of a restaurant that specializes in them (minus the bunnies, of course): Tommy's Joynt, at Geary and Van Ness. 
On January 29th, the bar plans to hold a book signing event at the bar, with all of the artists invited to attend. Stay tuned to Trick Dog's website for more details.