Seen something in your neighborhood that you couldn't quite put your finger on, or something on your commute that you haven't noticed before? We want to know about it. Text us at (415) 200-3233, email us at [email protected] or tweet us @hoodline, and we'll do the digging for you. 
Here's our latest roundup of what we've been hearing from readers on the Hoodline tipline.
We start things off in Corona Heights this week, with two different residents informing us they spotted the neighborhood's now-famous coyote on February 16th. 
Tipster Casey S. told us that her husband saw the coyote at 6:30am off States Street near the basketball court; at 8pm that evening, resident Anthony R. noted that while he was on his patio at Market and Eureka, he heard at least two coyotes howling for five to 10 minutes.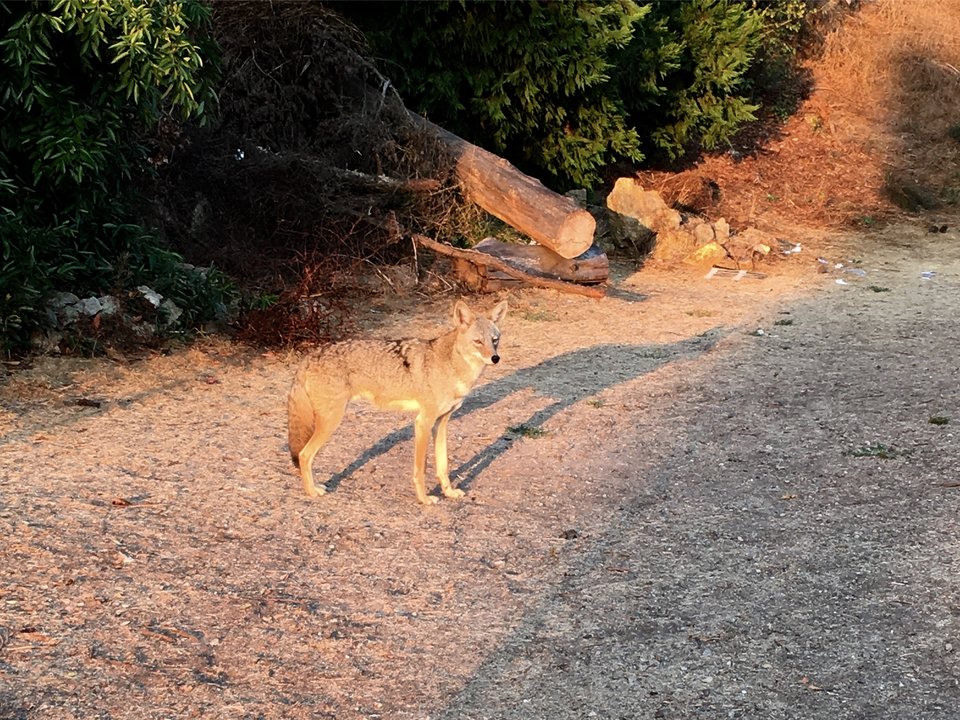 Since these coyote sightings have become more frequent in the last few months, we sat down with Janet Kessler, the city's "Coyote Whisperer," to learn more about how humans and coyotes can best interact. 

Nearby in the Castro, tipster Peter H. noticed that someone had painted a few large brackets on Prosper Street between 16th and 17th streets, hinting at the possible addition of new speed humps on the road. The SFMTA is looking into this for us; we'll update when we learn more. 
Over in Duboce Triangle, one of our readers informed us about an altercation that took place on February 16th.
"There is a guy wearing an SFMTA survey vest at the inbound J-line stop on Church St. at Market St. and 14th St. He seems drunk or crazy. At 7am this morning, I was at that stop and he came up from behind me and shoved me. When I asked him to see his name badge, he walked away and called me a faggot.'He is a young African-American man, wearing a parka with a fur collar. He has a lip piercing. Stay away from him!"
The SFMTA's Paul Rose told us that the agency would be following up on this incident with its contractor immediately. He also added that in these types of cases, the consequences range from re-training the individual to letting the person go.
In SoMa, tipster Christine N. tweeted at us about a cyclist collision that happened on February 15th.
@Hoodline 8am: a male was just struck on his bike @ 7th & Market intersection. He was moving his arm while on his side, but not getting up:/

— christine nycz (@christinenycz) February 15, 2017
@Hoodline wish I had more information. From what I saw I'm guessing the cyclist was crossing Market and& the driver took a left in to him

— christine nycz (@christinenycz) February 16, 2017
The SFPD's Ofc. Robert Rueca told us that a male bicyclist did get hurt on February 15th and was transported to the hospital. However, instead of collision between the cyclist and a driver, the bike's tire got stuck in a Muni track, which caused the rider to fall off. 
This may be the only incident of its kind that happened last week, but this has been an ongoing problem for bicyclists in different parts of the city, including the Castro.
Last night, a community meeting was finally held to address the issue of the 17th Street Muni tracks, on which dozens of cyclists have crashed and injured themselves.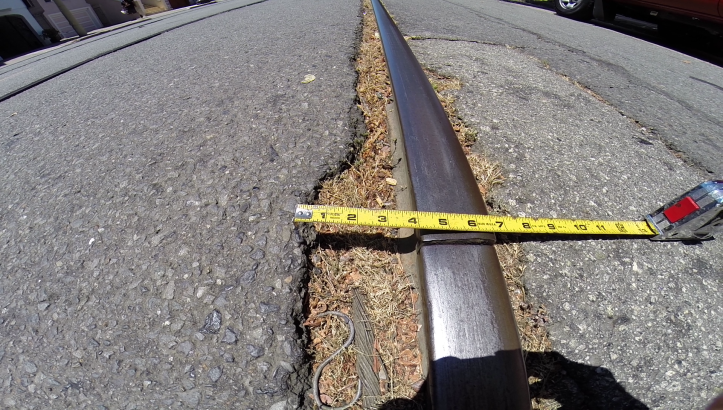 Over in Mid-Market, tipster Al M. told Hoodline that Kagawa-Ya Udon Noodle Company will be opening on March 31st at 1455 Market Street.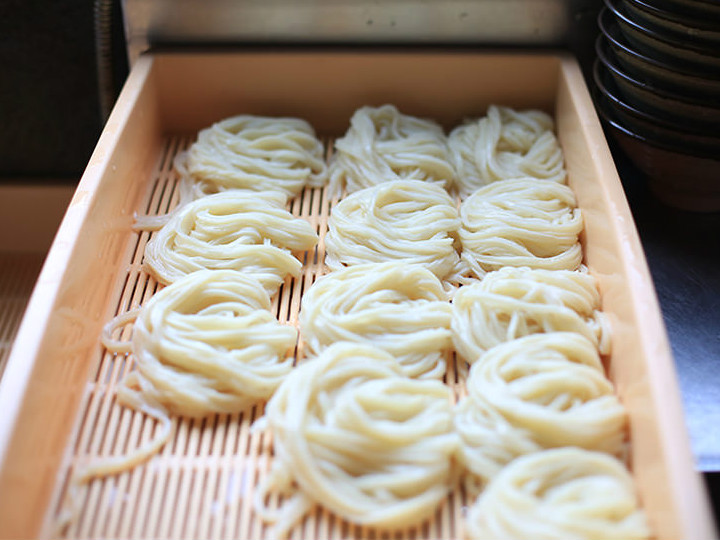 The restaurant's website doesn't give any information on what diners can expect, but on its Facebook page, it notes that the casual eatery will have fresh udon noodles, served daily.
Up north in the Financial District, Al M. also told us about a new drone store, SF DJI, that is opening at 735 Montgomery St. later this week.
"Workers are inside this morning doing work with windows covered. However, a guy on a smoke break was outside. He told me the grand opening will be on February 25th from 10:30am to 5:30pm. There will be a party with food, drinks and prizes given away. (No purchase necessary.)"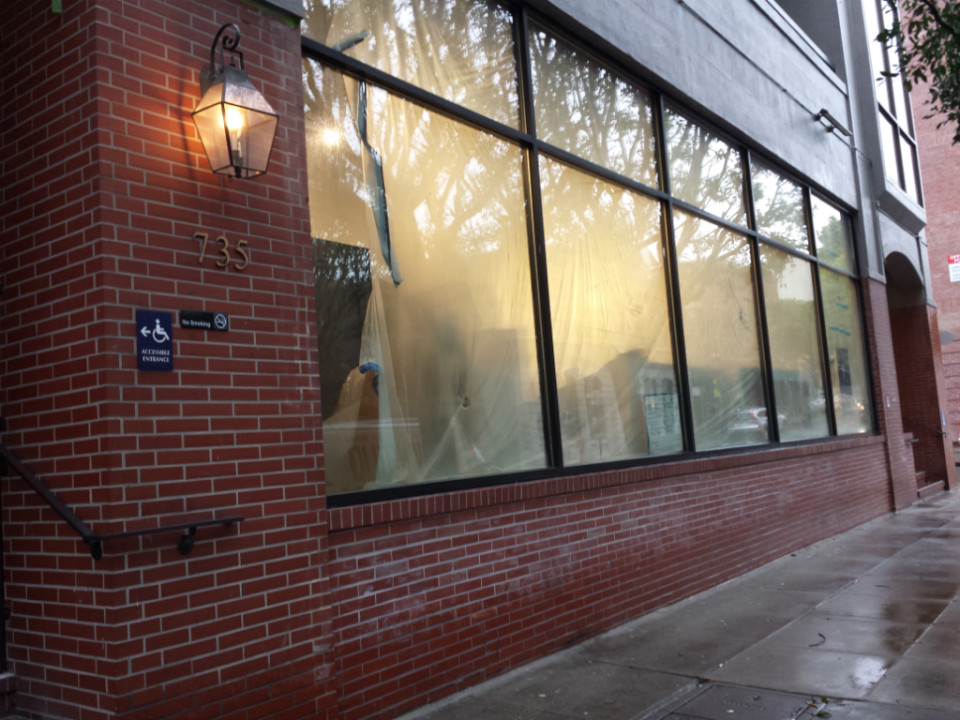 Also in the same neighborhood, Al M. alerted us to a fast-food Mediterranean restaurant that's currently in the works at 554 Commercial St. The site used to house 7 Pleasures, a Middle Eastern eatery; before that, it was Fenix, an Arabian restaurant. The new spot, whose name remains unknown, should open in about two months.
Swinging up to Pacific Heights, Hoodline reader Iriko G. sent in the following photo of a truck that got stuck on a hill on Webster and Vallejo for 30 minutes on Monday morning. He said the driver told him this wasn't his first time on this route, but after the city recently repaved the streets, they became higher, causing his bumper to catch.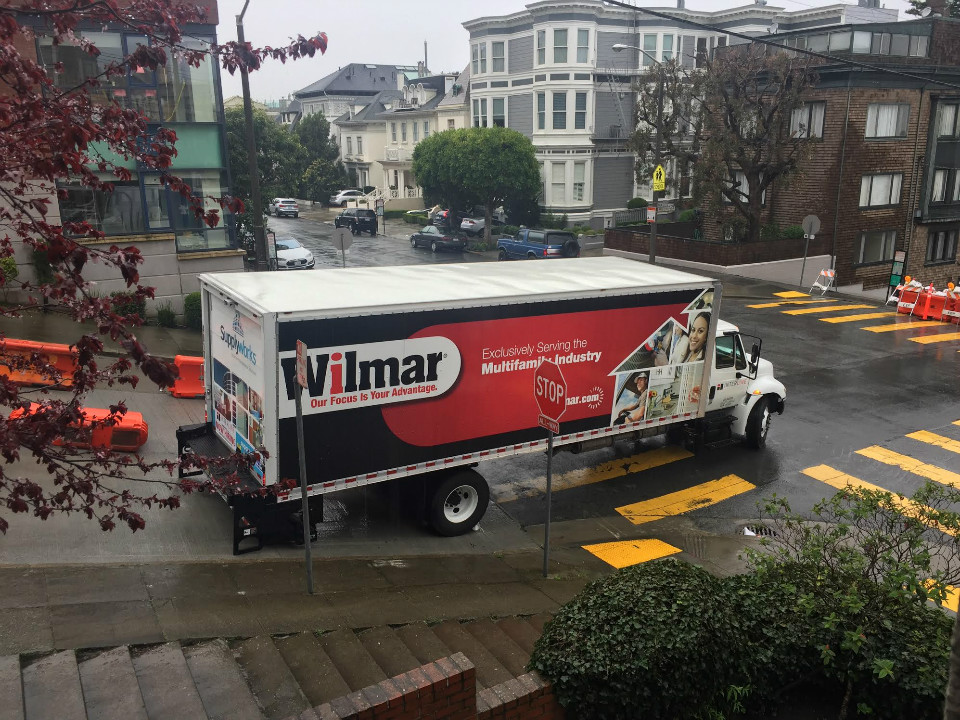 Also in Pacific Heights, tipster Mirka M. sent in a few photos of the President's Day weekend protests that took place last Sunday at Senator Dianne Feinstein and Congresswoman Nancy Pelosi's homes.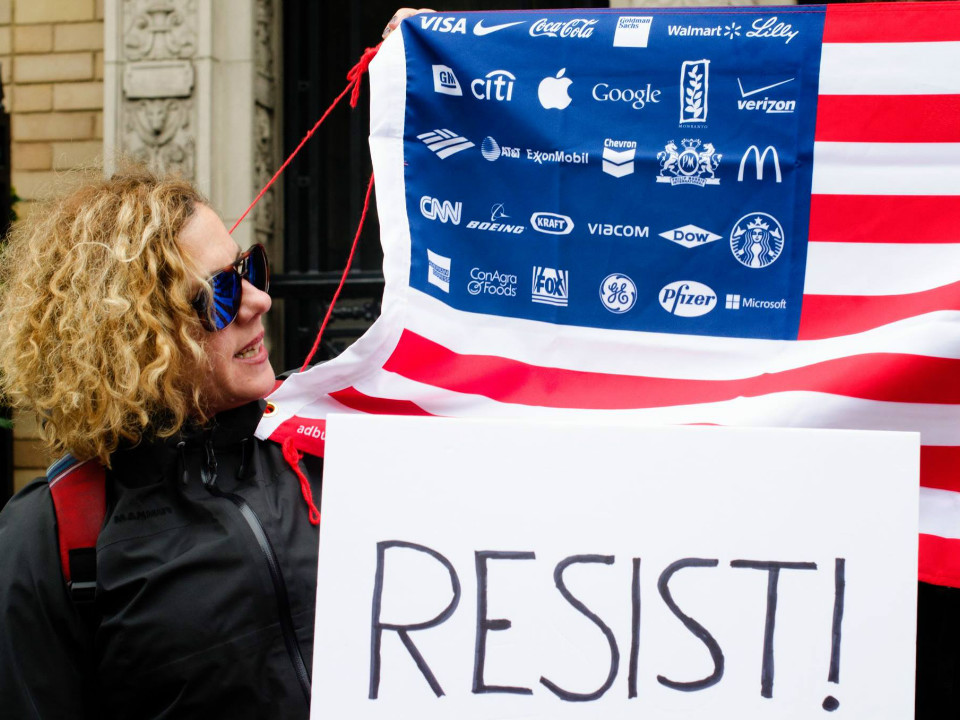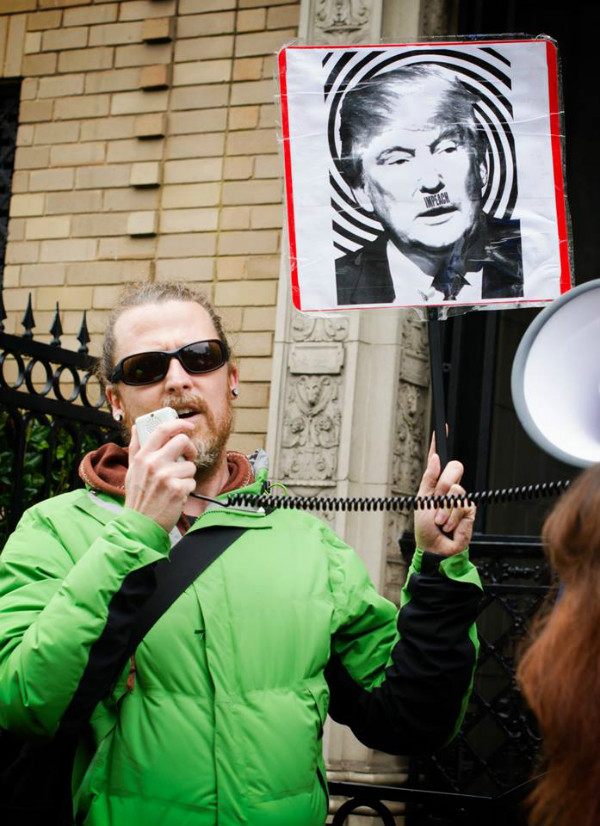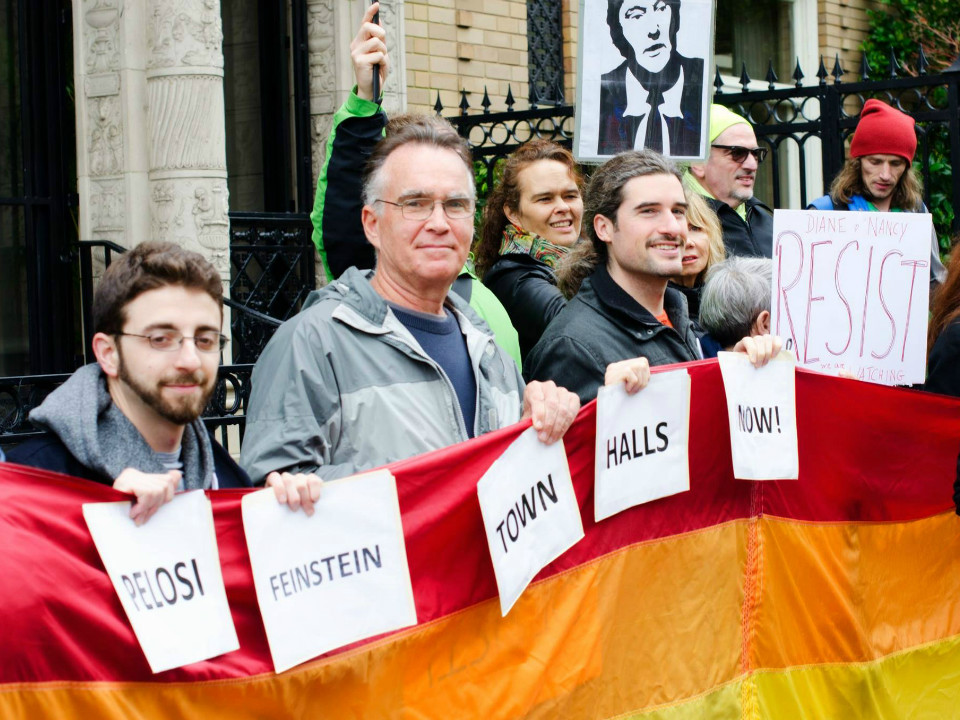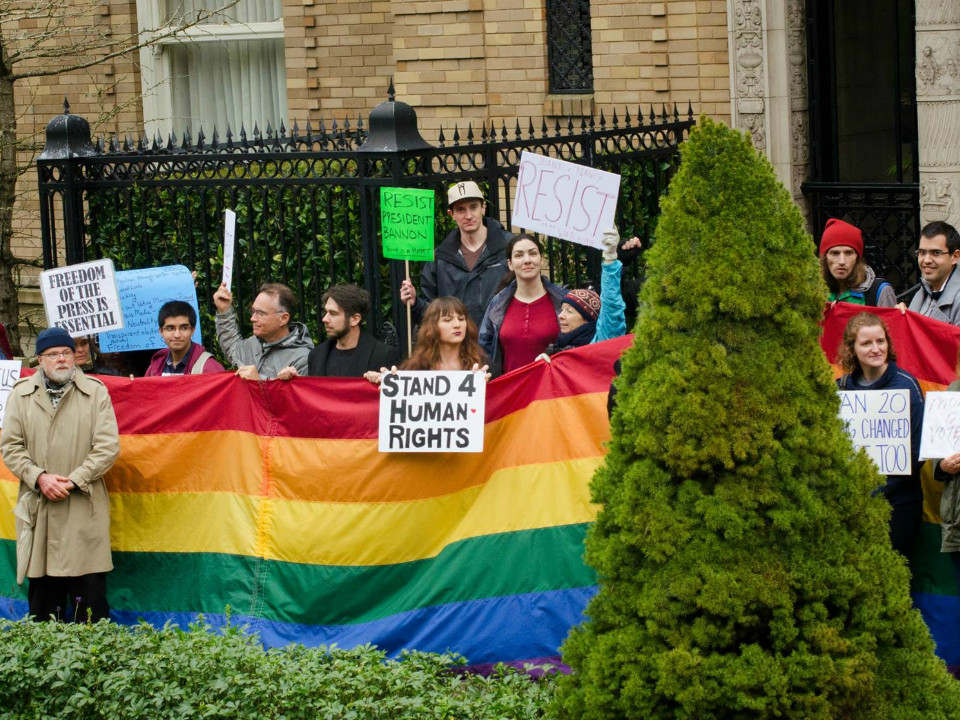 Finally, reader Nicole D. expressed concern with rising crime rates in the Richmond.
"Crime is on the rise in the Richmond District. I work on Clement Street in a retail store, and we were just the victims of a massive theft. Our neighbors at Park Life were also just robbed of a $7,000 piece of art by Barry McGee, and our other neighbor down the street had their store broken into and were robbed of most of their inventory.

To top it all off, my brand-new car was stolen three days ago and the police said there is nothing they can do about it. They said that there are AT LEAST 3 cars stolen in the Inner Richmond a day! Not only that but I notice on Fulton, across the street from where I live, that cars are being broken into on a nightly basis. What is going on??"
To verify Nicole's story, Hoodline reporter Will Callan spoke with Park Life, but they informed him that the theft was small and not out of the ordinary.
Captain Yep of the SFPD Richmond District told us that auto thefts in the neighborhood are common, but not quite as high as reported by Nicole. He said the neighborhood averages about one auto theft a day. In January, December, and November, respectively, there were 20, 32, and 36 incidents. In 2016 as a whole, the Richmond saw a grand total of 414 auto thefts. 
Want to be part of our next tipline post? Text us your tips at (415) 200-3233, email us at [email protected] or tweet us @hoodline.