Published on April 20, 2017
At well over six feet tall, sculptor David Morritt is a kind but commanding presence in his (very) tiny residential studio overlooking the intersection of Haight, Market, and Gough streets. (The studio is so small, in fact, that his private bathroom is located down the hallway.)
But the lack of space hasn't stopped Morritt, whose latest show opens at the Mission's Wonderland SF on Saturday, from using his home as a studio. He even uses the extra space for storing his ceramic casts of deer and horse skulls, which he adorns with fabricated antlers and swirly unicorn horns. He's made about 50 or 60 of them. 
"I think I was developing my voice in sculpture, so as soon as I found the right combination, I haven't been able to stop, because I need that constant practice," Morritt told us as we sat next to a table holding a half-finished sculpture—about three feet from his bed, and five feet from his sink.
Indeed, Morritt is entirely immersed in his artistic pursuits. Each morning, he travels to Orinda, where he teaches sculpture to middle-school students; each evening, he returns to his home/studio and works on his magical sculptures.
"I like kids more than adults, and I like animals more than anybody—my cat's my best friend," he said. "I dig teaching. It's hard work, but the more I do, the better I get at it, and the kids get a better experience out of it. Lessons come naturally to me. It's an art itself."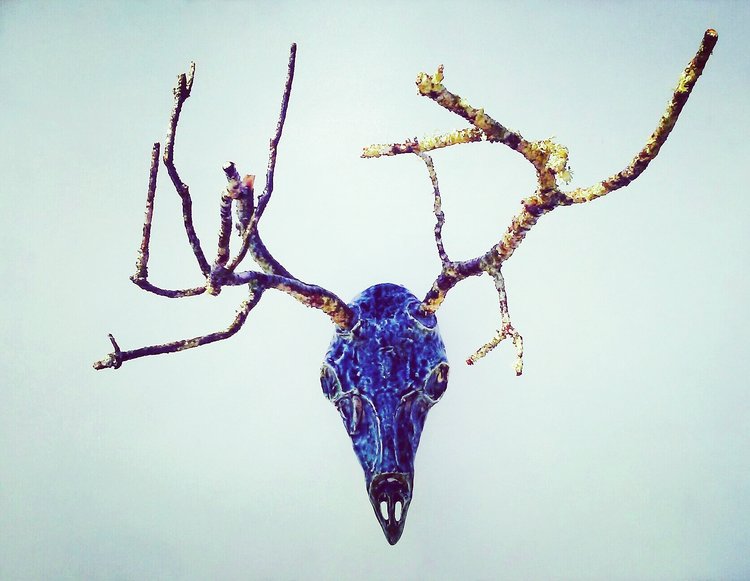 Originally from the San Fernando Valley, Morritt moved to the Bay Area in the late '90s, earning a degree in art history from UC Berkeley. He ultimately received his MFA in painting from San Jose State, but much of his time after college was spent showing paintings in warehouse gallery spaces around Oakland and playing in various East Bay bands.

"I was rockin' out," he said. 
About a decade ago, he moved south to take a job at Los Angeles' Getty Center, curating The Stark Collection of Modern and Contemporary Outdoor Sculpture.
"I organized an international symposium, where speakers came from the UK and U.S. and gave lectures about modern and contemporary sculpture," said Morritt. You can still hear his voice on parts of the audio tour of the sculpture garden.
But the office gig ultimately wasn't a great fit for Morritt, and seven years ago, he decided to move back north. He landed in Hayes Valley, where he launched his teaching career and began working on his signature skull sculptures.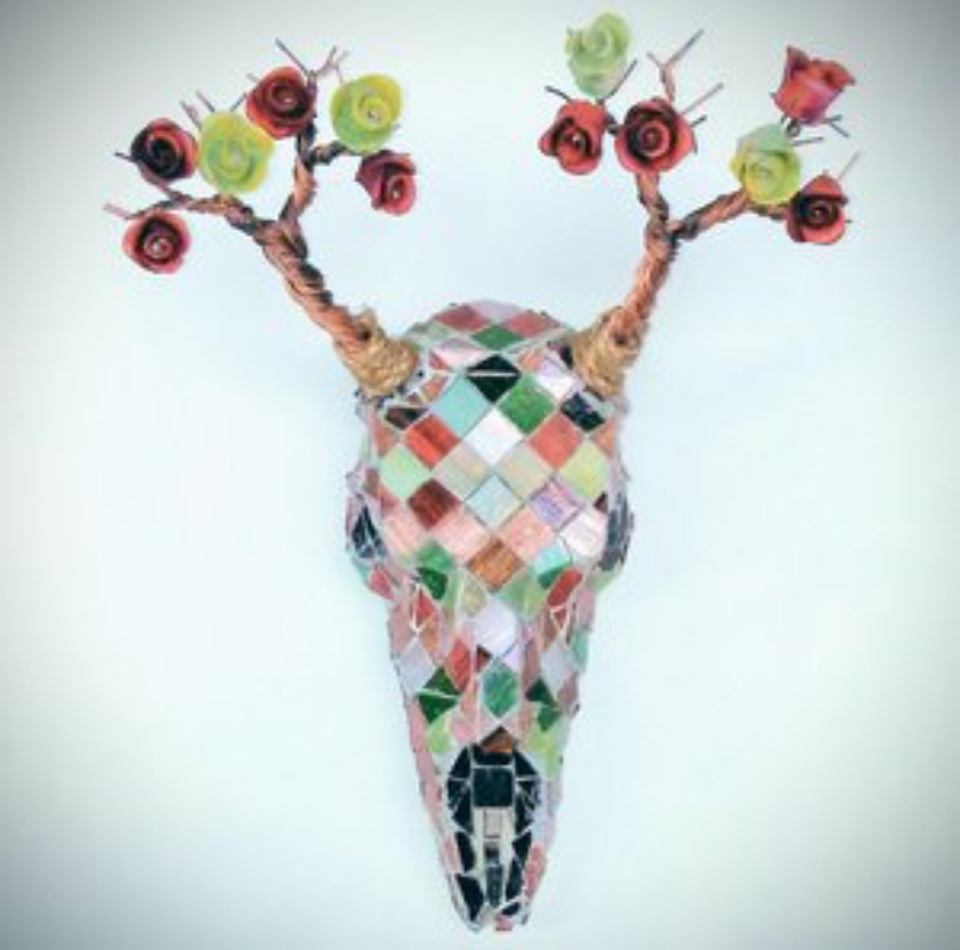 Morritt's early ceramic deer skull sculptures boasted antlers made of twisted metal, with clay roses growing out of them. However, he eventually began fashioning the antlers from found tree branches.

"I originally saw them as a coupling of opposite principles—life and death, masculine and feminine, celebration and mourning," said Morritt.
He gave each skull a name that resonated with him personally—"then, eventually, I started naming them after Greek gods."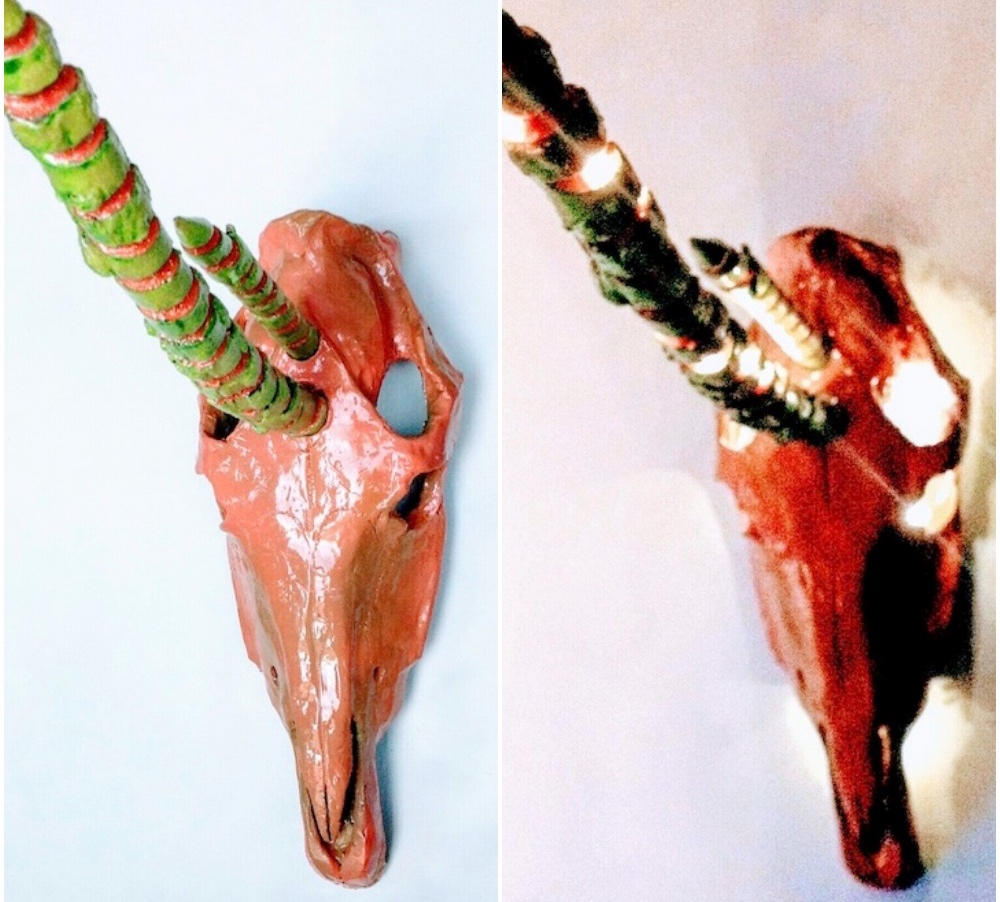 While his first skull was sculpted entirely by hand, Morritt eventually began using a mold in order to produce more pieces. After getting his hands on a mold of a horse skull, he decided to go the unicorn route.

"Unicorns are symbolic of magic and fantasy, but for me, they're more about an individual's search," he said. "And in that search, anything can happen."
"It's more about a oneness, and how everything's connected. If the deer skulls are about duality, then the unicorns are about singularity."
Morritt fashions his unicorn horns out of wood, routing out a swirl in each; lately, he's also been adding tiny lights to some of them. All the skulls are embellished with paint, glass or mirrored mosaic tile, or gold leaf.
"Living right here is priceless," he said of his Hayes Valley home. "It really has fed my practice and my mind. Sometimes it's disturbing, sometimes it's exciting, sometimes it's totally peaceful and chill. But I love even the sound of the streetcars. I feel like I'm part of this breathing environment."
If you'd like to see some of Morritt's work for yourself, he'll be part of "Urban Jungle," a show opening on Saturday at the Mission's Wonderland SF. (Incidentally, he's also in a second show down south, at Art Share LA, that opens the same day.)
He also has another show coming up at Four Barrel Coffee on Valencia; it opens May 19th, and will run through June 29th. For more information, visit his website.