For many San Franciscans, the quintessential local Mexican-food experience is a Mission burrito. But some of the city's best Mexican food actually lies outside of the Mission. 
We've dug into user review data from Yelp to figure out the other top neighborhoods for Mexican fare around the city, whether you're looking for burritos or something more traditional.
In our findings, you'll see a concentration of upscale or fusion-forward spots in the downtown and SoMa area, with highlights like HRD's Korean burritos or Garaje's zapatos.
But many die-hard Mission taqueria patrons may not know that on southern Mission Street, just past Interstate 280, there's another corridor of great, authentic local taquerias, including neighborhood favorites like Taqueria Guadalajara and an outpost of Mission standard El Farolito. 
You'll also find restaurants specializing in tortas and regional Mexican dishes, and a notably large number of restaurants serving Central American cuisine. 
Here's a closer look at our findings, including on-the-ground coverage from our partners at ABC7 News.
First, The Mission
If you're new to town—or new to Mexican cuisine—the Mission should still be your first stop. 
In our analysis, we found 92 Mexican restaurants in the Mission—dozens more than any other neighborhood, and roughly a quarter of the 357 total Mexican eateries within city limits, as classified by Yelp.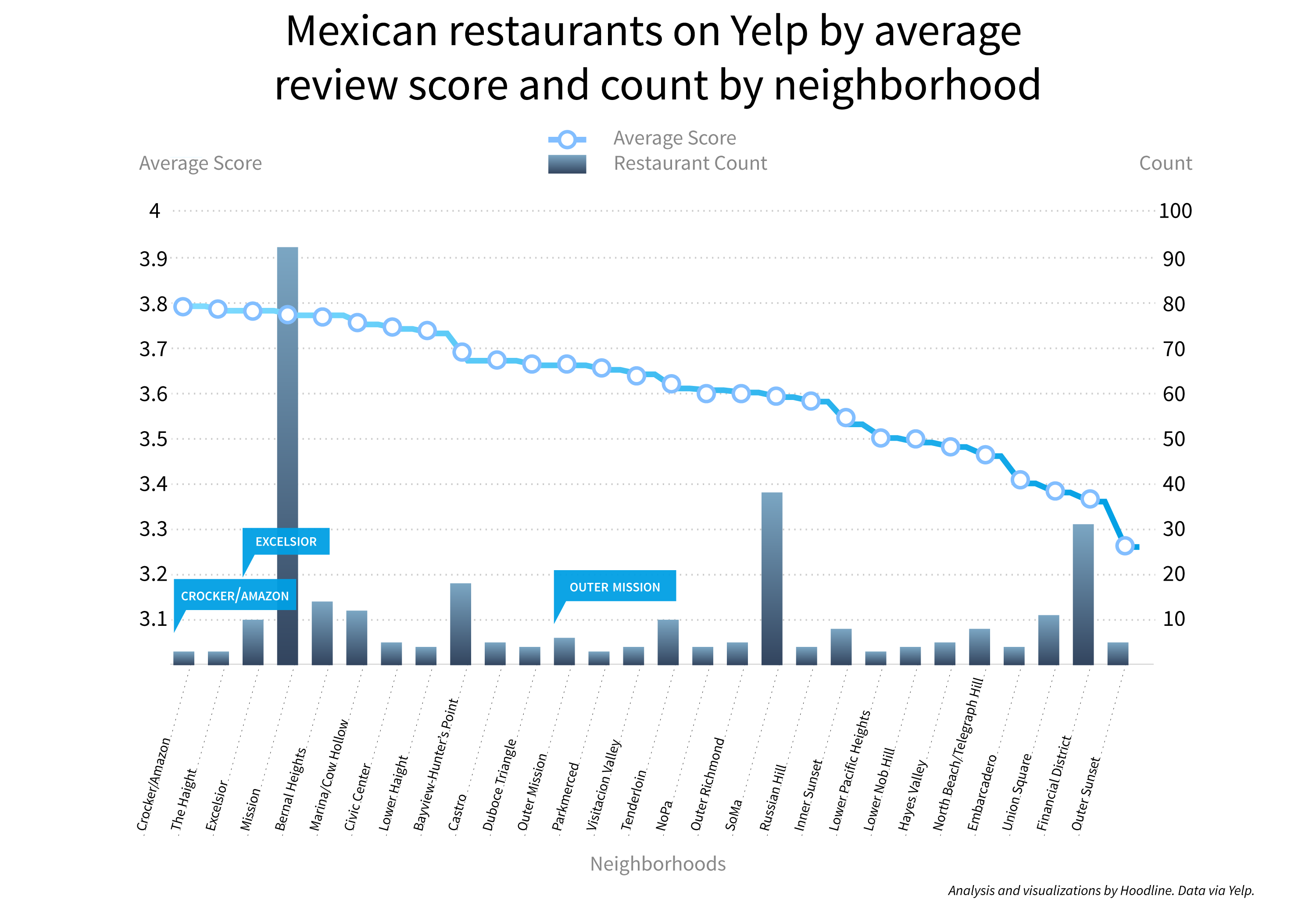 The average score for a Mexican restaurant in the Mission is one of the highest in the city, with nationally recognized spots like FiveThirtyEight burrito champs La Taqueria, El Farolito, and Taqueria Cancún racking up the five-star reviews. 
SoMa and the Financial District also boast relatively large concentrations of Mexican restaurants, but they're not nearly as popular with Yelpers as the Mission's. 
But we also wanted to get a sense of the less obvious favorites for great Mexican food among Yelp's large, diverse pool of San Francisco reviewers.
So we created a single score for each individual Mexican restaurant, comparing average review score versus total number of reviews to generate a ranked citywide list.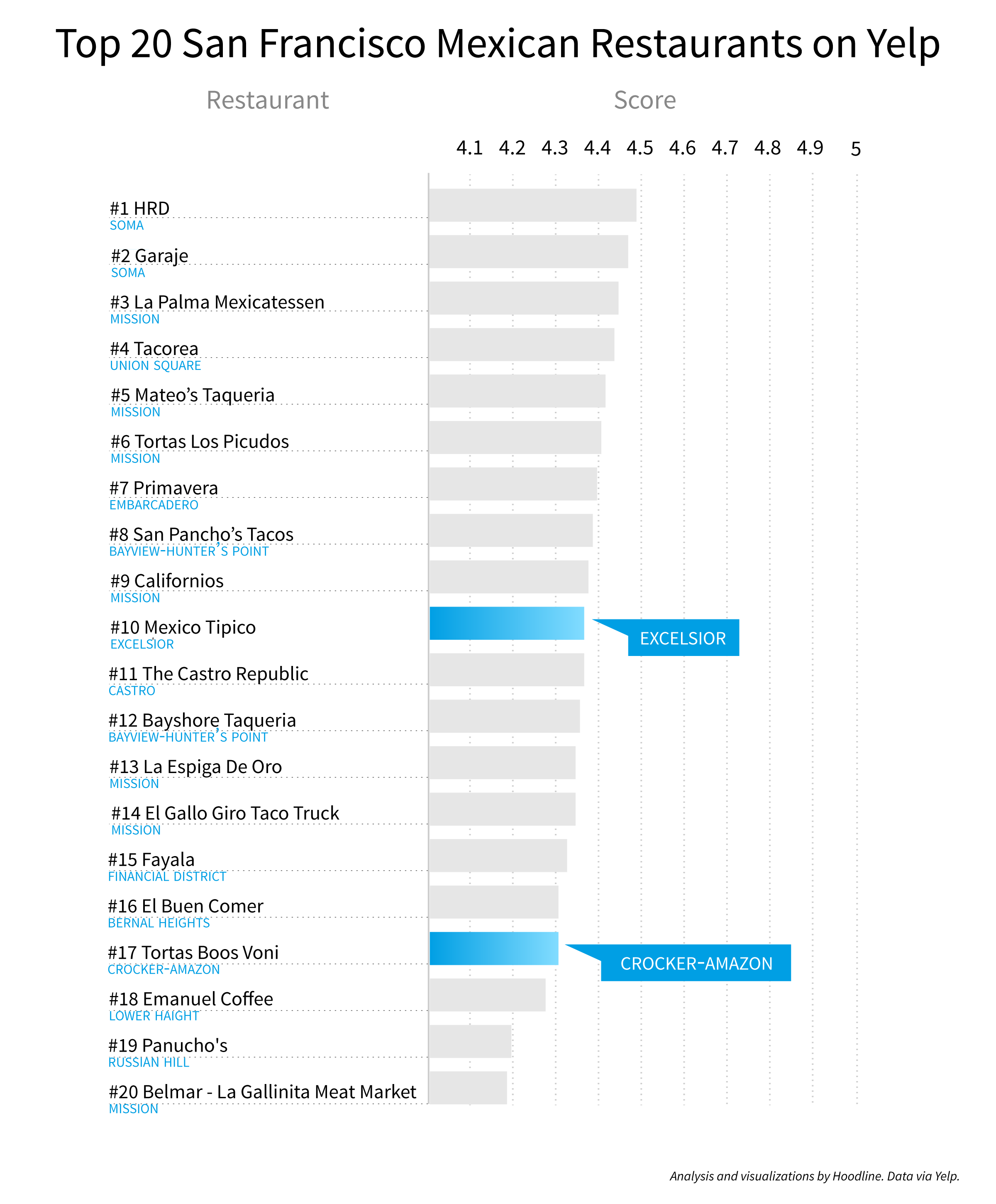 Mexican restaurants can be broadly defined. In SoMa, the field includes sit-down places like tequila bar Tres, which is popular with the ballpark crowd, and fusion spots like Korean-influenced HRD and burger-bar-cum-taqueria Garaje, which came out on top of our ranking with 4.5-star averages across 2,025 and 1,119 reviews, respectively. 
But these locations stand out from the crowd in SoMa, which otherwise boasts a mediocre 3.6-star average for Mexican restaurants. 
So where can a concentration of above-average Mexican food be found—other than the Mission? 
South Of I-280
The answer: Mission Street, south of I-280. While they have fewer total Mexican restaurants than the Mission, Excelsior and Crocker-Amazon both beat the Mission's average restaurant score. 
By the numbers, Taqueria Guadalajara is the local favorite, averaging 4 stars with 711 reviews—the most of any Mexican restaurant in the corridor. Using an internal ranking system, Yelp actually considers it to have the fifth-best burrito in the city, behind prominent Mission spots.
Our top 20 list also highlights some less obvious winners. One is Excelsior restaurant Mexico Tipico, which specializes in dishes from around Mexico.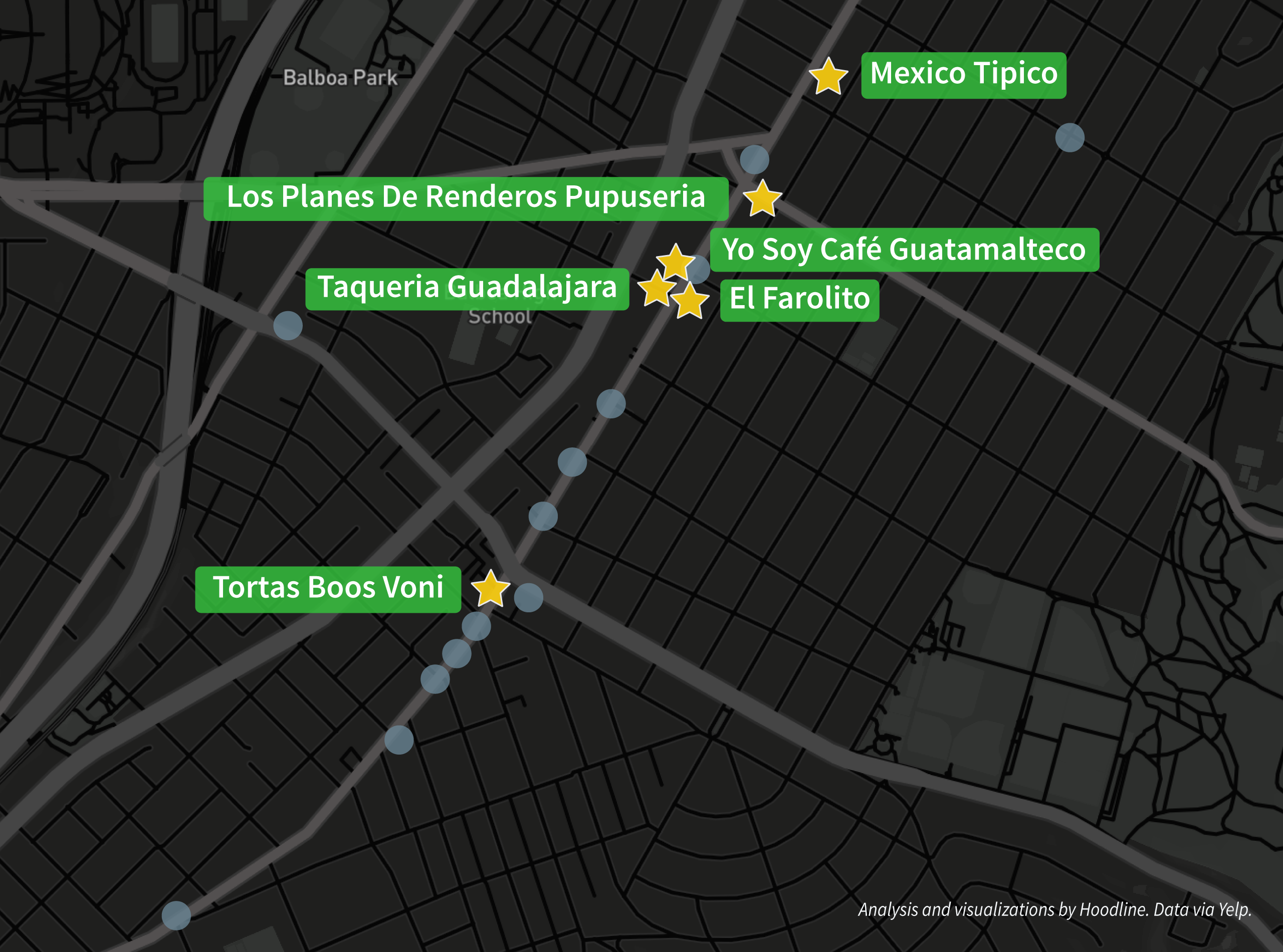 "Flavors are very different in different parts of Mexico," employee Viviana Gonzalez told ABC7's Jessica Castro in an interview. Mexico Tipico's staff hails from different parts of the country, resulting in a diverse menu. 

Gonzalez's favorite dish is the mole poblano, but Yelpers also love Mexico Tipico's traditional soups, like menudo and pozole. (All three dishes are only available on weekends, so be sure to plan accordingly.)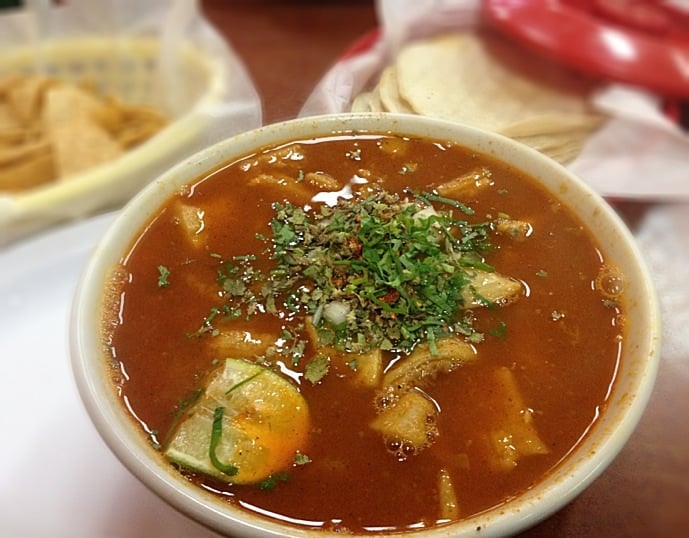 Down the street, you'll find highly ranked tortas at Tortas Boos Voni, which Yelp's internal rankings place in a close third behind the Mission's popular Tortas Los Picudos and La Torta Gorda. 
Area food critics have praised Boos Voni's tortas, and informed Yelp users agree.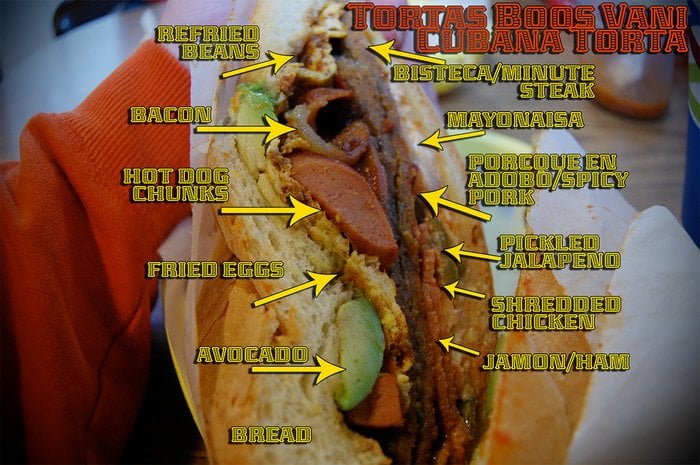 "I am originally from Mexico and lived in D.F. for quite some time," explains Yelp user Rigo H. "Tortas Boos Voni are the best tortas I have ever had (including the Mission and Mexico). My favorite one is the Torta Cubana, the mother of all tortas... the staff is also very nice and friendly."
In our research, we also looked at related cuisines, and found a number of well-liked Central American restaurants on the corridor.

Excelsior boasts nine Salvadoran restaurants—the same number as the Mission—and while the Mission spots tend to have a lot more reviews, Los Planes Del Renderos Pupuseria comes in at number five on Yelp's internal "best pupusas" rankings.
And while San Francisco has few Guatemalan restaurants to its name, Mission Street's Yo Soy Café Guatemalteco has been racking up some strong reviews. 
Take a tour through HRD, Mexico Tipico and Tortas Boos Voni with ABC7's Jessica Castro.
The concentration of great Mexican and Central American food makes sense, given that these neighborhoods are home to some of the largest populations of Hispanic residents in the city, aside from the Mission.

Census records show some 11,700 people who designated themselves Hispanic in Excelsior, versus 21,100 in the Mission (based on one set of neighborhood boundaries, at least). 
Real estate in this area is also historically less expensive than further north in the city, which makes it easier for local entrepreneurs to open restaurants—that serve an appreciative local audience.
And on that note, Hoodline particularly recommends you try the grilled chicken torta at Boos Voni and the pupusas con loroco at Los Planes. 
Stay tuned for more local business trend analysis in the future. 
Notes on methodology: We used Yelp data because it's the most comprehensive, long-term, best-categorized data set about local business that we have available. To determine neighborhoods, we used Yelp's neighborhood boundaries, and excluded areas with fewer than three Mexican restaurants. Our average stars versus count of reviews formula uses Bayesian averaging to push the scores of restaurants with few reviews towards the average score of all restaurants. This help us highlight popular smaller spaces. At the same time, we bias against surfacing a restaurant that, say, has one 5-star review. For restaurants with large number of reviews, the formula assigns a score close to the average score presented by Yelp.