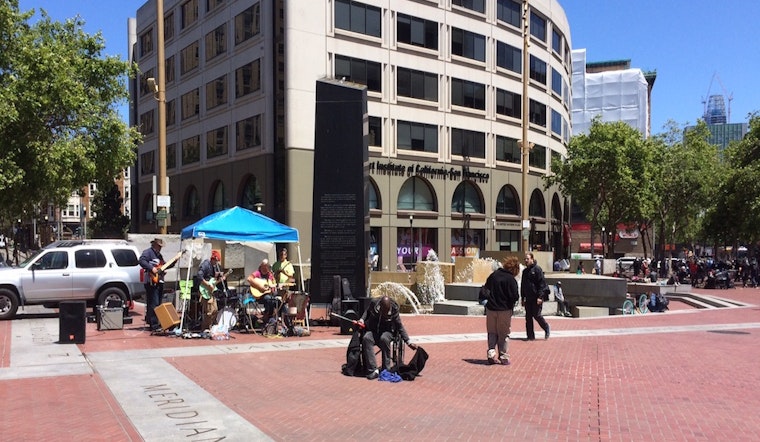 Published on May 18, 2017
After decades of fragmented management, the public plazas between City Hall and the United Nations Plaza — UN Plaza, Civic Center Plaza and Fulton Street between the Main Library and the Asian Art Museum — could be unified through the Civic Center Commons initiative.
Historically, design and management of the three spaces has been challenging; as many as nine city agencies oversee the area, and they largely operate in separate silos, Phil Ginsburg, general manager of San Francisco Recreation and Parks Department, told Hoodline.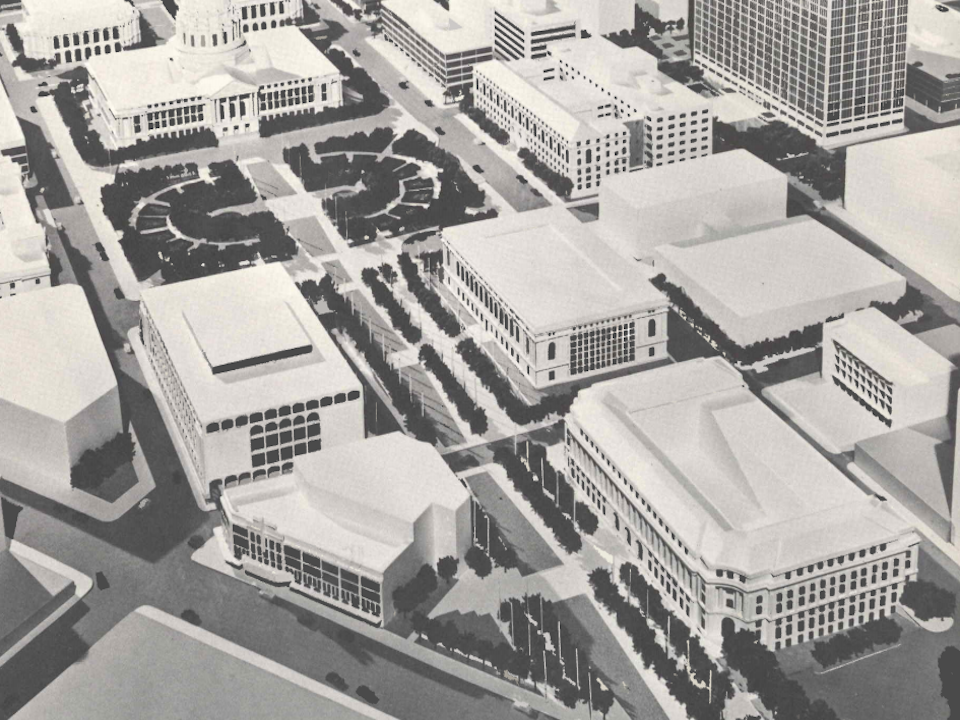 "[Now], we have not only the city agencies, but also several private and community partners working to activate and improve the area," Ginsburg said.
The mayor's Office of Economic and Workforce Development (OEWD) is partnering with Rec and Parks, SF Planning, the Department of Public Works, the Main Library, the Asian Art Museum, the Civic Center and Tenderloin Community Benefit Districts and other nearby non-profit and community groups on the initiative. Ginsburg said he has "never felt more optimistic about a joint city and community effort."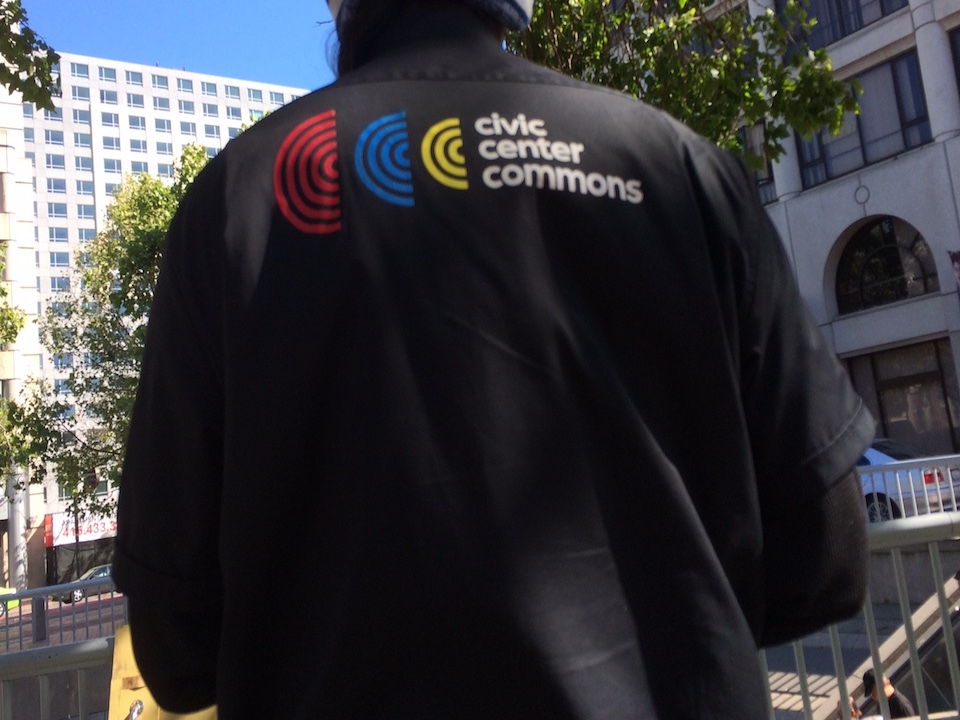 The commons initiative fits into the  2015 Central Market/Tenderloin Strategy, which aims to support existing and attract new small businesses in the neighborhood.
The initiative goes further to support the people that live and work nearby or visit the area for a wide variety of reasons, said Joaquin Torres, deputy director of OEWD.
In his view, the open space has several important functions: it serves as many residents' backyard, and acts as a large-scale gathering space for celebrations and community organizing. It also has the potential to host visitors on a daily basis.
"Housing opportunities are bringing new families to these communities, and they need access to nearby open spaces," Mayor Ed Lee said in a emailed statement.
Developments such as 1028 Market and Group i's mixed-use proposal are expected to bring hundreds of new units to the area in the next several years.
The focus of the initiative is unification.
"If you look at them from above, it's very clear the three spaces were always intended to be one," said Amy Cohen, director of neighborhood program development with OEWD, which is leading the effort.
Cohen is helping bring in pilot programs, art installations and community events as the city considers a much broader overhaul and weighs what will make the space most effective. 
One of the partnerships already underway brings kids out to play soccer every Friday afternoon as part of America SCORES Bay Area. It is part of an after-school program launched in 2014 that combines soccer with poetry writing and service-learning workshops for kids in 3rd-5th grade, Colin Smith, chief executive of America SCORES said.
Rec and Parks  has also partnered with the Design Museum to install a temporary play structure right in front of City Hall, which will remain in place until the Helen Diller playgrounds are reopened, likely in early 2018.
The playgrounds are undergoing a $10 million renovation to update the play spaces, incorporate public art displays and illuminate the area with new lighting fixtures.
Another new outdoor art gallery/performance space is being erected along Fulton Street between the Asian Art Museum and the Main Library for educational and outdoor programming.
The art museum, library workers and kids from Youth Art Exchange designed and created the soaring dragon installation, decorated with scales inspired by art in the museum.
That stretch of Fulton Street is one of the more difficult areas in terms of managing social issues and drug use, Cohen said.
One group making an impact in that area is the Downtown Streets Team, led by project director Brandon Davis. The DST is a crew of unhoused people who take pride in their community and volunteer their time to clean it up and do peer-to-peer outreach in the area, Davis said.
There are five teams in San Francisco, including one focused exclusively on the Civic Center area, one targeting UN Plaza, and one for the broader Tenderloin area.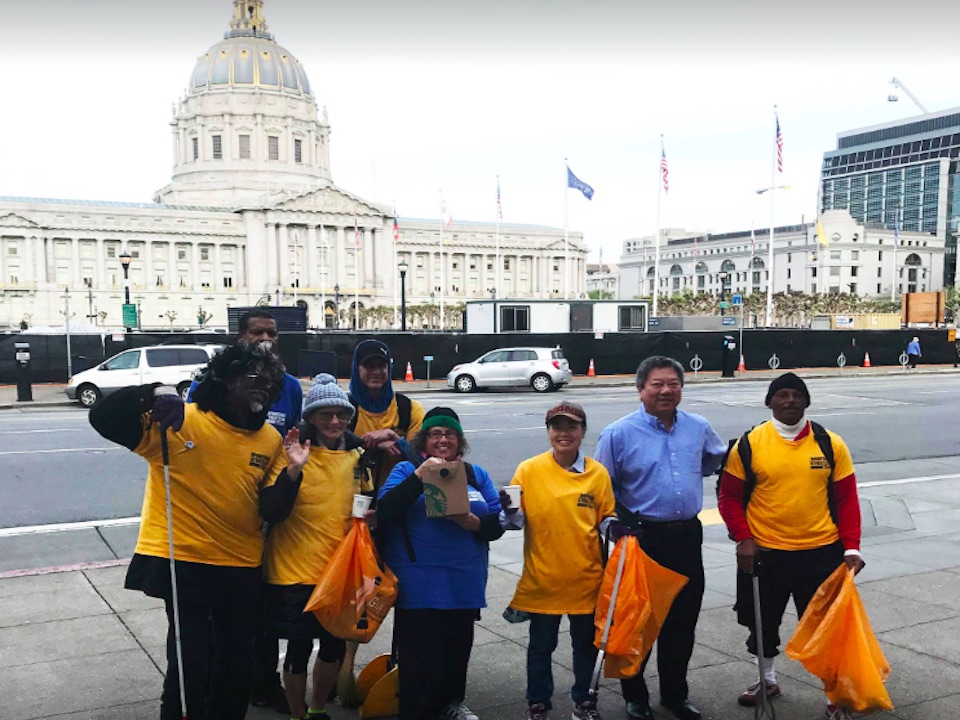 Since DST launched in March 2016, with initial funding from Google and Dolby, crew members have collected 268,000 gallons of debris and removed 13,000 needles from downtown San Francisco streets, Davis said.
The crew has also been trained to make "really excellent coffee," and will host a coffee cart, KARTMA, in the Civic Center Commons as soon as this week, he added.
In UN Plaza, Hunters Point Family staffs a crew of stewards everyday to oversee the "Sound Commons," a group of interactive art installations created by the Exploratorium.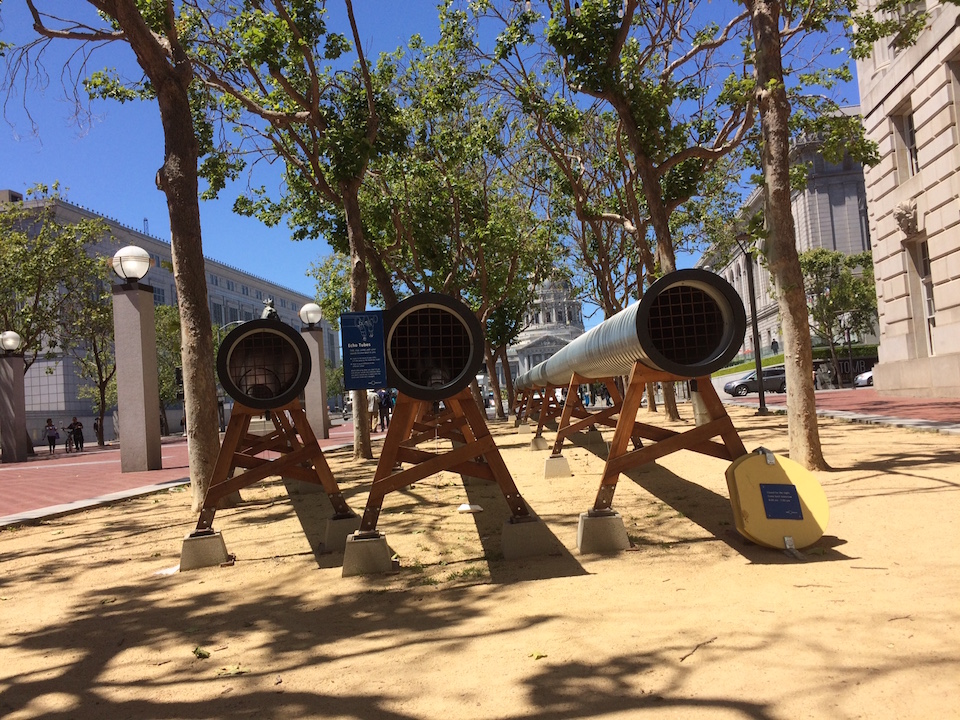 "These installations have really done a good job of connecting strangers," Randy Carter, one of the lead Hunters Point Family stewards working in the area told us.
The stewards help maintain the installations and take notes to help inform the city which types of installations are drawing more people to the area.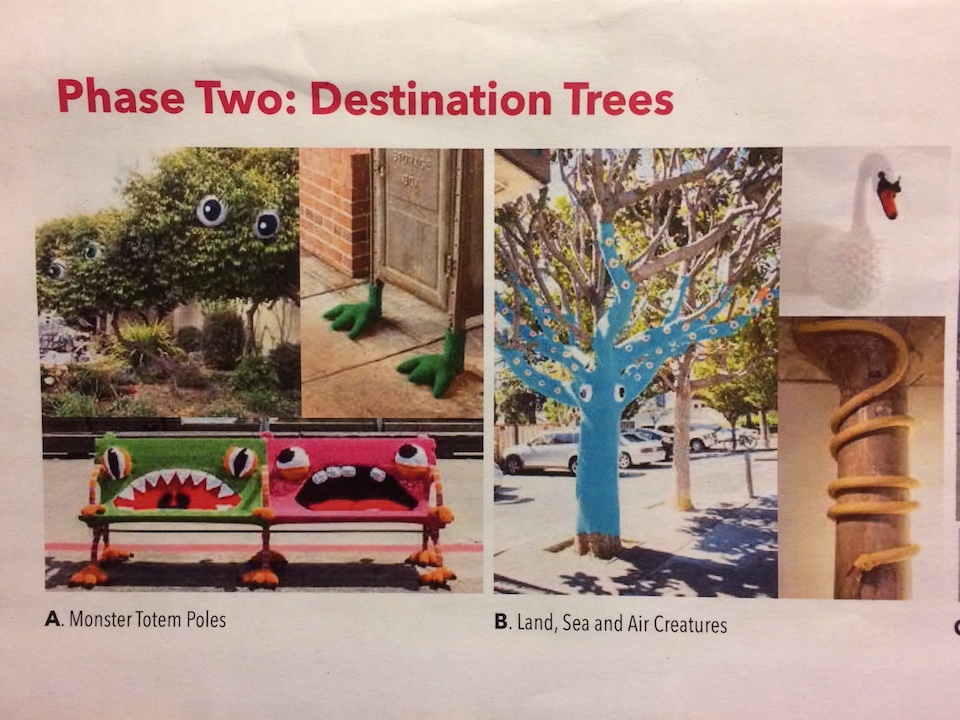 Hunters Point Family's stewards have expanded their territory from UN Plaza to the new gallery installation on Fulton Street and the playground areas.
"Having some consistent faces in the area that are looking out for everyone's safety helps create a better sense of community," said Carter.
A new Civic Center Commons website is launching soon, and other changes are coming: new tables and chairs, more frequent Off the Grid food truck offerings, and curated Thursday evening events starting this summer. There may even be ice skating in Civic Center Plaza for the holiday season.