Days before it was scheduled to be decommissioned, a city-sanctioned homeless encampment under a highway overpass in West Oakland burned Monday night, destroying at least 12 tents and their contents. No injuries were reported.
RT Oakland/Emeryville homeless encampment on fire under freeway at Peralta (behind Home Depot approx) pic.twitter.com/v1CG0U7uqe

— e_phemera (@e_phemera) May 2, 2017
Firefighters responded to the blaze at 8:19 p.m. along Peralta Street under Highway 580 between 35th and 36th streets. This was not the first time the camp burned, but it was one of the largest fires that's started there to date.
After the fire was extinguished, an American Red Cross representative was on hand to offer assistance to displaced residents; smoke was visible from several neighborhoods away.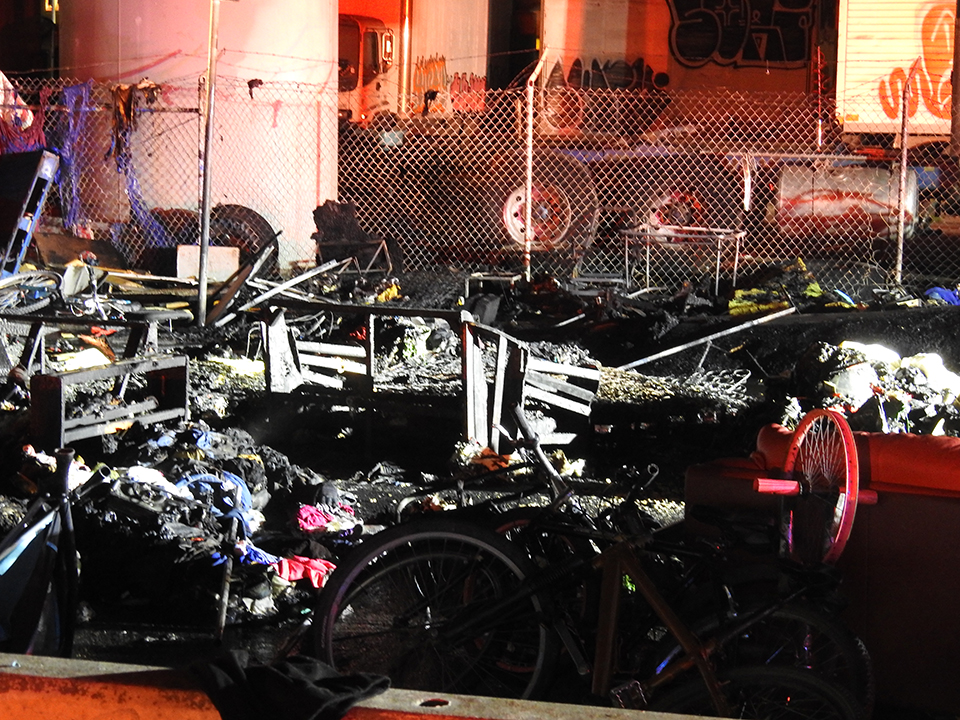 The camp has existed for some time, but in October, it fell under the umbrella of Compassionate Communities, an initiative that began offering services to residents, including portable toilets, trash pickup and syringe disposal. 

Residents also received outreach service; of the original group of about 40 people, 24 have been moved into either transitional housing or permanent housing.
Homeless camp destroyed by #fire in west #oakland. Under the 580 bridge. Sad end to the day pic.twitter.com/nCs5DDtvoT

— Orion Willow Parrott (@OrionParrott) May 2, 2017
The camp was supposed to close at the end of March once the city found housing for everyone, but more people have moved into the camp, replacing those who have left.
Oakland also has started adding services to a camp on Wood Street and is considering adding up to 10 more over the next two years.
The city's last homeless count was in 2015 and there were at least 2,200 people who were homeless in Oakland. Another count was conducted in January and is expected to find that there are substantially more homeless people now.
In a note posted to Facebook, Councilmember Lynette Gibson McElhaney said last night's fire was "a devastating blow to what has been the City/County initiative that opened up new possibilities for improved service delivery."
"It goes without saying that positive, constructive and enduring progress is difficult," she wrote, adding that although the fire department didn't find any evidence of arson, "they also did not rule it out."