Published on May 11, 2017
In Tuesday night's Park Station community meeting, Capt. John Sanford, Jr. shared the latest crime statistics, responded to residents' concerns and offered an overview of the city's first officially-sponsored 4/20 Day celebration, which attracted more than 15,000 marijuana enthusiasts to Golden Gate Park last month.
Although crime was down in most categories, the number of stolen vehicles and aggravated assaults reported in the district increased last month. Sanford said much of the violent activity is associated with homeless people and transients who congregate near the foot of Haight Street.
ADA: 4/20 Day Had Just "One Serious Incident"
Police didn't make any arrests inside the fenced perimeter of the 4/20 Day event, which Sanford said attracted the largest crowd he's seen in his three years at Park Station. Last year, police arrested eight at the ad hoc party; unlike this year's 4/20 Day, that party lacked private security or a 21+ only rule.
Assistant District Attorney Asha Jameson commended Park Station for managing "a very successful 4/20 Day celebration."
Jameson, who handles cases referred from Park and Northern stations, said the only "serious incident" that day was a self-defense stabbing between two alleged narcotics users that occurred several blocks away "after the end of the event."
Sanford said there was "an isolated incident" near the McDonald's at Haight and Stanyan in which someone was struck in the face, as well as "reports of shots fired in the north of the Panhandle area, where we had many officers."
Police who responded found a bullet casing, but no injuries or property damage. "There were a lot of people in the area, but overall, the result was just outstanding," said Sanford, acknowledging that some residents contacted the station to complain about traffic issues and helicopter noise.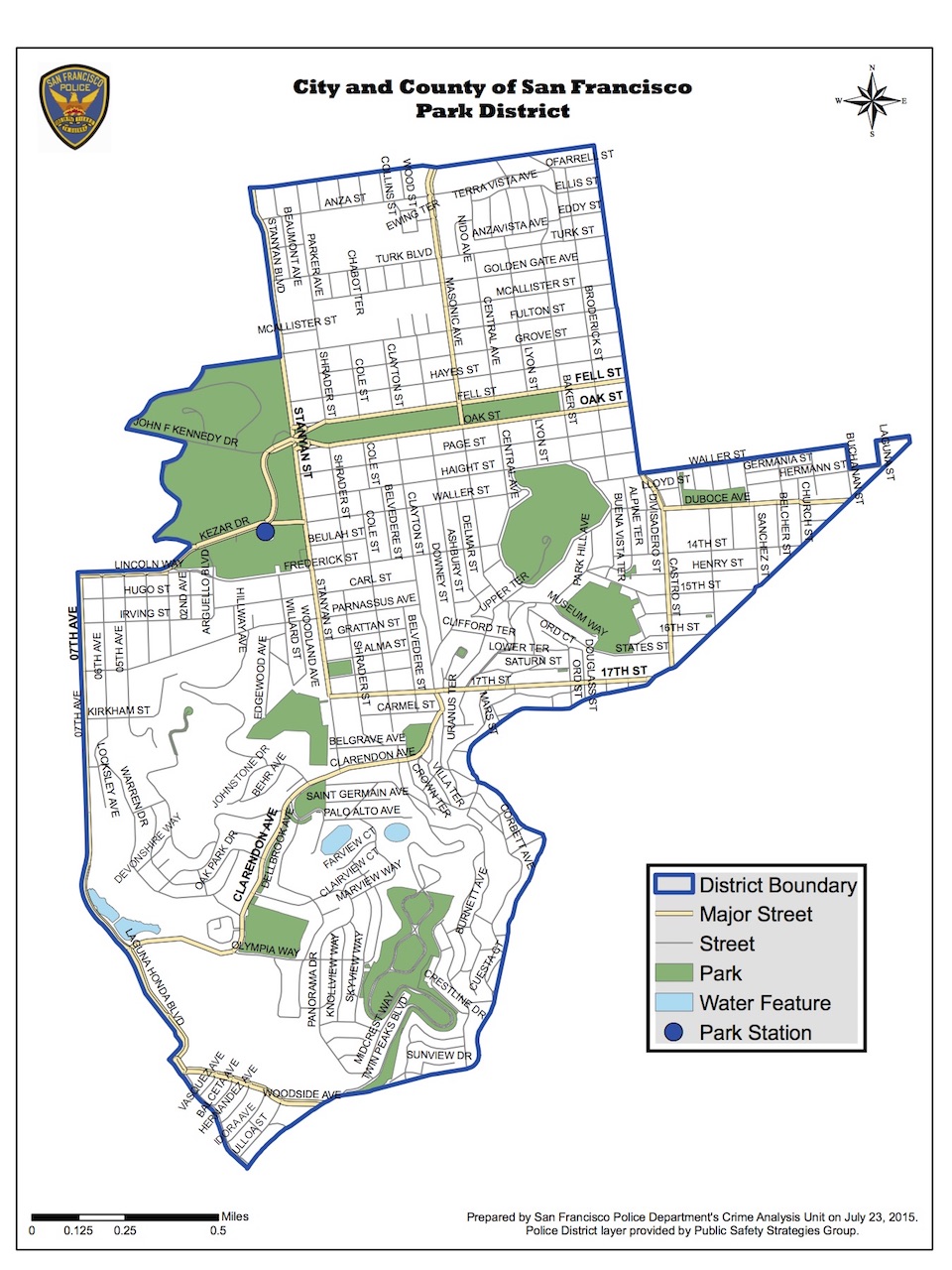 Crime Down, But Aggravated Assault, Car Thefts On The Rise

Reported crimes declined in most categories last month, but an increase in aggravated assaults and robberies was largely due to the high concentration of homeless residents and transients in the district, Sanford said.
"The majority of our aggravated assaults are around the Haight Street and Alvord Lake area," he noted. "That is where we have a lot of travelers and homeless individuals."
According to Sanford, "it's not normally tourists or residents or individuals on the street" being victimized, but "members of the traveling community or the homeless community who do not want to press charges," which "makes these cases that much more difficult to prosecute."
There have been 38 aggravated assaults reported in Park District so far in 2017, a 52 percent increase from 25 at this time last year. In March, eight assaults were reported, but last month, officers responded to 11 incidents.
Robberies fell eight percent in 2017; 33 have been reported so in 2017, compared to 36 in 2016. Ten people reported being robbed in April, compared to seven people the month before.
Burglaries are down 10 percent in Park District this year; 149 were reported between January 1 and April 30, compared to 165 by this time in 2016. Thirty-eight break-in were reported in April, a three percent decline from March.
The number of stolen cars jumped last month; 50 vehicles were boosted, a 61 percent increase over the 31 taken in April. The number of thefts from vehicles fell nine percent; 166 were reported in March, but in April, 151 break-ins were reported.
The next Park Station meeting will be held on Tuesday, June 13th at 7pm in the station's community room at 1899 Waller St.