After the launch of the Ford GoBike program yesterday, Jump Mobility is the latest to join San Francisco's growing bike share community.
Starting this week, the company is renting electric bicycles; the distinctive red bikes are stationed along Third Street in Bayview and in the Mission.
Jump Mobility was formed under the umbrella of Brooklyn-based Social Bicycles. The company received a $735,000 Federal Highway Administration research grant from UC Berkeley to study how their use impacts existing travel patterns. 
The goal is to allow residents to "explore other options" for shared transportation besides Uber and Lyft, Social Bicycles CEO Ryan Rzepecki told us.
While Jump bikes will eventually be installed throughout the city, he said the company wants underserved communities with a history of transportation challenges to use them first.
One hundred bikes have been installed in San Francisco, with 20 along the Third Street commercial corridor between Evans Street and Carroll Street and the rest spread throughout the Mission district.
The eight-gear bikes, valued at $1000 each, contain a motor in the front wheel that senses the rider's peddling patterns, automatically turning on to assist when traveling uphill.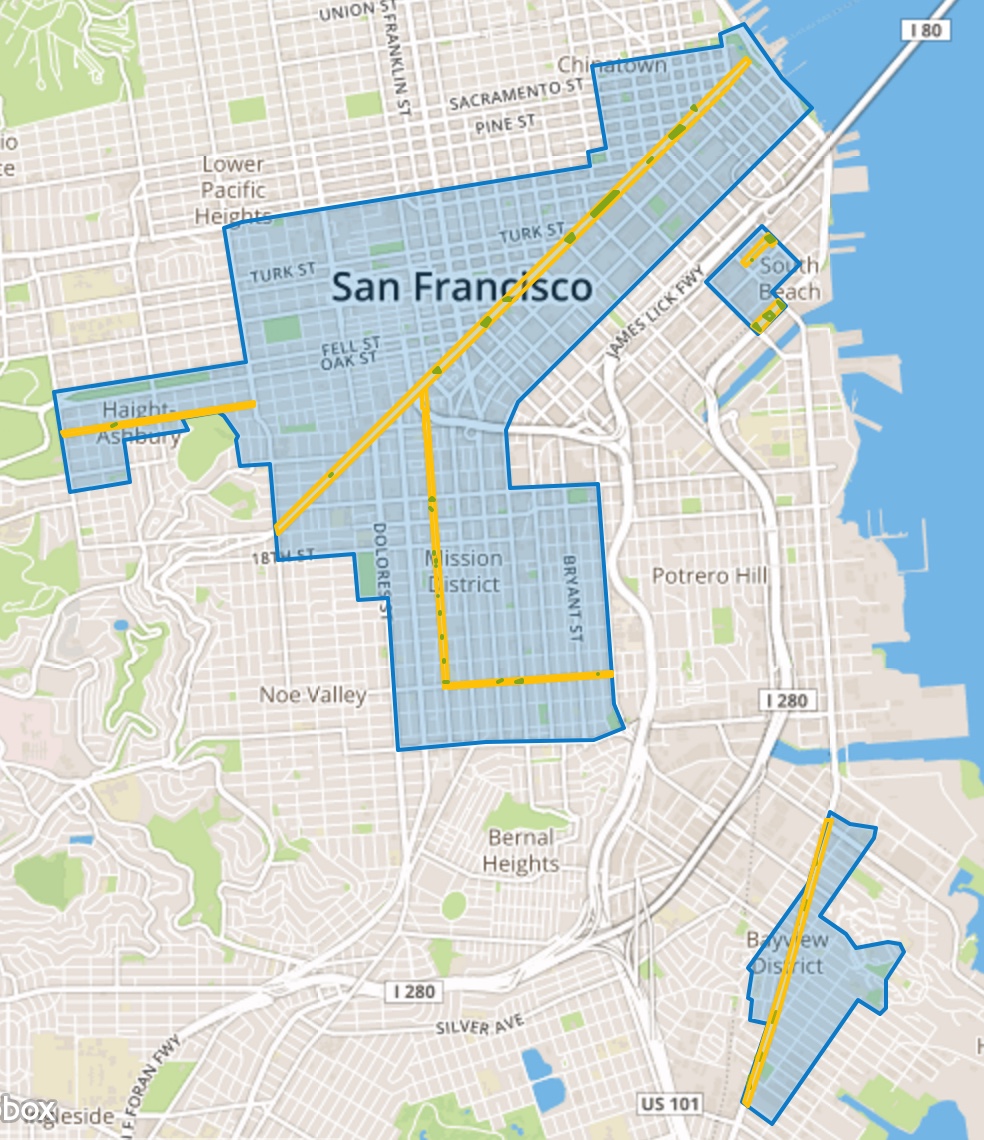 A GPS tracker allows customers with smartphones to find stations and reserve bikes. To rent a bike, users enter a Clipper card code or a Jump Mobility user-generated code.
Riders will be charged a dollar every fifteen minutes. Like other bike-share systems, a credit card is required, but Rzepecki said the company is looking at ways to take cash from customers who don't have debit or credit cards.
"You can go a long way in fifteen minutes," said Rzepecki. "Regardless of how customers pay for the service, I am certain that we will be affordable."
Because riders can lock the bikes up in other areas of the city for the next customer to reserve, they're not restricted to the Bayview and Mission, he added. For now, that next customer must be invited by a representative of a community group that endorses Jump Mobility.

"We are currently in the middle of doing outreach and partnering with community organizations that focus on affordable housing," said Rzepecki. "We really want to make sure that we are targeting communities with real transportation issues so that we can offer them an alternative."
According to Jump Mobility's community outreach consultant, Mark Miretsky, the company isn't competing directly with GoFord's growing bike-share fleet, expected to reach 7,000 bikes in the Bay Area by 2018.
"They have a larger scale than us currently," he said. "But our approach is different since we are focused on serving communities that they don't, such as Bayview."
For the next two weeks, Bayview and Mission residents will have free access to Jump Mobility bikes during their trial period. The company is also hiring locally for community ambassadors.
Thanks to tipsters Marcello, Lawrence C., and photographer Cynthia D.! Do you have a question about something transportation-related? Text your question and a horizontal photo to 415-200-3233, and we'll look into it.