Volunteer Garrett Robertson has lived in the Castro for years, but he only recently learned the story behind Pink Triangle Park, the tiny sliver of green space at the convergence of Market and 17th streets.
"I never read the plaques," Robertson said. "I thought it was just a quirky garden."
Dedicated in 2001, Pink Triangle Park is a memorial to the estimated 15,000 LGBTQ persons who were killed during the Holocaust (Nazis made gay men wear pink triangles stitched onto their garments as a way to identify them).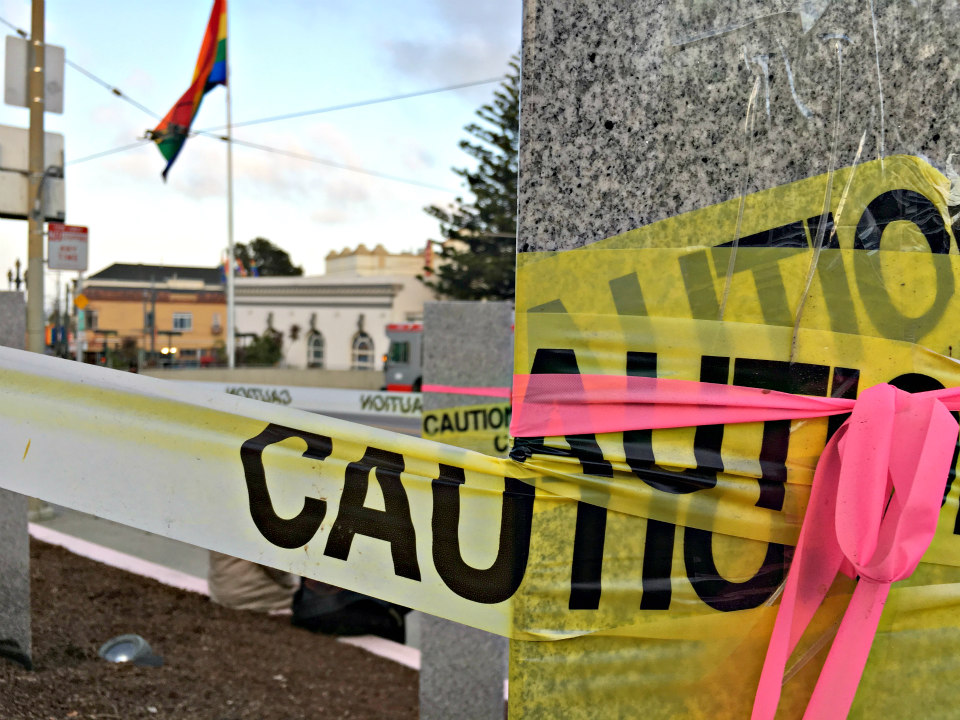 Although it was the first such memorial in the United States, the park has since fallen into disrepair, attracting encampments, accumulating rubbish and going unnoticed by many.
Until now.
John Goldsmith is a master gardener, a rosarian and Duboce Triangle resident. Since late last year, he's been breathing fresh life into Pink Triangle Park.
"Part of the reason I wanted to do this was my anxiety about our political climate," said Goldsmith, who also works in theater production. "I felt as if I could work locally on things that I am skilled at and have some sort of local impact, it could help me to deal with my concerns about our national political climate."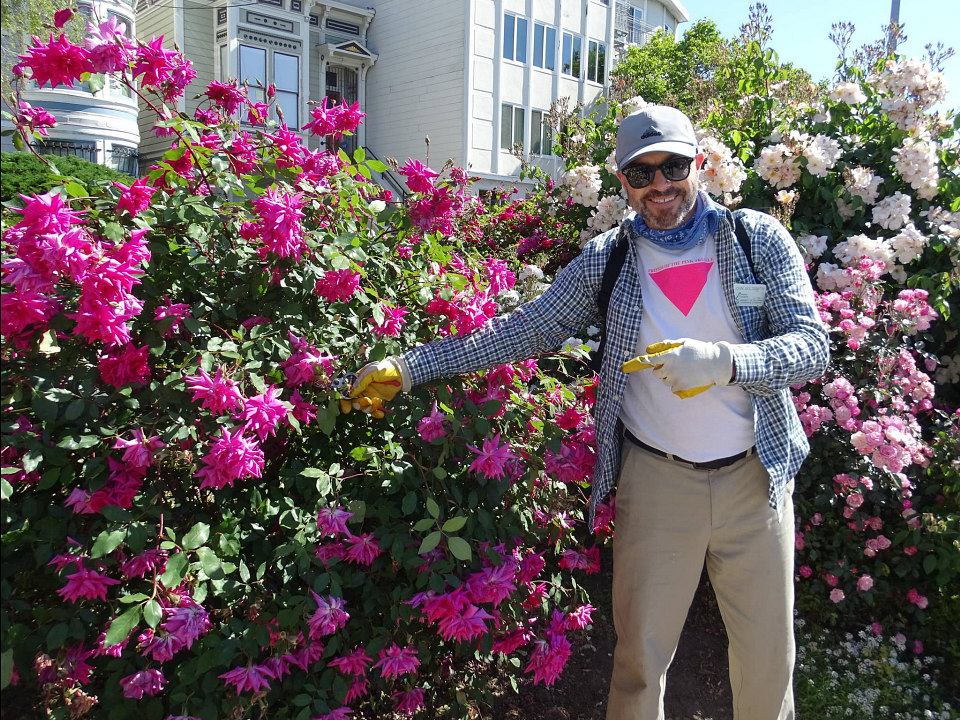 However personal the horticultural therapy, Goldsmith never intended to beautify the park alone. The first thing he did when he was given the keys to the park's compost bin last December was put a call out to volunteers.
"It's taken on a life of its own," Goldsmith said. "Individuals and organizations have stepped up to make the park a better place."
Sylvia Inchausti of Danville is one of many volunteers who've been cleaning up the park on the first and third Saturdays of each month.
"We'd been in the Castro and came across park, but it was fairly run down," Inchausti said. "We said 'wow, maybe this is something we can help out with as a family.'"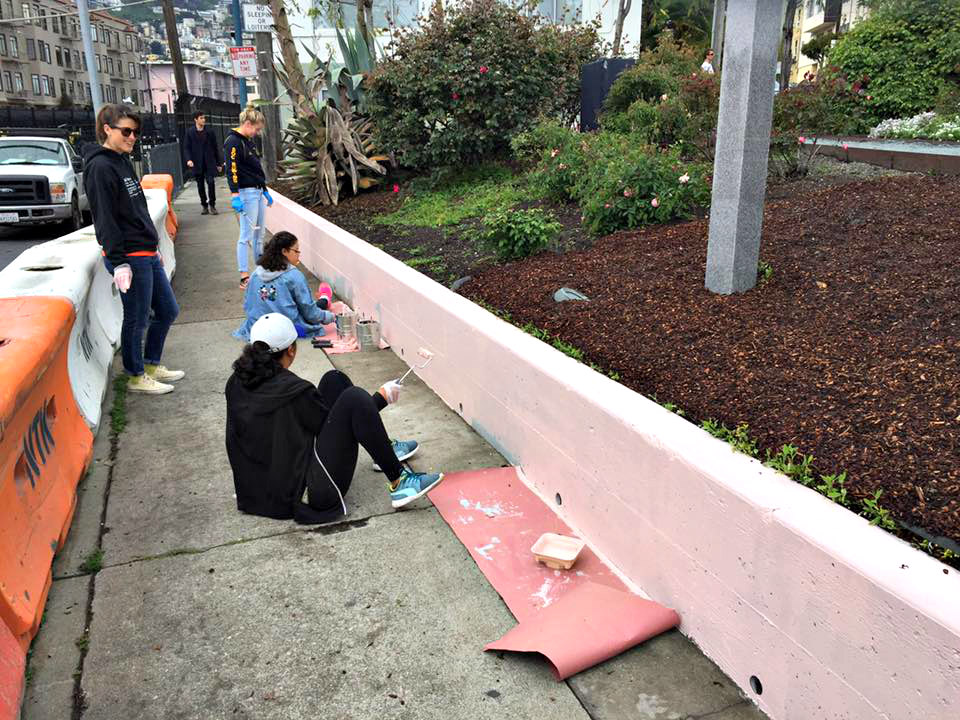 According to Inchausti, she found information about Goldsmith's efforts online, and she, her husband and her daughter made the trek from the East Bay to attend the first Pink Triangle Park cleanup last December.
Her daughter, who identifies as gay, has since taken on the park's rehabilitation as part of a community service project at her high school.
"We live in the East Bay," said Inchausti, "but we spend a lot of time in the Castro. There's so much history in the area, and it's a place that means an awful lot to us."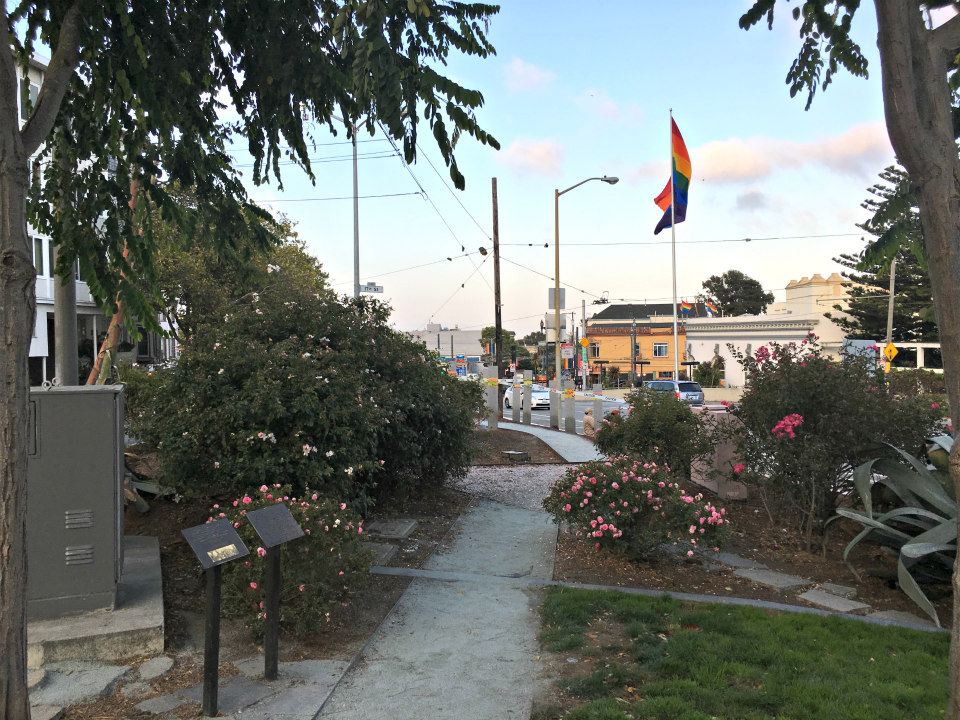 It also means an awful lot to Andrea Aiello, the executive director of the Castro/Upper Market Community Benefit District.
Aiello was all too aware that Pink Triangle Park had been struggling, but because the park falls outside the CBD's footprint, there was little she could do.
"We used some grant money to send some cleaning people up there a couple times a week," Aiello said. "It wouldn't be acceptable to let it fall apart, but we needed outside dollars."
Aiello suggested that Goldsmith apply for a Community Challenge Grant, a municipal grant program administered by the city. According to its website, the program "provides public funding for community-led transformation efforts that enhance beauty, facilitate community participation and stewardship, and strengthen neighborhoods."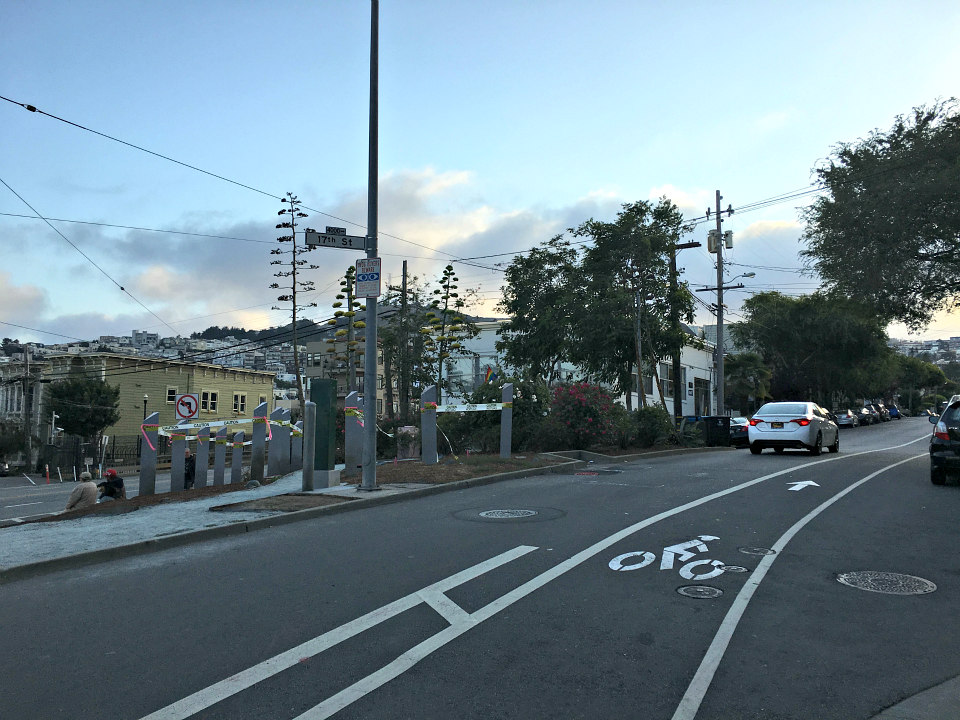 The Castro/Upper Market CBD acted as the fiscal sponsor for the Pink Triangle Park's bid to get grant money, and neighborhood groups like the Sisters of Perpetual Indulgence, the Castro Merchants, the Eureka Valley Neighborhood Association, the GLBT Historical Society and others lent their support.
In June, it was announced that the project had been granted $91,400.
"Pink Triangle Park hasn't been really touched or improved with money since it was established 16 years ago," Aiello said. "This is huge."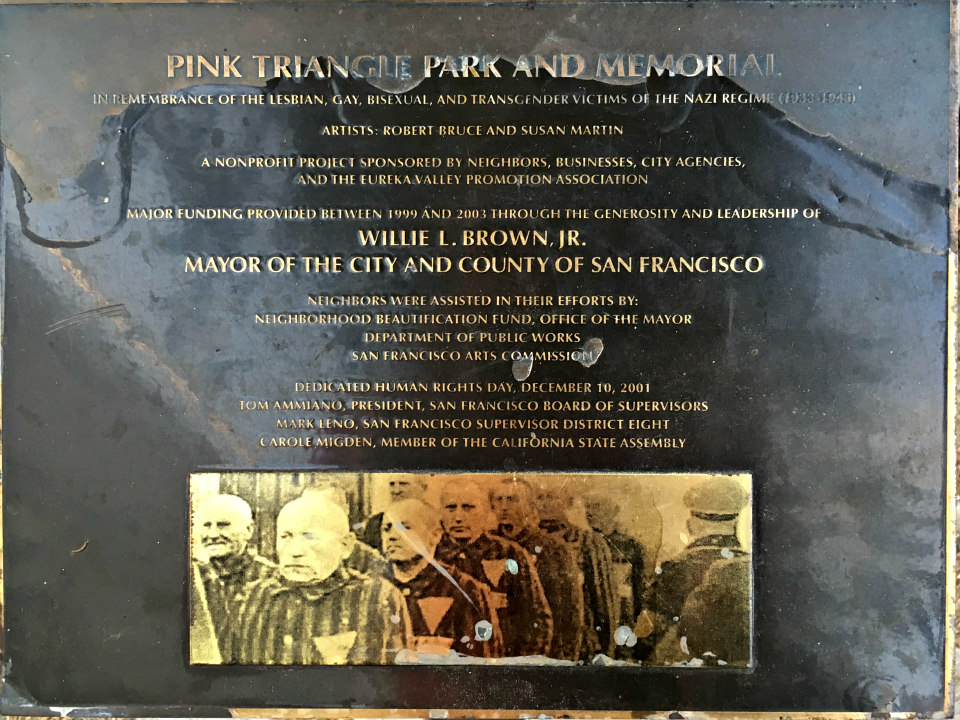 The grant requires a 35 percent community match, which Aiello said will be made up in donated services and in-kind goods. There's also a line item for a project manager, which means that Goldsmith, who's been doing this work pro bono, will now be compensated for his efforts.

The secured grant money will help to restore all 15 pylons (one for each of the 1,000 LGBTQ victims of the Holocaust), install a new irrigation system, and replant the park with new flowers. Funding will also be used to make Pink Triangle Park partially handicapped-accessible.
The entire renovation is expected to cost roughly $250,000, and the team is hoping to break ground on the memorial in January of 2018. If all goes to plan, a refurbushed Pink Triangle Park Memorial will be open to the public in March.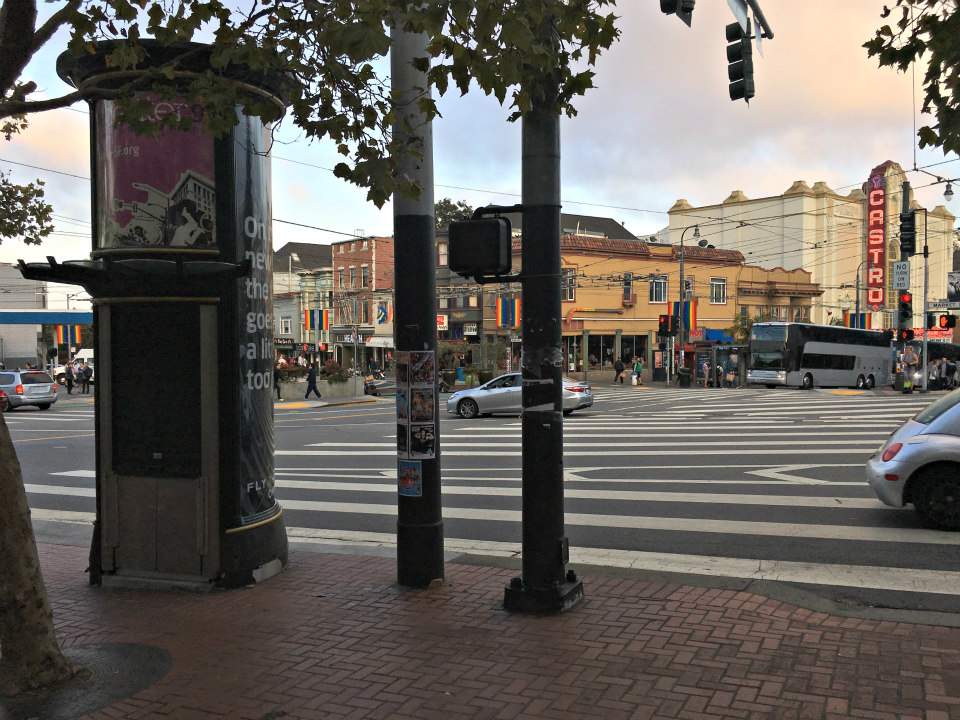 Although renderings have been drawn up, few of the park's features have been finalized. Similar to how the community will vote on the forthcoming redesign to Harvey Milk Plaza, neighbors will have a chance to get involved in Pink Triangle Park's renovation.
Jason Rowe, the park's original landscape architect, and Susan Martin, the artist behind the symbolic pylons, are both involved with the Pink Triangle Park's redesign.
Upgrades may include:
widening and expanding the sidewalk on the 17th Street

installing granite-block benches donated by the Children's Garden

creating a formal park entrance where the bus shelter was removed on Market St.
planting lower-profile plants to deter people from sleeping and dumping
installing a webcam so viewers can observe the weather, park and Rainbow Flag
piping in recorded classical music to deter encampments
building a mini-stage for performances, poetry readings and plant sales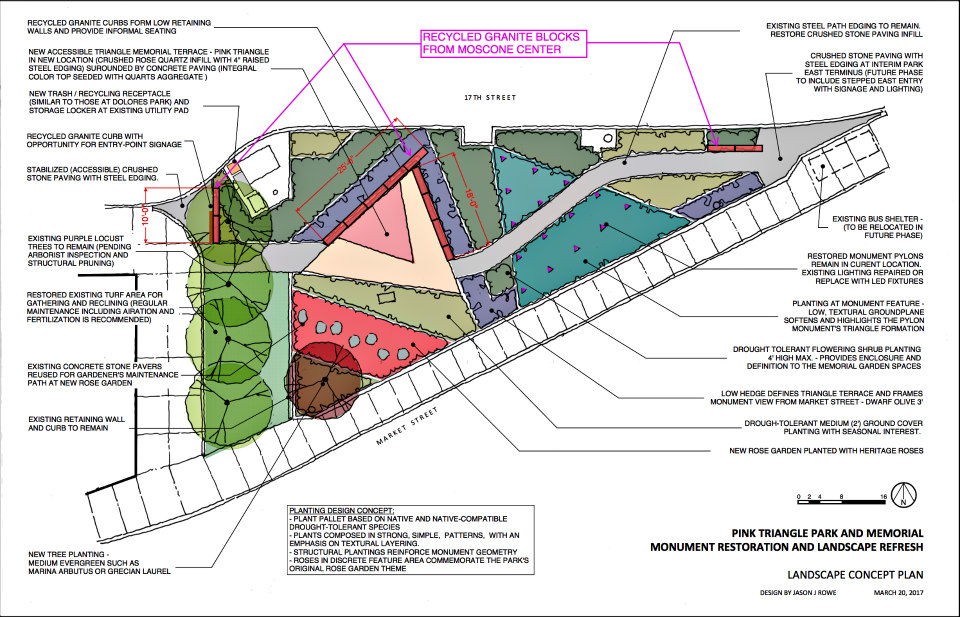 Goldsmith said he's happy the park is getting people's attention.

"I sometimes think of it as the Bermuda Triangle of the neighborhood," Goldsmith said. "On some maps, it's not even noted."
The address for Pink Triangle Park was previously incorrect on Google Maps until Goldsmith contacted the tech giant to get it changed. (Although the appropriate edits have been made, he hasn't been able to update the Facebook page, which has a 605 number that directs you to the Hogwarts School of Witchcraft and Wizardry.)
To help keep Pink Triangle Park on the map, Goldsmith says it needs to remain activated on an ongoing basis.

"If people are using, enjoying and celebrating it," Goldsmith said, "this park can be so much."
If you're looking to get your hands dirty and spruce up Pink Triangle Park, check out the Gardeners Guild's Facebook page to get involved. The next volunteer work day is tomorrow from 9am-1pm.