As residents of one of the world's most recognizable cities, San Franciscans are used to seeing film crews at work.
Airborne automobiles, however, are something you don't see every day.
Over the last few days, a project has been shooting at several locations: on Saturday in Nob Hill, cars were launched into the air during an action scene near California and Jones. 
Heather MacLean—the onsite manager for the shoot—told Hoodline the working title for the film is "Cherry Blue" and will be starring Michael Douglas and San Francisco resident Michelle Pfieffer, "but that's all I know," she said when prompted for more information. 

In reality, the production is in town to shoot scenes for "Ant-Man & The Wasp," the sequel to 2015's "Ant-Man," starring Paul Rudd and Douglas in a supporting role. The film is set for a 2018 release.
Yesterday in Cole Valley, a convertible Packard from the 1930s was parked in front of Cole Valley's Ice Cream bar as actors wearing period costumes performed inside.
Tomorrow, crews are set to descend upon Russian Hill to stage car chases, car jumps and simulated gunfire.
MacLean said tomorrow's filming is "secondary unit," meaning that neither of the two superstars will be on set. 

PYM Particles Productions is the firm behind the filming, with much of the action happening on Jones Street between Jackson and Filbert Streets.
Neighbors should start seeing crews set up around 7am and expect them to be there as late as 10pm.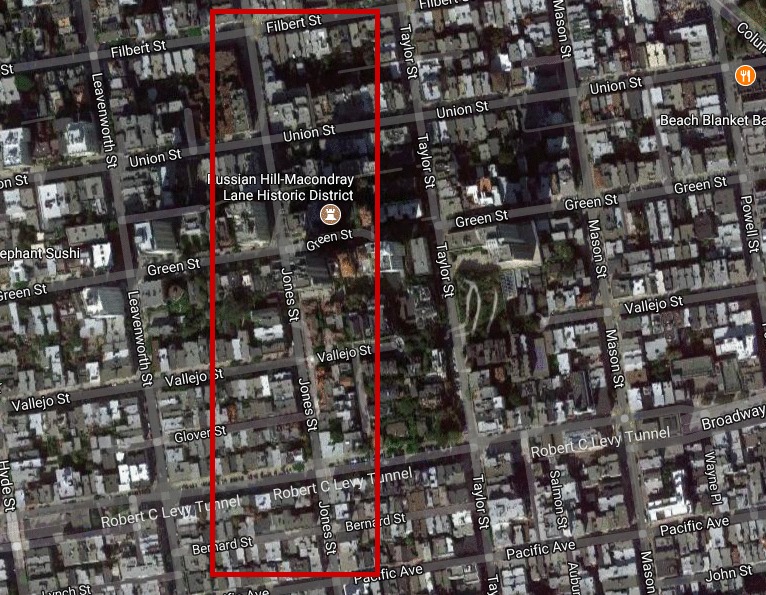 MacLean said the following streets and will be closed from 7am–4pm on Tuesday so look out for the signs and SFPD directing traffic in the area:
Jones Street between Green Street and Pacific Avenue
Vallejo Street between Leavenworth and Jones Streets
Glover Street between Leavenworth and Jones Streets
She noted residents will have access to their homes or garages and are urged to flag a nearby police officer on duty or call the non-emergency line at 415-553-0123 or MacLean at 650-704-7624. 
Additionally, parking will be restricted at the following locations:
Jones between Jackson and Valparaiso Streets
Filbert between Leavenworth and Taylor Streets
Green between Leavenworth and Taylor Streets
Vallejo between Leavenworth and Taylor Streets
Glover between Leavenworth and Jones
Broadway between Leavenworth and Taylor Streets
Bernard between Leavenworth and Jones Streets
Leavenworth between Broadway and Pacific Streets
Leavenworth between Union and Green Streets
Jackson between Jones and Taylor Streets
Neighbors who incur parking fees will be reimbursed by the production company, so keep your receipts. 
MacLean also warned neighbors that there will be stunt vehicles driving in a car chase, as well as prop guns and simulated gunfire.