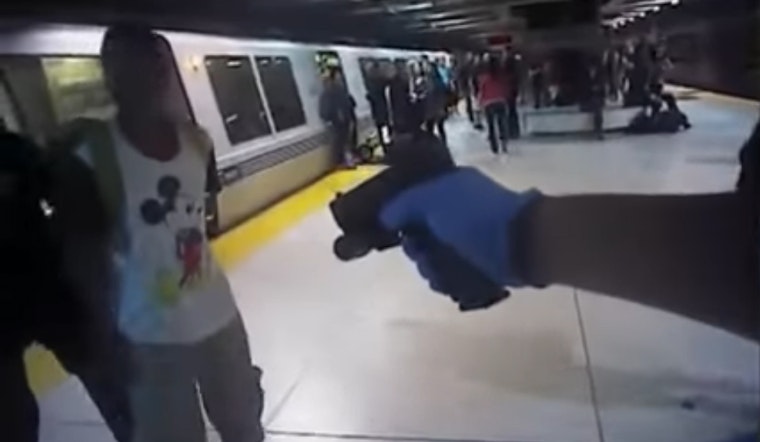 Published on September 07, 2017
A man whose violent arrest on the Embarcadero BART platform in San Francisco last year was captured on video is suing the transit agency's police department along with his then-girlfriend, who was pregnant at the time and says she suffered a miscarriage due to the officers' actions.
Both suits were filed in federal court in San Francisco last week. Michael Smith and Andrea Appelton were arrested on July 29, 2016, and multiple videos taken of the arrest quickly went viral.
At the time, BART said Smith had kicked one of the officers in the head and throat, bit another, and spit on the third. He was charged with seven counts of battery and resisting arrest. In December, a jury acquitted him of four counts of battery and hung on the others, but prosecutors decided not to re-file charges.
Police had responded to the BART platform at 12:52 pm after receiving a report of a possible armed robbery and had a detailed description of Smith, including that he was wearing a Mickey Mouse T-shirt and carrying a backpack.
But Smith was never connected to any robbery; some witnesses at the time reported that the person who made the report had antagonized the couple himself before calling police.
Glenn Katon, Smith's attorney, said police responded to the platform with a "military-like siege." Cellphone video and body camera video later released by San Francisco Public Defender Jeff Adachi's office showed police holding Smith at gunpoint and them punching him once he was on the ground and restrained.
During the trial, Adachi argued that Smith had been trying to protect his pregnant girlfriend, Appleton, whom the officers ordered to lie on her stomach. Appleton filed her own lawsuit the same day as Smith's that says she protested the order because she was pregnant.
During the arrest, officers handcuffed her and put a knee on her back, despite the fact that handling a pregnant woman in this manner violates BART police policy.
According to Appleton's suit, the incident caused severe complications in her pregnancy that led to a miscarriage. She was never charged with a crime.
Katon said he thinks race played a major role in the BART police response; while officers had a detailed description of Smith when they arrived.
"Every time there's another story of the killing of an unarmed black person, or in this case, the senseless beating of an unarmed black person, it has the potential to be a catalyst for change," Katon said.
"I think it's important that all these cases become a part of the public dialogue of how we want the police to respond to our community."
Asked for comment on the lawsuit, BART spokesperson Alicia Trost said she didn't know if the agency had seen it yet.