This article comes courtesy of news partner Bay City News, a local wire service.
---
San Francisco's Arts Commission voted unanimously today to begin the process of removing a historic Civic Center statue following a community outcry over its depiction of Native Americans.

While a few people spoke in favor of preserving the statue today as part of the city's history, dozens lined up to call for its removal, with many describing it as racist and glorifying genocide. 
"How would you feel if someone came into your home, killed your family and then put up a statue commemorating the people who killed and enslaved your family?" artist Hailey Clarke said.
Entitled "Early Days," the statue is part of the larger "Pioneer Monument" located on the block of Fulton Street between the Main Library and the Asian Arts Museum. It shows a Native American man on the ground with a Spanish vaquero, or cowboy, and a missionary standing over him.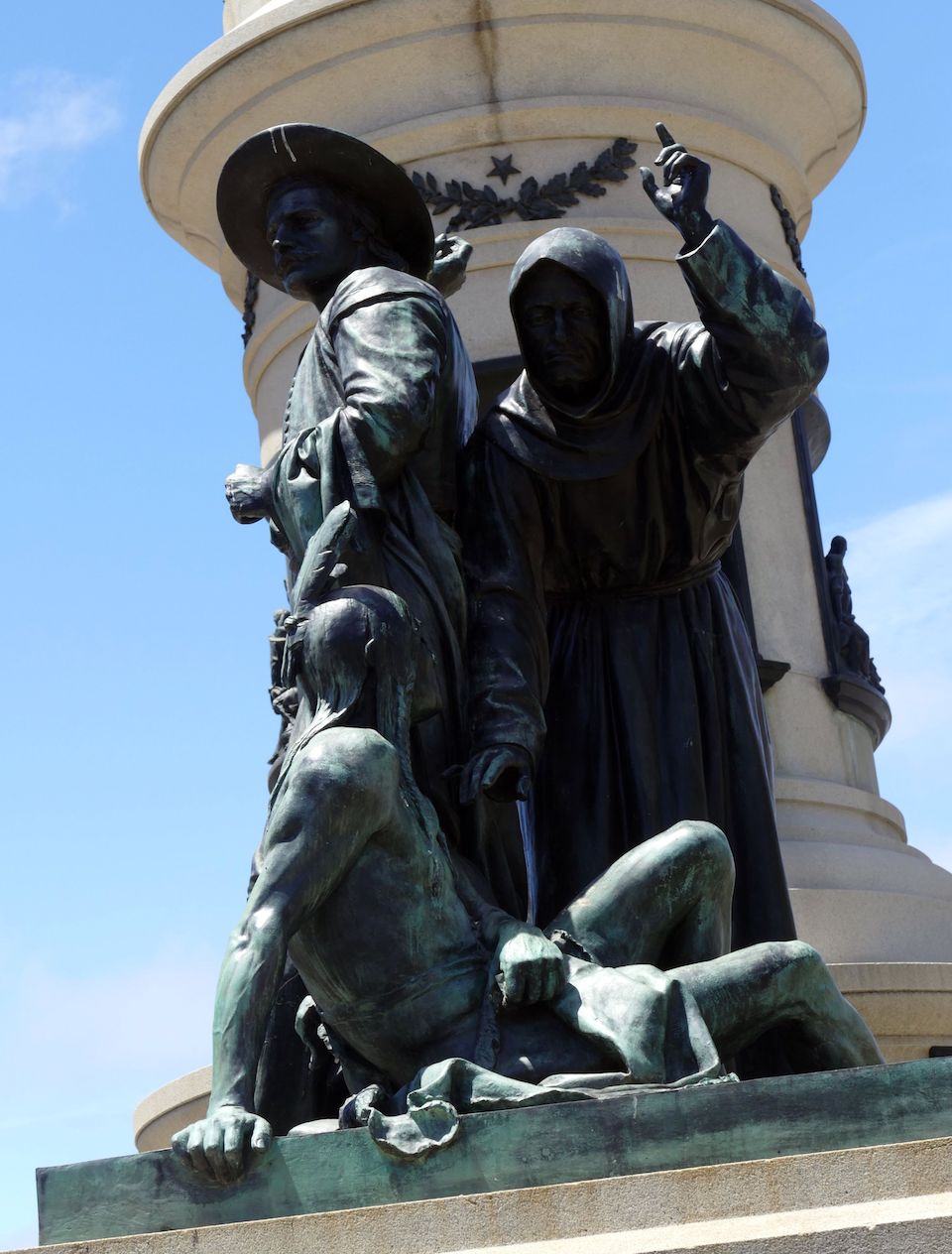 In a statement on the Facebook group "Take Down the Pioneer Statue in San Francisco Now," Rumsen Ohlone tribe member Dee Dee Manzanares Ybarra said she was upset by the statue's portrayal.
"It implies that natives were subhuman and that their survival was due to their colonization by outsiders when in reality the natives had survived for thousands of years," she said. 
"Changes need to be made by educating people of the true history" of Native American enslavement and loss of land and culture, she said.
The Pioneer Monument itself once stood near the intersection of Hyde, Grove and Market streets in front of San Francisco's old City Hall, which was destroyed in the 1906 earthquake. It was created in 1894 with a $100,000 gift from land baron and philanthropist James Lick and moved to its present location in 1993 to make room for the construction of the New Main Library.
Today's vote is not the first time the Arts Commission has been asked to consider removing the statue. Before it was moved in 1993, Native American community members called for the removal of the entire Pioneer Monument, while historic preservationists argued to keep it.
Ultimately the city agreed to install a plaque intended to provide historic context, but that plaque is difficult to see from the street.
Commission member Marcus Selby drew loud applause when he said the commission needed to bring the statue down. 
"We've got to start bringing down these symbols of white supremacy," Selby said, noting that those who argued in favor of preserving such depictions of oppression were usually talking about "somebody else's culture."
"I took my kids to the deep South and I had to explain to them all these Confederate monuments and flags," he said. "If I have any voice in this city, I'm not going to let this happen here." 
The statue's removal will also require approval by the Historic Preservation Commission and funding approval before it comes back to the Arts Commission for a final vote. The removal is roughly estimated to cost around $160,000 to $200,000, an amount that has not been budgeted for this fiscal year.
City officials including Supervisor Jane Kim and Mayor Ed Lee have made public statements in support of the statue's removal.
—Sara Gaiser