As reported by the Examiner, the newest set of traffic improvements slated for the Inner Richmond is a "neighborway" intended to improve pedestrian and cyclist safety along the 8th Avenue corridor by calming traffic.
As detailed in a community presentation earlier this month, 8th Avenue was chosen because it's disproportionately frequented by vehicle traffic, and because it's a logical link between the closest commercial corridor (on Geary and Clement) and Golden Gate Park.
As outlined by the SFMTA, designs for the neighborway would include a series of traffic diversions to divert north/south vehicular traffic away from 8th Avenue at Anza and Balboa, as pictured below.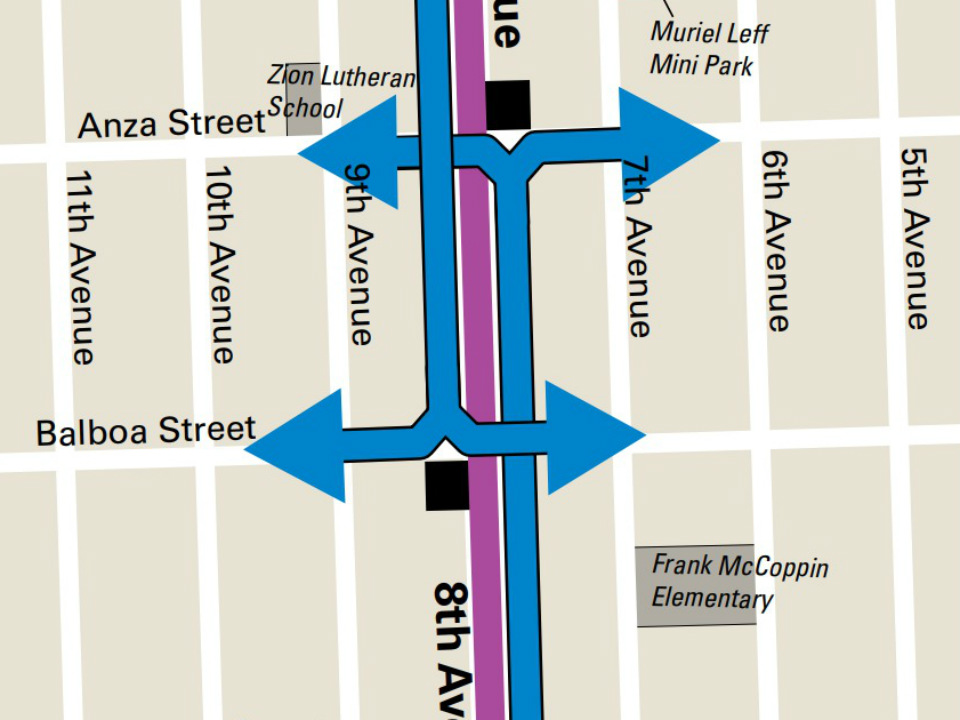 In SFMTA traffic studies, the agency counted 4,700 vehicles traveling on 8th Avenue each day between Anza and Balboa; after the neighborway is in place, that volume would drop to 2,100 cars, reported the Examiner. 
Other potential design elements include speed humps, traffic circles (like those recently installed in the Outer Richmond along Anza), traffic islands, and new signage.
Following last month's unveiling of a recommended design, the project is currently in the phase of finalizing designs for implementation; SFMTA is currently predicting a mid-2018 start date for breaking ground.