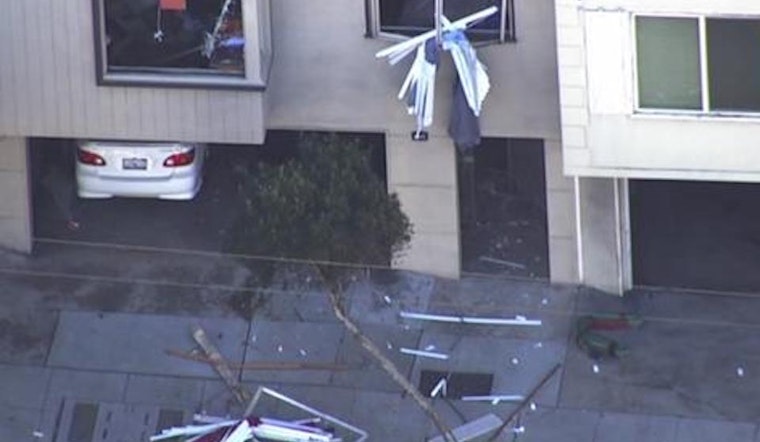 Published on November 27, 2017
A gas leak inside an apartment at Mission Street and St. Mary's Avenue in Bernal Heights has caused an explosion that sent debris into the street. No injuries have been reported.
The incident has prompted firefighters and workers from Pacific Gas & Electric to evacuate the surrounding area. According to ABC7, several PG&E trucks are on the scene.
3971 MISSION ST, GAS LEAK TURNED INTO AN EXPLOSION IFO ADDRESS, EVACUATING NEARBY BUILDINGS #SFFD and @PGE4Me on scene. @sfmta_muni pic.twitter.com/nkZEhZ1Etg

— SF Firefighters 798 (@SFFFLocal798) November 27, 2017
City officials are warning residents to avoid the area, and Muni has rerouted bus lines.
UPDATE: IB 14/14R/49 RRT: Trumbull-Alemany-Crescent-Mission. OB RRT: Crescent-Alemany-Silver-Mission.

— SFMTA (@sfmta_muni) November 27, 2017
Update, 1:17pm: According to Division Chief Rex Hale, who was on scene, the most likely reason for the explosion was gas filling up in the garage of the two-story building and hitting a pilot light.
The "uncommon" explosion occurred as firefighters walked up inside the building at around 10am, accompanied by a "heavy smell of gas," said Hale. 
The incident blew out the front windows of the building at 3987 Mission Street. No one was at home at the time, and no injuries have been reported.
Roughly 100 people from 19 addresses on the 3900 block of Mission St., the 100 block of Bosworth and the 100 block of College Terrace were evacuated. There is no timeline yet for when they will be able to return to their homes.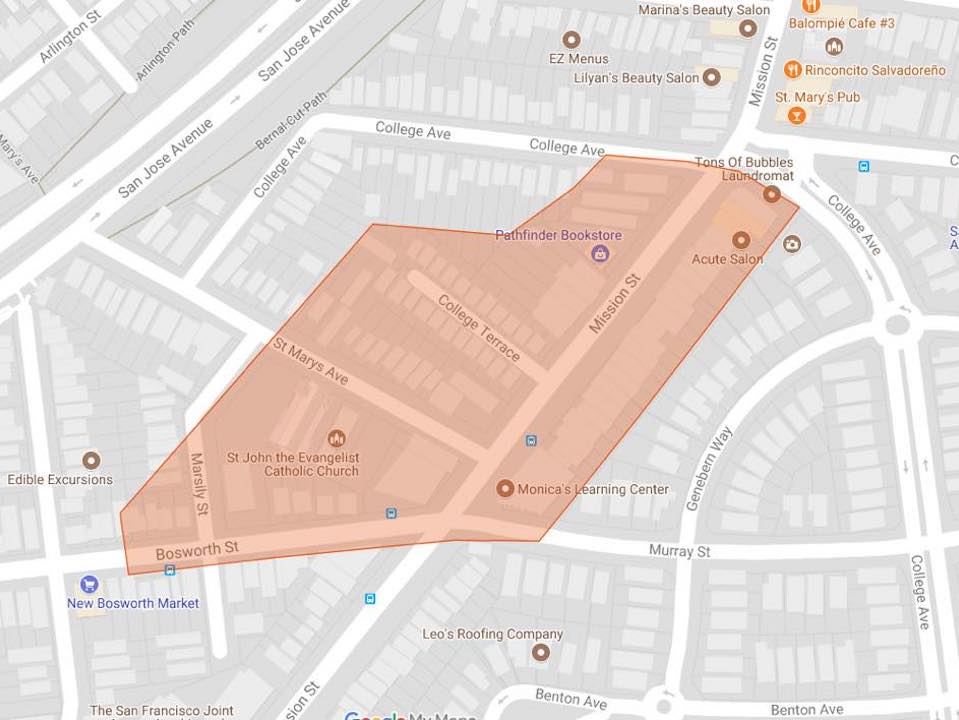 Hale said that PG&E was also on the scene and working to clear up the incident. 
[Update, 1:33pm]
Mission St. incident: PG&E crews safely stopped the flow of gas. Update on repairs soon. @KTVU @KGOdesk @nbcbayarea @CBSSF @kron4news @PGE4Me

— Andrea Menniti (@PGE_Andrea) November 27, 2017
[Update: 2:25pm] As the area remains blocked off, evacuees can go to the YMCA Mission Branch at 4080 Mission St. , said the Department of Emergency Management on Twitter.  
It also encouraged people in the affected area to stay updated via text message:
If you are in the affected area and under evacuation we encourage you to text your zip code to 888-777 for important updates. Si estas en la área bajo ordenes de evacuación sugeremos que textea su código postal a 888-777 para más información. https://t.co/kfDan3ekJx

— San Francisco DEM (@SF_emergency) November 27, 2017
SFMTA is also rerouting the 23-Monterey bus line in both directions:
ATTN: 23 rerouting due to #PGE & #SFFD at Mission & St Mary's. IB via Arlington, Highland, Mission, Crescent; OB via Mission, Highland, Arlington, Bosworth.

— SFMTA (@sfmta_muni) November 27, 2017
[Update, 4:32pm] At 3:32pm, the Fire Department announced that the gas leak has been contained and lifted the evacuation order. No injuries have been reported, but representatives from the American Red Cross are available to assist anyone who might have been displaced.
UPDATE 3900 Mission Street Gas leak: INCIDENT RESOLVED ALL OCCUPANTS CAN RETURN No injuries Evacuation request lifted City Services and @RedCrossBayArea standing by to assist those affected if applicable @mayoredlee 1532 Hrs pic.twitter.com/FNdWoNb9dq

— San Francisco Fire (@sffdpio) November 27, 2017