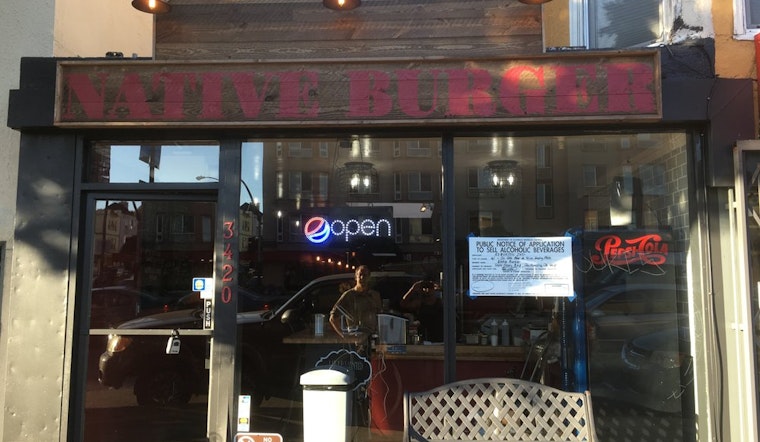 Published on November 28, 2017
A new spot to score burgers and other comforts has opened up in the neighborhood. Located at 3420 Geary Blvd. (between Commonwealth Ave. & Stanyan St.) in Laurel Heights/Jordan Park, the fresh addition is called Native Burger.
Native Burger—now grilling in the former Buzz burger and previously, Midori Sushi space—features a 7oz Angus-certified, grass-fed beef patty for all burgers; and a signature "Fools Gold" half-inch cut bacon that is slow-baked with a rub of cayenne pepper, black pepper, and brown sugar.
On the burger menu, expect to see signature sandwiches like "The Sunrise," topped with a free-range egg, veggies, grilled onions and sharp cheddar; "The Northern," with sautéed mushrooms and Swiss cheese; and "The Veggie," which comes with a Beyond Beef burger patty and fresh vegetables. 
Rounding things out are sides like twice-fried fries, onion rings, creamy corn poppers, Brussels sprouts, and jalapeño poppers. 
If you've still got room for dessert, there's chocolate cheesecake and a deep-fried Twinkie on offer, too. 
Native Burger has garnered rave reviews thus far, earning a five-star rating out of four reviews on Yelp.
Yummy L., among the first Yelpers to review the new spot on November 18th, said: "You all should try this spot. The burger is juicy and delicious! Onion rings were perfectly fried. Service is friendly and efficient."
Yelper Mark F. added: "The owners of Buzz sold the business and and it has reopened as Native Burger. Same menu with a few tweaks for the better: Angus beef from Harris Ranch; bigger seven-ounce patties; and more."
And Laura U. said: "I just came here for the Native Burger (it's currently a secret burger menu item and so you have to ask for it!). It's essentially a JUICY 7oz patty topped with their 3oz Fools' Gold bacon."
Interested? Stop by to welcome the new business to the neighborhood. Native Burger is open Monday–Saturday from 11am–9pm, and Sunday from 11am–5pm.