The San Francisco Planning Department's initial assessment of plans to demolish the Tenderloin building that houses Hyde Street Studios suggests that the project does not meet the site's historic preservation requirements, Hoodline has learned.
The project proposed by owner BNN, LLC and Costa Brown Architecture in September includes 94 new residential units in an 8-story, 80-foot tall building at the corner of Eddy and Hyde streets.
BNN bought the building that houses 245 and 259 Hyde Street for $3.2 million in 2009, according to city records.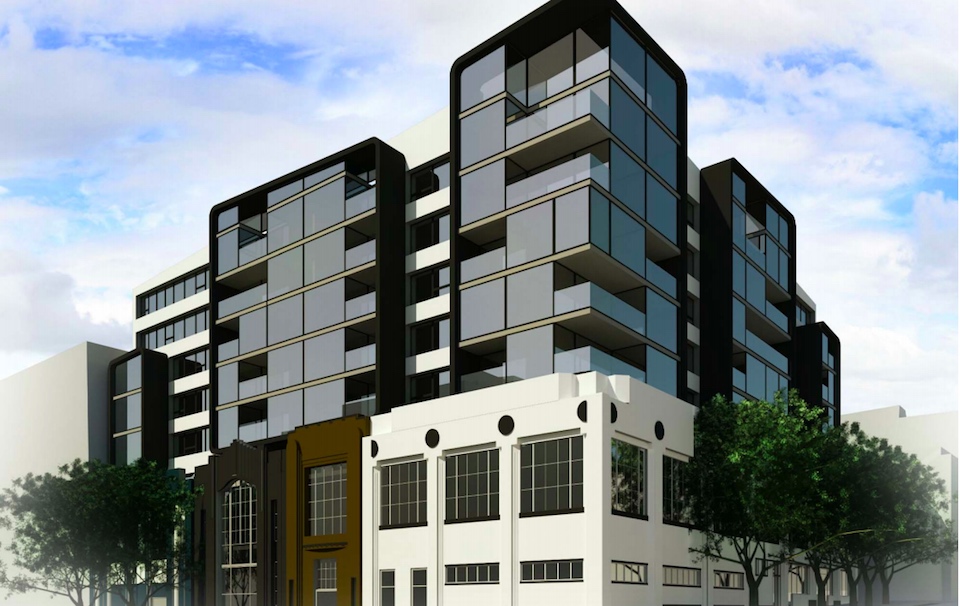 The plans include preservation of the historic facade of the building at 245 Eddy, which housed Wally Heider Recording Studios, known for producing Crosby, Stills, and Nash's Déjà Vu album, along with other notable releases by the Grateful Dead, Creedence Clearwater Revival, and Jefferson Airplane.
In the 1980s and 1990s, Hyde Street Studios produced albums for groundbreaking punk artists such as the Dead Kennedys, Green Day, Tupac, and Digital Underground. The facility is said to be the longest-running multi-room recording studio in the Bay Area.
The historic two-story building's interior would be demolished for the proposed project, but the facade would be maintained.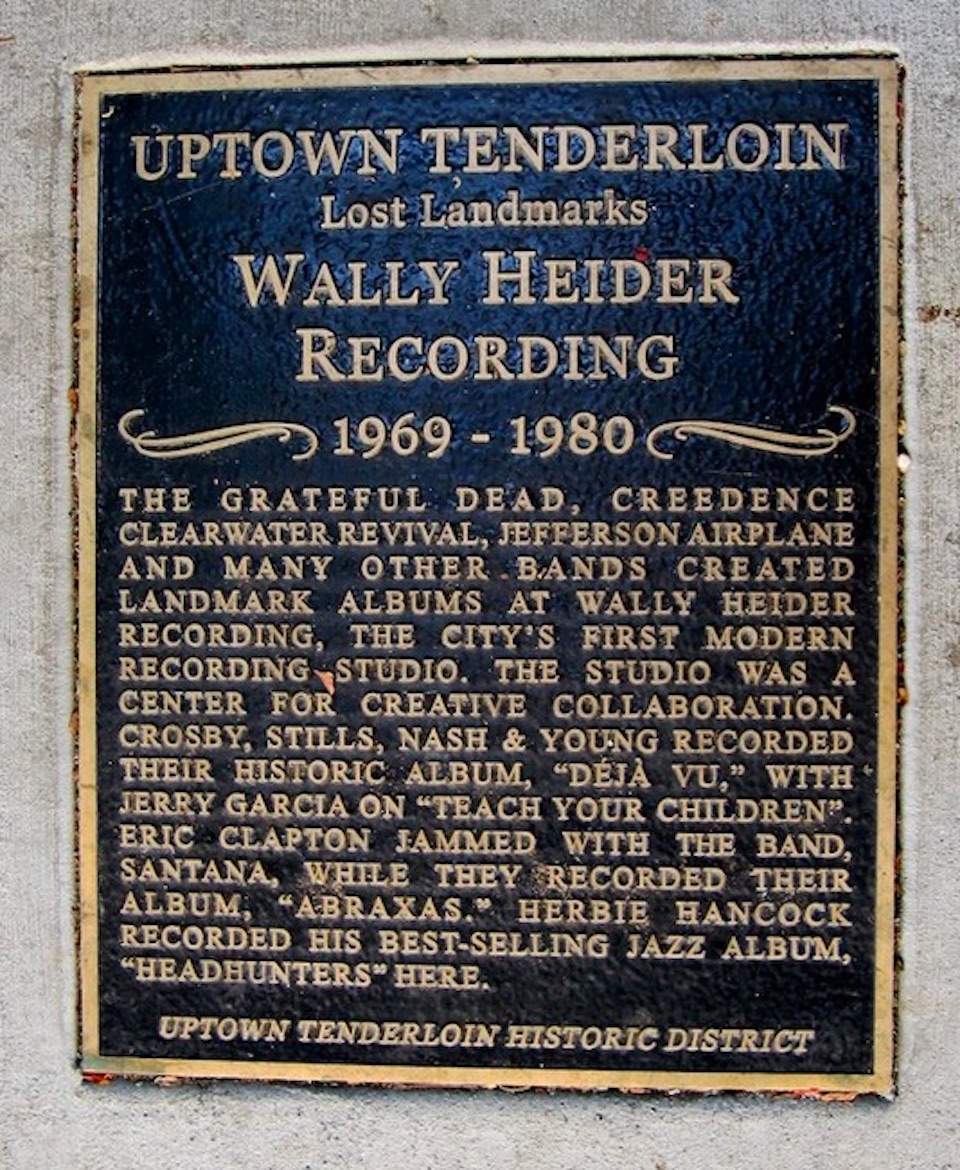 As proposed, Planning said the project "is not complimentary to the surrounding context of the Uptown Tenderloin Historic District or with the existing building(s)." 
"Although the proposed Project preserves some elements of architectural and aesthetic value and historic importance through the adaptive re‐use and rehabilitation of the Film Exchange Building, and restoration of the Hyde and Eddy Street facades, the scale of the proposed vertical addition subordinates the contributing structures," concluded Planning in its response to the Preliminary Project Application issued yesterday.
The agency suggested that project sponsors re-file their application with plans that minimize the visibility of the vertical addition to the two-story facade or include a clear horizontal break between the historic building and the new construction.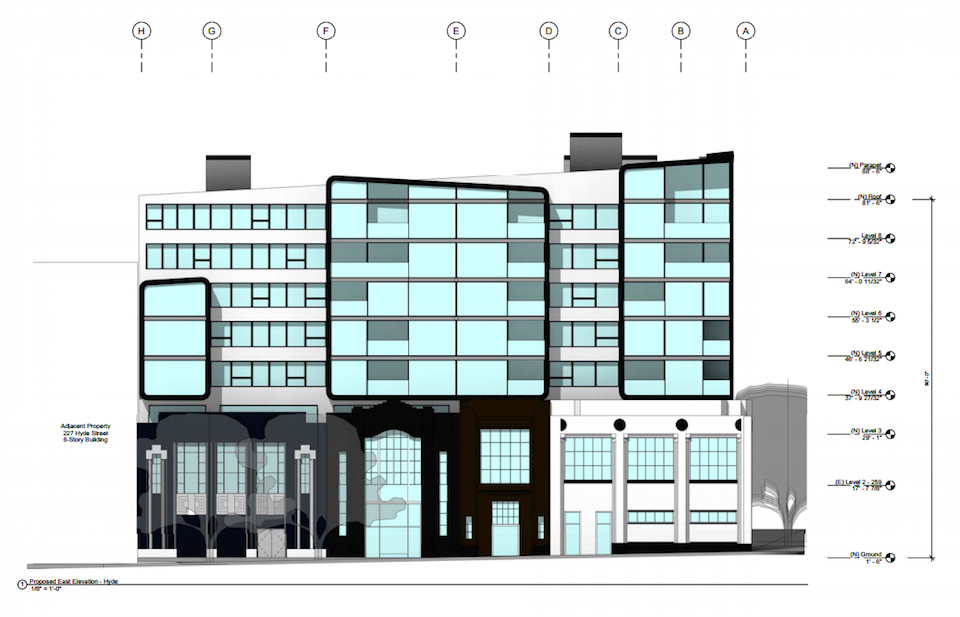 SF Planning also advised sponsors to consider setting back the taller structures from Hyde and Eddy streets to minimize the visibility of the vertical addition. 
The project's preliminary project application also lacked a description of the ground-floor retail space and its street frontage design, and SF Planning is requesting a ground floor plan be included all future submittals.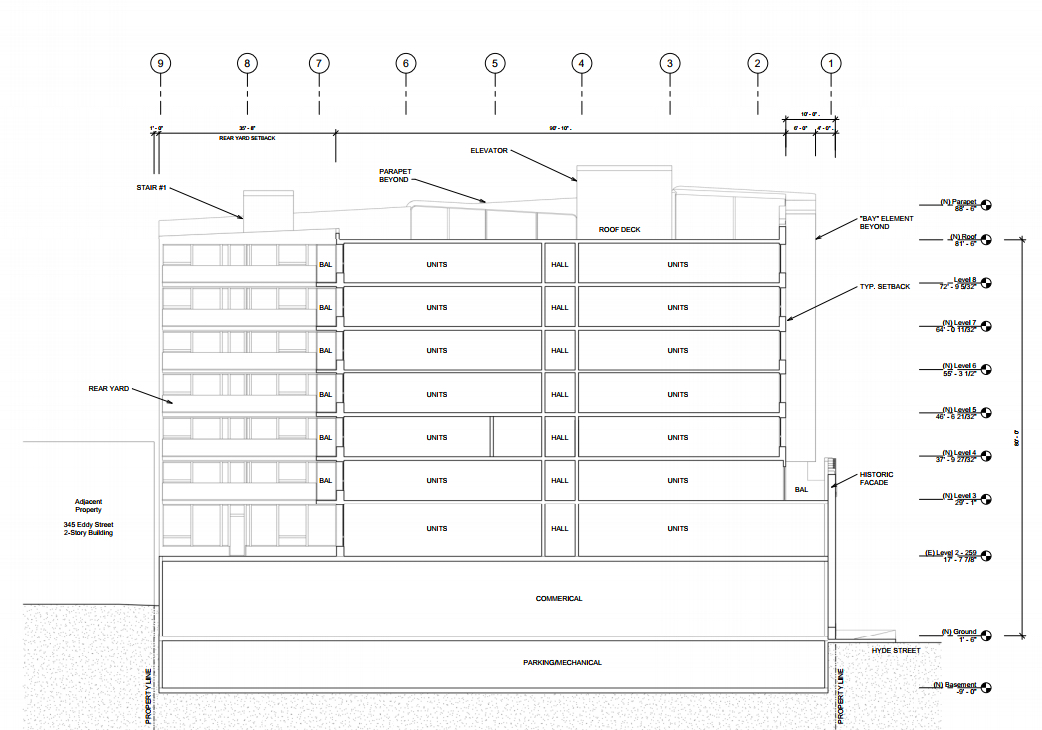 The proposed development would also include 14 below-ground parking spaces, bike parking, a rear yard that begins on the second floor, and a rooftop deck for tenants.
The Preliminary Project Assessment issued yesterday is valid for 18 months. To move forward, the project partners must file additional applications for environmental, conditional use, and building variance authorizations, prior to June 13, 2019, otherwise a new preliminary project application must be filed.