Time for another look at crime in SFPD's Central District, which includes Chinatown, Financial District, Embarcadero, Russian, Telegraph and Nob Hills, North Beach, and Union Square.
Here are some of the incidents that have taken place since our last biweekly recap. Unless otherwise noted, all reports are drawn from SFPD's daily summary.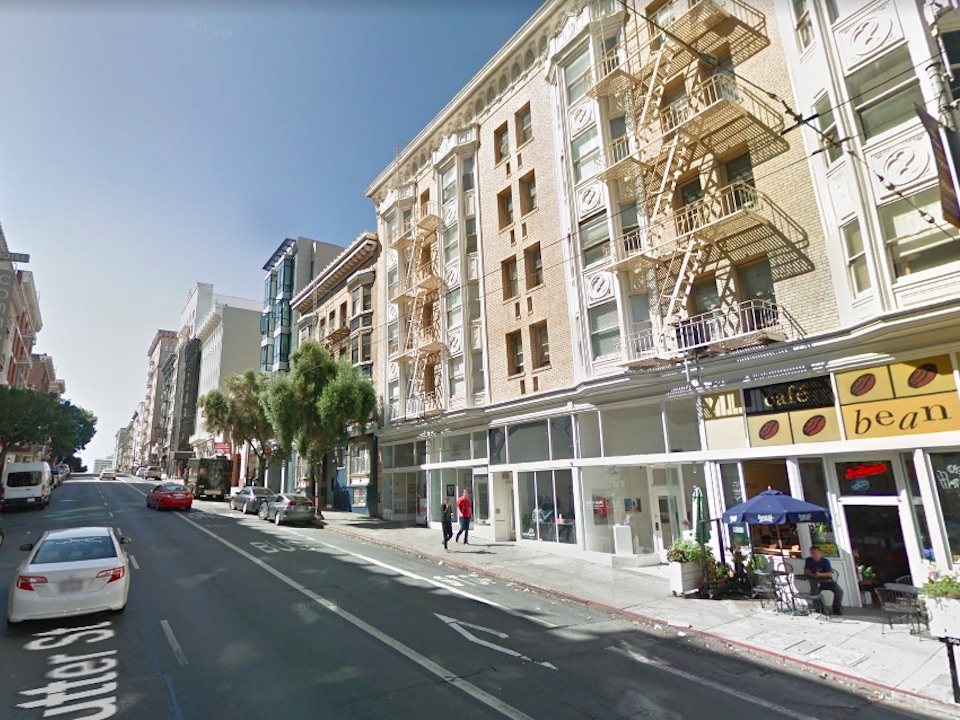 Man suffers life-threatening injuries in Lower Nob Hill assault
Earlier this week, a 37-year-old man suffered life-threatening injuries after three men attacked him while he walking to his apartment in Lower Nob Hill. 
The assault occurred on January 7th at 6am on the 800 block of Sutter; our full report is available here.
Man robbed of cell phone while riding bus
On January 11th at 9:20am near the corner of Geary and Kearny Streets in the FiDi, a robbery occurred. 
The incident began on a bus when a suspect approached a man from behind and grabbed his cell phone. A struggle then ensued, which continued on the sidewalk. For a complete account, read our full story.
Victim knocked unconscious and robbed

Near the corner of Bush and Powell Streets in Lower Nob Hill just after midnight on January 10th, a 62-year-old man was attacked and robbed. 
The victim told police he was walking while using his cell phone and "felt something hit him." He then reported that he "went unconscious for an unknown period of time," and when he woke up, noticed his phone was missing. 
The victim was injured, but refused medical transport. 
Security guard punched and robbed

On the 1200 block of Sacramento Street in Nob Hill, a 61-year-old man was attacked and robbed. 
The incident occurred on January 9th at 1:30am when the victim, who was working security at a building, was punched by a 25 to 33-year-old male suspect. The victim dropped his cell phone and the suspect snatched it and ran away. 
No injuries or arrests were reported. 
Suspect arrested after robbery

On January 7th at 6:40pm near Montgomery and Market Streets in the FiDi, a 22-year-old man was robbed. 
A 19-year-old male suspect approached the victim and grabbed him by the straps of his backpack. He held him with one hand and went through the victim's pockets to grab his cash. The suspect then fled onto a public bus, but was apprehended by police a short time later. 
Suspect uses shoplifted bottle as weapon

A 56-year-old man stole a bottle from a shop on the 100 block of Jackson Street in the FiDi at 10:20am on January 6th.
The suspect walked into the store and absconded with the bottle, but a 46-year-old man gave chase. The suspect then attacked the man with the bottle and then fled again. The suspect ended up at a BART station where police detained him and took him into custody. 
The victim suffered minor injuries and was treated at the scene. The only loss reported was the stolen bottle. 
Teen arrested after cell phone grab

On January 6th at 10:45am near the intersection of 3rd and Market Streets in the FiDi, another robbery occurred. 
A 15-year-old male suspect snatched a phone from a 67-year-old woman and fled the scene. Police later stopped the suspect and took him into custody. 
Two men steal eyewear from area business

Two male suspects in their thirties stole eyeglass frames from a store on the 600 block of Market Street on January 2nd at 1pm. 
According to police, the suspects walked into the store, grabbed eyewear, and absconded with the merchandise, fleeing in an unknown direction. 
No injuries were reported in the incident and no arrests have been made. 
Union Square business robbed at gunpoint

A robbery at gunpoint occurred on the 100 block of Powell Street near Union Square on January 2nd just before 11pm. 
An unknown male suspect walked into the establishment and brandished a handgun. The victim, a 26-year-old man, handed over cash to the suspect who then fled northbound on Powell Street in an unknown vehicle. 
Suspect arrested in attempted robbery by gunpoint

An attempted armed robbery occurred on December 31st at 11:42am on the 100 block of O'Farrell Street near Union Square. 
A 21-year-old male suspect entered a department store and attempted to steal items. A security guard intervened but the suspect resisted arrest and attempted to brandish a gun before he was apprehended and taken into custody. Police secured the weapon, and no injuries or loss were reported in the incident. 
Anyone who has information about any of these incidents is encouraged to contact SFPD via the department's anonymous tip line at 415-575-4444, or text TIP411 with "SFPD" at the start of the message.

Here's why we usually don't include suspect descriptions in crime reports.