What has 649 words and contains the latest information on San Francisco's restaurant scene?
This week: a barbecue chain opens in Mid-Market, a unique snack shop departs North Beach, and several Chinatown closures. 
Let's dig in. 
Openings
Buckhorn BBQ (619 Market St.)
Tipster extraordinaire Al M. reports that Buckhorn Grill has opened another San Francisco location near Montgomery St. BART, not far from its Westfield Centre restaurant just a few blocks up the street. 
But this location, formerly a Boudin Bakery & Café, is a bit different, he noted. "There's a tap room downstairs with bartender and a counter that seats seven comfortably."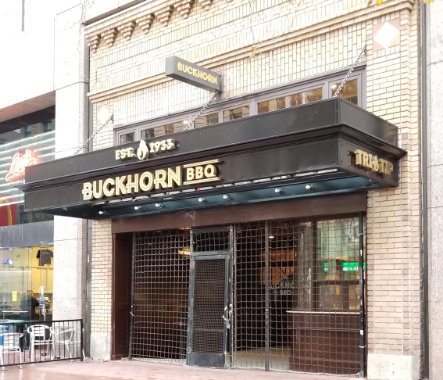 At street level, there's space for ordering, general seating, along with "an upstairs dining section overlooking Market Street's daily activities," Al added.
Customers will find a range of of BBQ-inspired sandwiches and salads like the Tri Tip Buck (caramelized onions and au jus); pickled pulled pork with bleu cheese, pickles and pepperoncinis; and a Krispy Chicken & Avocado salad with tomatoes and bleu cheese crumbles tossed in a honey-lime dressing. (You can check out the full menu here.)
Closures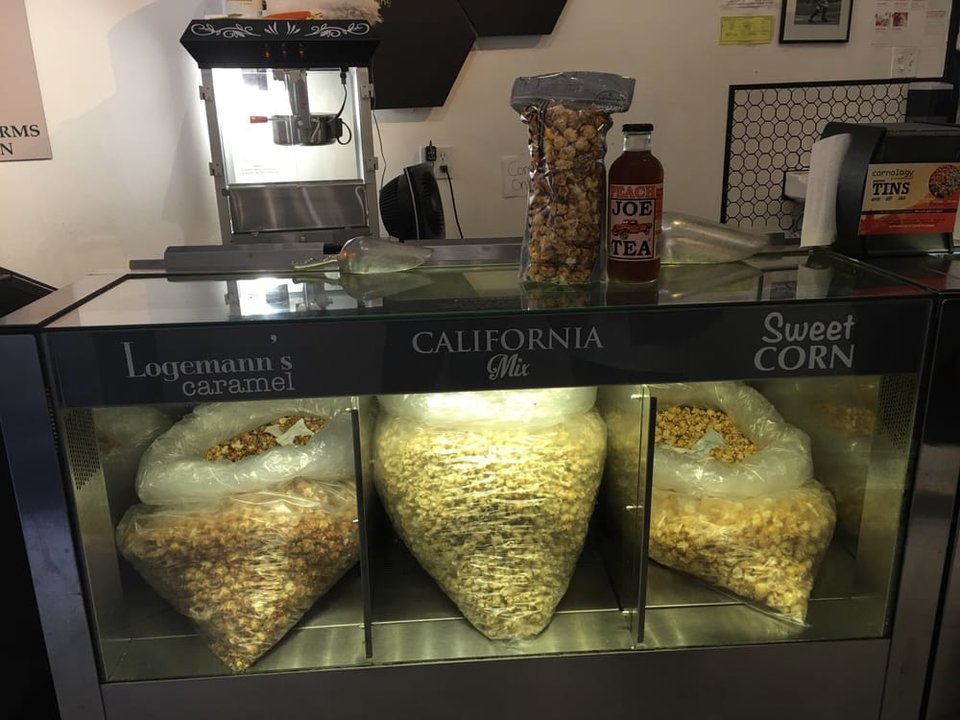 Cornology (564 Columbus Ave.)
North Beach's Cornology, known for unique popcorn flavors like truffle parmesan and pumpkin apple spice, "has popped their last batch," Al reports. 
Last weekend, the snack shop "bagged up the rest of the leftover popcorn and cleaned out the shop," said Al. "They're done for good."
Al investigated further a few days later and noticed that equipment and supplies were removed with a note posted to the door directing visitors to locations in Emeryville and Walnut Creek.
Cornology has another Bay Area outpost in Pleasant Hill and one in Fujisawa, Japan.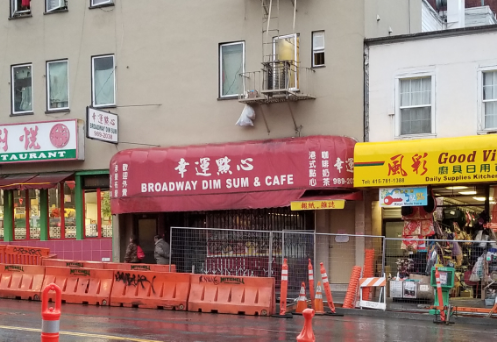 Broadway Dim Sum (684 Broadway)
In Chinatown, Al reports that Broadway Dim Sum appears to have closed as well. 
The windows were covered with newspaper, he said, and the phone was disconnected last Friday. When he called the listed number, someone reportedly answered before hanging up.
Someone in a nearby business told him that construction work in the area has led to a downturn, "especially for that shop, because wire fences are blocking the view completely." 
There does appear to be movement again inside, so we'll continue to check in on the space.
Cathay House (718 California St.)
After nearly 80 years, Chinatown's Cathay House has closed, Al reports—at least temporarily. 
While investigating, Al noticed restaurant furniture being stored in a covered truck out front with someone who appeared to be a manager directing the movers. When he asked what happened, the person told him they were "closing up."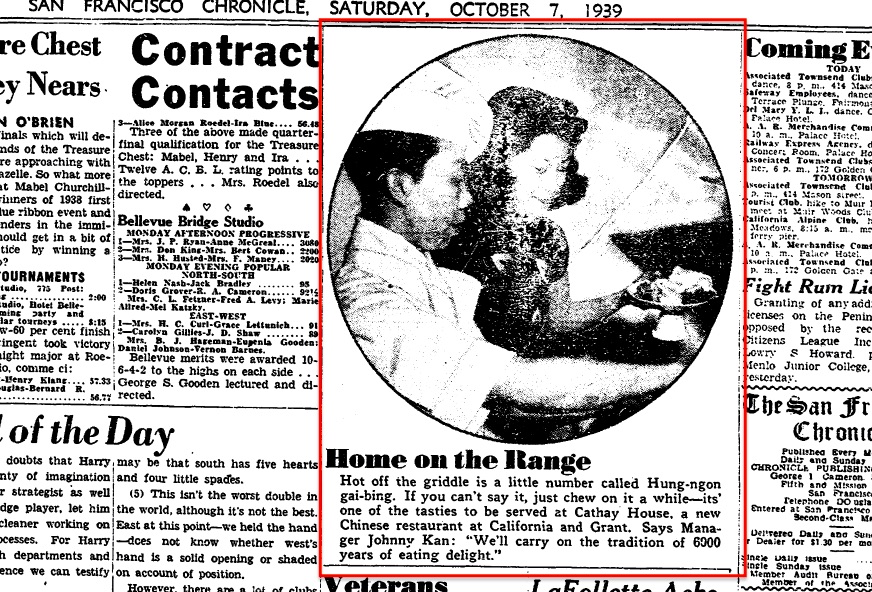 Al sid another employee hinted that the restaurant may be simply undergoing a renovation and could possibly reopen in the summer.
Cathay House has been a popular Chinatown stop for years. The restaurant, which began serving customers in 1939, is said to have served then-president Franklin D. Roosevelt.
In one early advertisement, a listing announced, "to discriminating epicures who will appreciate authentic Chinese cuisine, the Cathy House head waiters invite you to see real Chinese food prepared on the 'Wok Lo' in a spotless Canton kitchen."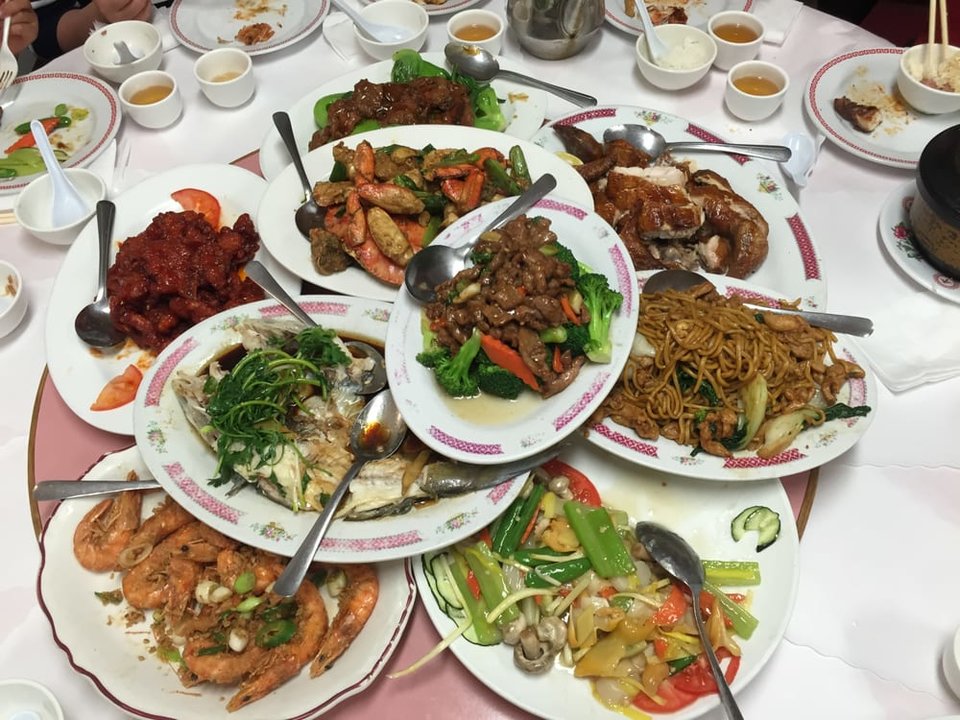 Chung King (606 Jackson St.)
Lastly, another Chinatown eatery, Chung King Restaurant, has "quietly shuttered," Al said.  
When he spoke to construction workers on site, they said they were told to "clean the place out and start from scratch." As for whether it will be a new restaurant, Al was told to come back in a month.
As ever—Al M. is our GOAT tipster!
If we missed an opening or closing in your neighborhood, email [email protected] or send a text to 415-200-3233 and we'll give you credit for the tip.