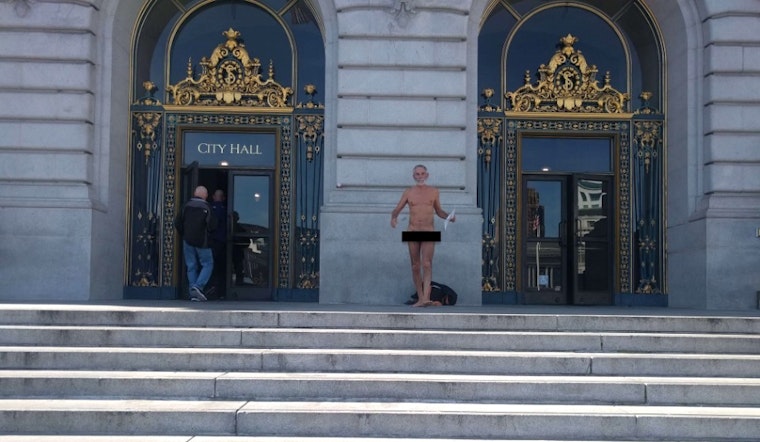 Published on February 05, 2018
Last Thursday, George Davis visited City Hall to pressure candidates in the special mayoral election to take a stand on the city's nudity ban, now in its fifth year.
To comply with the law, he obtained a 30-minute permit that allowed him to make a statement on the steps of City Hall while wearing only his birthday suit.
Davis, a self-described "body freedom" campaigner, said the ordinance bans artistic and political expression. Two current supervisors—London Breed and Jane Kim—voted for the narrowly-approved ban, which was proposed by now-State Senator Scott Weiner.
"San Francisco is not quite the liberal city it paints itself to be," Davis told Hoodline. "New York City has way more open artistic and political policies than San Francisco, negating San Francisco's liberal and artsy reputation."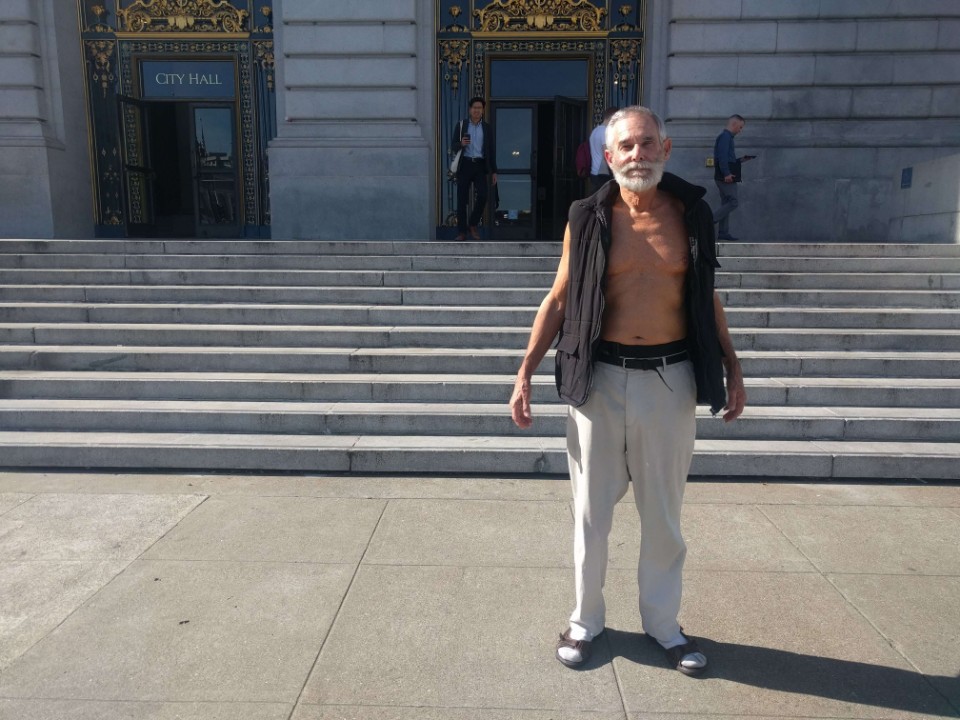 In California, incidental nudity like sunbathing is governed by local laws, whereas public sexual behavior is illegal.
The city's 2013 ordinance allows nudity on private property, private beaches and at permitted events like Folsom Street Fair and Bay to Breakers. Violators are cited $100 for a first offense and $200 for their second within a 12-month period.
Davis and Gypsy Taub, another body freedom activist, appealed the city's ordinance to the Ninth Circuit Court of Appeals on grounds that it violated the First Amendment, but the court upheld the ban in June 2017.
Now, Davis says he wants to amend the law "to recognize the nude human body in artistic and theatrical performances and political expression."
Additionally, Davis says San Francisco's public nudity rules unfairly target women.
"The SF Park and Rec ordinance still outlaws the female breast," he said. "In fact, SF Park Rangers have recently harassed nursing mothers, Bay-to-Breaker female participants, and an International Go Topless Day rally in Dolores Park."
A small crowd of supporters and onlookers gathered around for his Thursday protest, including Daniel Martel, a Canadian tourist. "We're a feminist culture, so we don't have legislation against women being topless or nudity," Martel said.
Contrasting the recent Women's March to the targeting of women in nudity legislation, Daniel says it's "beyond comprehension" that women are still not allowed to be topless where men can. 
"I have had many so-called San Francisco Liberals ask me why I make body freedom such an important issue when there are XYZ causes to them that they consider more important," said Davis.
"But none of them can adequately explain why a natural innocent state of nudity, which everyone practices every day if only in a bathroom, is so ruthlessly and vigorously suppressed by prison and fines and media censorship."