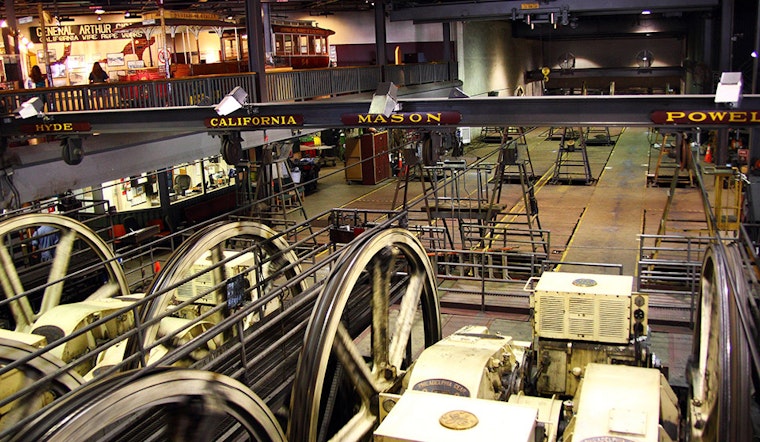 Published on March 15, 2018
On Tuesday, the San Francisco County Transportation Authority approved a $280,999 expenditure to rebuild a key piece of infrastructure that keeps San Francisco's cable cars moving.
According to the Examiner, the authority's board—made up by the Board of Supervisors—passed the measure to rebuild 25 giant wheels that move the system's traction cables at speeds up to 9.5 miles per hour.
Inside the Nob Hill cable car barn and wheelhouse, a motor drives six 14-foot diameter wheels called sheaves that rotate cables wound in a figure-eight pattern. Once fueled by coal, the system was upgraded to electric power after the 1906 earthquake and fire.
Additionally, tension sheaves take up slack produced by wear, car load and stoppage of cars on the line. The Examiner reports that the sheaves "were last rebuilt between 1982 and 1984."
Crews are expected to perform the reconstruction work starting this spring and complete the project by the summer of 2020.
To minimize disruptions, work will be done during scheduled shutdowns for the already planned gearbox overhaul project or during other maintenance periods, SFMTA officials said.
The purpose of the gearbox project is to overhaul and refurbish five mechanisms that have been in service since 1984. Work for the Powell Line is scheduled for this spring, while the Mason Line is set to follow this fall. Repairs on the Hyde Line are scheduled for spring or fall 2019.
During eight-day working windows, bus shuttles will substitute the cable car lines, said SFMTA.