A new development to provide affordable housing for homeless veterans broke ground in Oakland's Uptown neighborhood this week.
The Embark Apartments at 2126 Martin Luther King Jr. Way will have 62 units of affordable housing: 57 one-bedroom apartments, four two-bedroom apartments and one studio apartment. The faciliity will also offer on-site veterans' services.
All units will have income restrictions and half will be set aside for homeless veterans, according to Berkeley-based nonprofit developer Resources for Community Development. 
Oakland Mayor Libby Schaaf praised the project at a groundbreaking ceremony on Wednesday.
Veterans "deserve not only to have a stable roof over their heads, but supportive services on site, so we can wrap our arms around our veterans and help them heal," Schaaf said.
The site, which was a vacant lot prior to the groundbreaking, was chosen partly because there already two veterans service centers nearby, including a Department of Veterans Affairs outpatient clinic across the street.
The $36 million project is funded partly with federal tax credits but was facing a $3 million shortfall last year. The gap was closed with funds from Measure A1, a $580 million affordable housing bond passed by Alameda County voters in 2016.
Embark Apartments is expected to open in autumn 2019 and will begin accepting applications from potential residents next spring.
The six-story building will have on-site parking, laundry, a community room with a kitchen and a rooftop garden.  
The building is similar to a 25-unit Resources for Community Development project that opened two years ago a few blocks away at 1701 Martin Luther King Jr. Way that serves formerly homeless residents.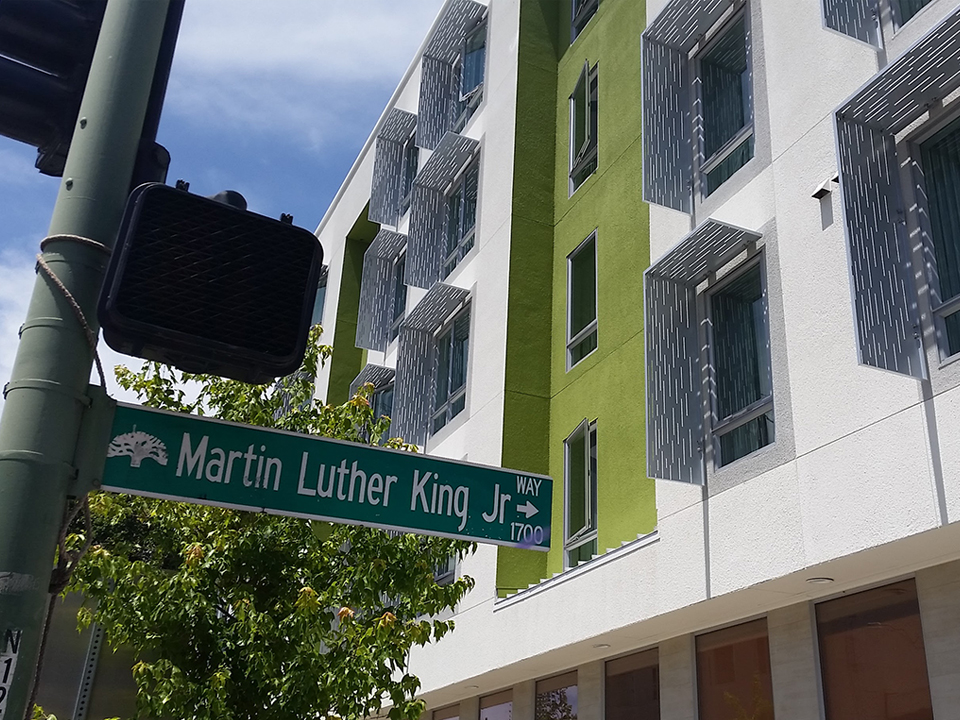 That facility also offers on-site services and a rooftop garden with sweeping views of downtown. Residents' rent is subsidized by the Oakland Housing Authority and 12 units are set aside for people with HIV/AIDS.
Oakland has been falling short of its affordable housing goals. The city set a goal of building 17,000 new units by 2022 with 28 percent set aside as affordable, but a report released last year found that of the new homes under construction, only about 6 percent were affordable.
Meanwhile, homelessness has been rising. Alameda County's most recent survey of homeless residents released last year found that 5,629 people were homeless in the county, 28 percent more than two years prior. 
The survey found that in Oakland, there are 2,761 people who are homeless.