If you have artistic inclinations, trying something new—or revisiting a past activity—can sometimes be stressful. Gathering the right supplies takes time and money, plus, you'll need to find a place to work, proper lighting, and not least of all, a little inspiration. 
At Wine & Design Oakland (222 Broadway, Ste. 3B between 2nd and 3rd) however, customers can get in touch with their inner artist in a low-pressure environment.
Owner Tina Farman said she got the idea for opening the "sip and paint" business after watching an episode of Shark Tank featuring company CEO Harriet Mills.
The notion of creating a social art-making space where she could also showcase her favorite winemakers was a strong motivator, she told Hoodline.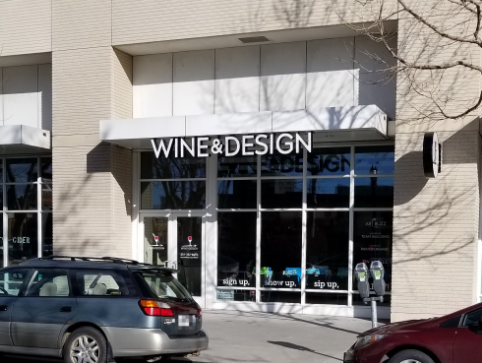 Open since February, the Jack London Square studio is the first Wine & Design franchise in the Bay Area. The chain has more than 70 locations across 15 states, with more on the way.
All art materials are provided and students receive a canvas with an image that's already traced. Instruction consists of classes that focus on different themes and motifs; the company's art library contains thousands of images.
"It's perfect for someone who doesn't have any painting experience," said Farman. "Many haven't touched a paint brush since the third grade, but having an image to start with helps get the creative process flowing." 
Artists can check the location's online class schedule to see what's on offer at an upcoming session. In addition to two-hour classes, Wine & Design offers events like a Bachelorette Party with "nude dude" figure drawing, or an all-day "Wizard Academy" camp for kids.
There's a therapeutic element to creating this way as well, she said, citing a student who was dealing with significant family stress.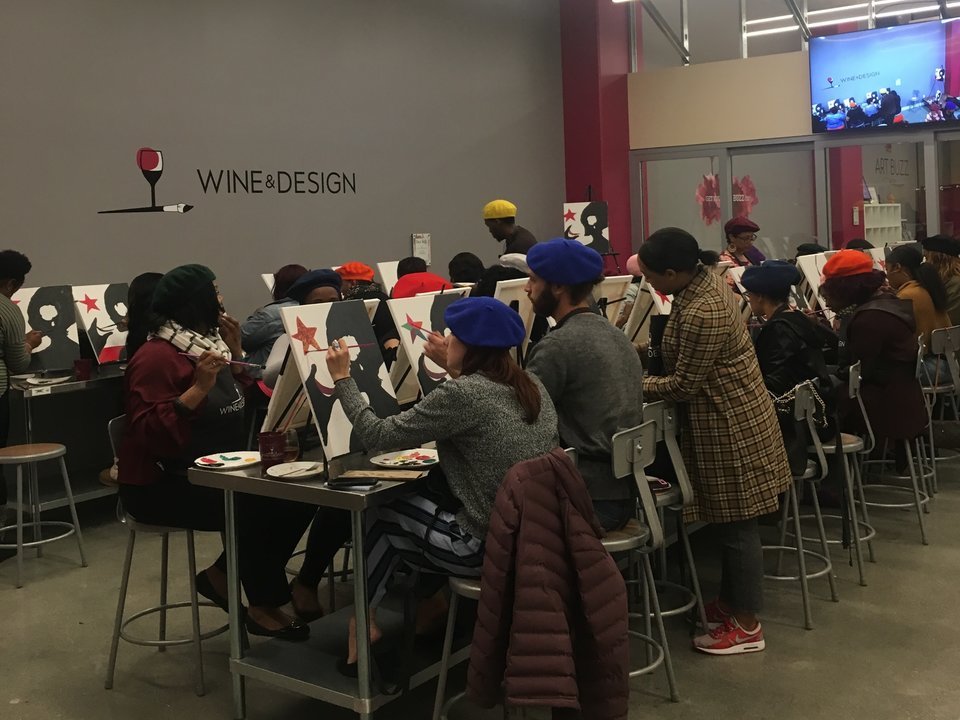 "But during the time they were in class, they were able to focus on simply painting and were able to escape for a few hours," she said. "And our classes only run $35, which is cheaper than most therapy sessions." 
Opening in Jack London Square "has been great," said Farman. "There's art here, there's an emphasis on beer and wine, and a lot of employees from neighboring offices, including the new [Oakland Athletic's] corporate headquarters, have already come into our studio to participate."
For those seeking a quick, creative getaway, Wine & Design offers a "pop-in and paint" service for $25 that includes materials and canvas from 11am–4pm. 
As the name suggests, adult beverages are available.
Farman said she favors local wineries like nearby Urban Legend. "Their wines are affordable, which means people can drink more than one glass while painting. We know that makes for a better painting." Beer is also on offer, but no adult beverages are served during children's classes.
Wine & Design also offers on-site corporate team-building classes, which can be customized for each client and require a 15-person minimum. "Our On The Wheels division allows us to bring the pARTy to you," said Farman via email.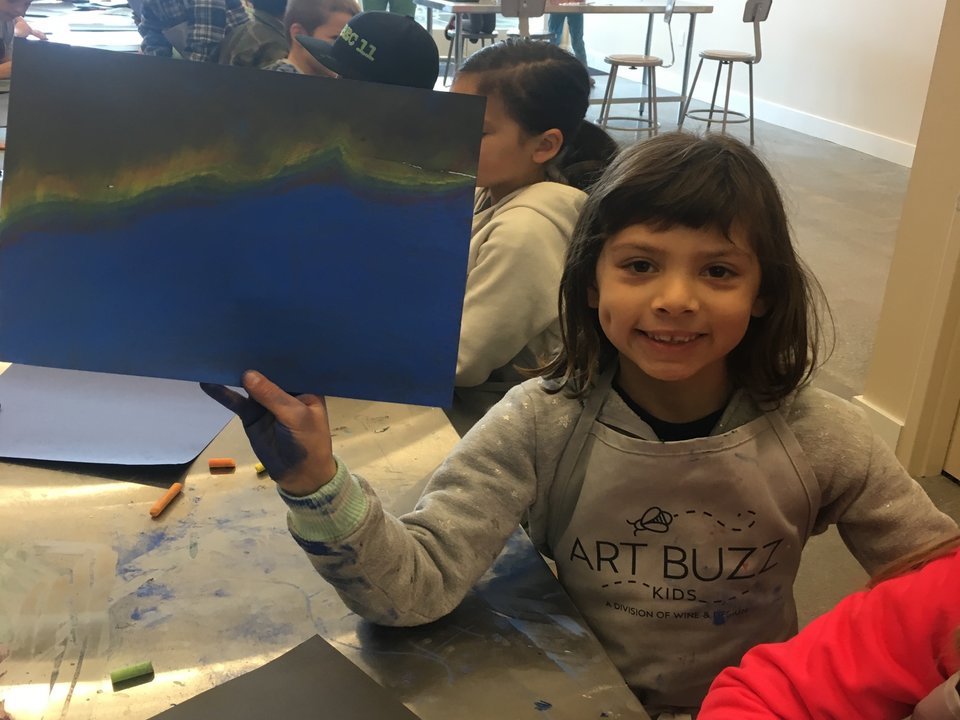 Birthday parties are a favorite among younger customers, she added. "We're inspiring children to have fun, get creative and feel proud of their work." Because so many public schools are doing away with art programs, "it's important that we continue to have that," said Farman. 
Look for classes like Art Buzz Kids Camps with spring, winter or summer sessions where students learn basic art fundamentals through painting and mixed-media projects, along with sessions where the "parent gets to paint one side of the painting and the child completes the other. It's a good way for bonding," she said. 
Check out a full class schedule and learn more about the different divisions of Wine & Design here.