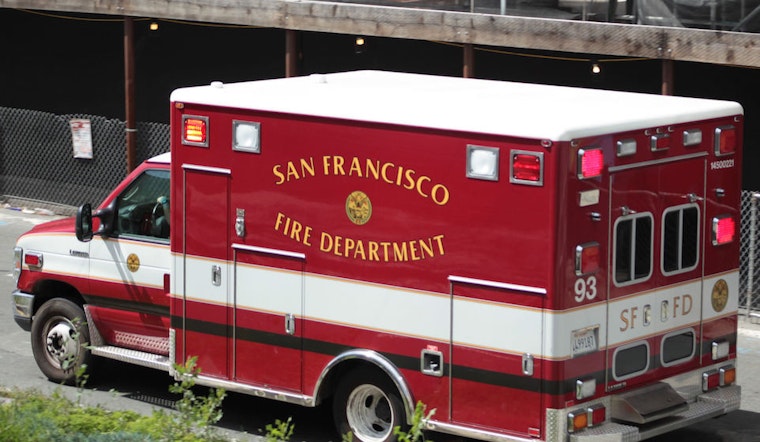 Published on May 14, 2018
[Update: 4:01 p.m.] According to Instagram user sethmmoney, this morning's collision involved two cyclists, and both remained at the scene.
"I'm ok, but he took out 4 pedestrians after bouncing off of me," he posted. We reached out to SFPD for an update, but they are not releasing additional information at this time.
---
A bicyclist struck and injured six pedestrians on a Mid-Market sidewalk this morning before fleeing the scene, according to police.
The incident took place just after 10 a.m. near Market and Powell streets, said Officer Giselle Linnane. Initial police reports stated that two pedestrians were involved, but SFFD spokesperson Jonathan Baxter said six people suffered minor injuries.
"Four were treated on the scene and two were transported to a hospital," he said.
AT 1004 HRS, MARKET ST/POWELL TWO BICYCLISTS COLLIDED WITH 6 PATIENTS ON SIDEWALK. 4 adults taken to Hospital with minor injuries, 2 additional patients treated and released on scene. pic.twitter.com/8aozU9zHda

— San Francisco Fire (@sffdpio) May 14, 2018
Because six patients were involved, Baxter said city protocol called for a temporary red alert that required all San Francisco ambulances to be available for medical triage.
"The whole system gets shuts down to provide availability to this one incident," said Baxter. "That whole process took about fifteen minutes."
Police have not released a description of the cyclist involved in the collision, but anyone who has information about this incident is encouraged to contact SFPD via the department's anonymous tip line at 415-575-4444, or text TIP411 with "SFPD" at the start of the message.