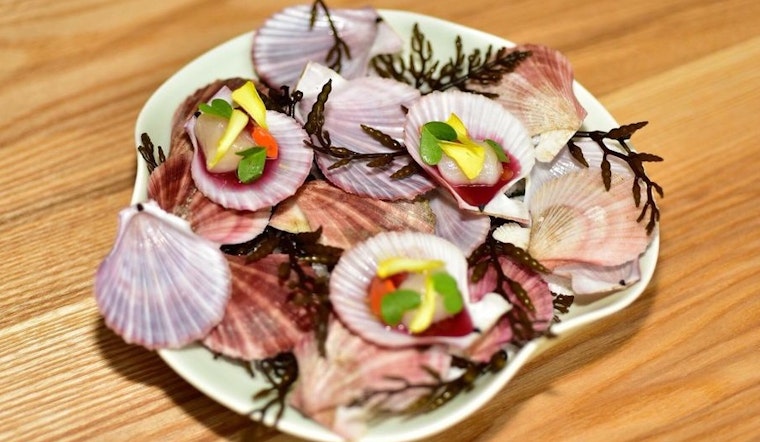 Published on May 08, 2018
Birdsong, an upscale New American restaurant inspired by the Pacific Northwest, has opened in SoMa. Located at 1085 Mission St. (between Sixth and Seventh streets), the restaurant is the first for chef Chris Bleidorn, former chef de cuisine at Atelier Crenn, Eater reports.
Bleidorn aims to evoke the region associated with dense forests and rocky shores with ingredients like wild game, mushrooms, berries and cold-water shellfish, as well as techniques like dry-aging, fermenting and wood-fired cooking.
Through May 26, while the restaurant is in its preview phase, diners will find an eight-course prix fixe menu; subsequently the menu will be a 12-13 course tasting menu. The current bill of fare includes offerings like Pacific scallops with salted liver and apricot vinegar; and wild boar with grilled brassicas, pine needles and madrone bark.
So far, the restaurant has earned a five-star rating out of three reviews on Yelp.
Yelper Nisha P., the first to review Birdsong on May 4, said she "had a fantastic meal at Birdsong during opening week. Fish and chips, trout skin and roe sandwich, morel mushroom, and dessert courses were the absolute highlight. Everything was cooked creatively and presented to perfection."  
"Each of the dishes was unique and stayed true to the Pacific Northwest theme," said Aron O. "I was particularly impressed with the lamb-stuffed morel mushroom dish and the wild boar dishes. ... I will be going back here very soon –highly recommended."
Birdsong is open from 5–8:30 p.m. on Tuesday-Thursday and 5–9:30 p.m. on Friday and Saturday. (It's closed on Monday and Sunday.)