If the Board of Supervisors approves, San Francisco's street furniture is about to get a lot more futuristic.
Public Works announced that a new design put forth by SmithGroupJJR has been selected for a systemwide revamp of the city's JCDecaux public toilets and advertising kiosks.
"SmithGroupJJR's design is forward-thinking, combining natural elements and environmental sustainability with modern technology and materials,"said Public Works director Mohammed Nuru in a statement.
"This 21st-century street furniture reflects our San Francisco values, as we invest in a public realm designed with dignity, inclusivity and beauty," said Nuru. According to SFGate, the new toilets will include rooftop gardens and recycled water systems.
After an invitation-only competition in partnership with JCDecaux, a jury selected finalists SmithGroupJJR, Min Design and Branch Creative from 12 local firms.
To select the ultimate winner, Public Works sought community input, with more than two hundred responses received through an online survey and in person. Proposed designs were on display in April at the Main Library in Civic Center and the Heart of the City Farmers Market at UN Plaza.  
Last year, the agency entered into negotiations with JCDecaux — which serves 4,033 cities with street furniture and public advertising — to reconstruct and maintain public bathrooms. As the current contract expires in October, the Board of Supervisors is set to decide the matter in September.
The JCDecaux-branded furniture have part of the city's streetscape since 1995, with 25 restrooms and 114 kiosks in downtown neighborhoods, along Market Street, and tourist-heavy spots like the Upper Haight.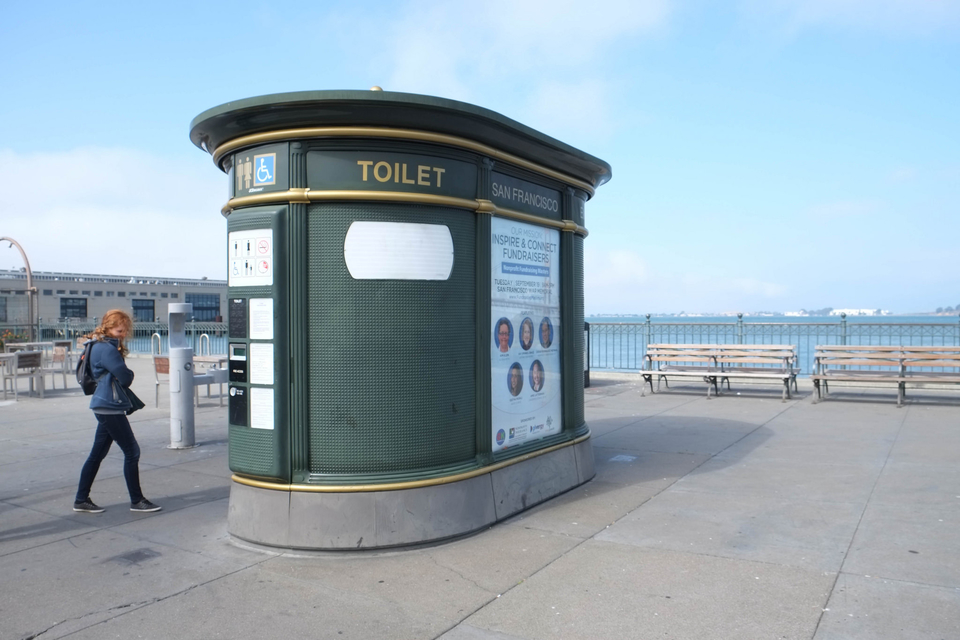 Under the new contract, the public toilets would be self-cleaning, ADA compliant, and connected directly to city utilities. Additionally, the toilets and kiosks are intended to have a 20-year lifespan, according to Public Works. 
Per the contract, JCDecaux would pick up the tab for construction, installation and daily maintenance. Additionally, the firm would fund staffing for select restrooms under the city's Pit Stop program. 
Advertising kiosks would house micro-retail businesses like newspaper stands or coffee vendors, which would offset costs for the toilets, according to the city. 
Moving forward, engineers from JCDecaux will collaborate with the project team from SmithGroupJJR to further refine the winning design. Later this summer, the updated project will be presented at the San Francisco Arts Commission and Historic Preservation Commission for consideration.
"We are confident that this innovative design process will lead to developing a new generation of street amenities that will better serve San Franciscans and visitors alike," said J. Francois Nion, chief operating officer of JCDecaux San Francisco.