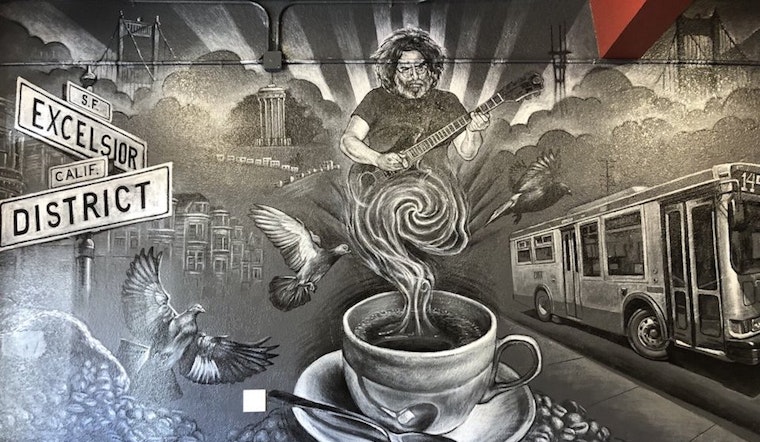 Published on June 19, 2018
Approaching the city's outskirts, the Balboa Park and Excelsior neighborhoods are great for Sunday soccer games, shopping at independently-owned businesses, or sharing a meal with friends without waiting in line.
From a revamped dive bar to a new ramen spot, read on for a rundown of the businesses locals are talking about in this outer San Francisco neighborhood.
Recovery Room
4528 Mission St.
Recovery Room is a dive bar that's under new ownership by two Excelsior residents. Although the new proprietors have installed flat-screen TVs and revamped the menu, at least two bartenders who worked for the previous owner have decided to stick around.
With a five-star Yelp rating out of seven reviews, Recovery Room has been getting positive attention.
"Unlike the previous bar that was here, they finally have a kitchen with some dignity and a billiards room that doesn't smell like dead pigeons," wrote Eric C. Caught a few NBA games here, drank enough to offend Homer Simpson and still had enough money to put my dog through private school."
Yelper David C. wrote, "Got to meet the owner Jay and he was very friendly. This place has a friendly vibe. Was talking to some of the customers as well. Saw a pool table in the back and will be back to try the food."
Recovery Room is open from 4 p.m.–2 a.m. daily.
Tenroku Ramen
4435 Mission St.
Tenroku Ramen (formerly Sushiraw) offers sushi, ramen, udon, donburi and other Japanese dishes, including seafood and appetizers.
The spot's current Yelp rating of 3.5 stars out of 11 reviews indicates the newcomer is finding its way.
Yelper James B., who reviewed Tenroku Ramen on May 5, wrote, "Have been here twice already. The pork belly ramen in tonkotsu broth is amazing. The two piece oysters on the half shell are some of the tastiest and most fresh oysters I've ever had."
"Sushi in Excelsior isn't what you would expect, but this place is awesome," wrote Drew F. "Came here for a birthday dinner later on a Friday night for sushi and sake bombs. Service was great and so was the food."
Tenroku Ramen is open from 11:30 a.m.–3 p.m. and 5 p.m.–10 p.m. daily.
Double Shot Coffee
4587 Mission St.
Double Shot Coffee, which opened in February, offers sandwiches, tea and coffee, with specialty drinks like lattes made with lavender or Nutella.
The space provides free wifi and with an opening time of 6 a.m., caters to an early-morning breakfast crowd.
With a 4.5-star Yelp rating out of 21 reviews on Yelp, Double Shot Coffee has been getting positive attention.
Christine P. noted, "Cool coffee place! It's a pretty new cafe so I definitely wanted to try it out. Customer service was great. They were helpful and kind."
"This is a brand new, super cute, fun, relaxing cafe with delicious espresso drinks, sandwiches and salads," wrote Ethan C. "What a gift to the neighborhood! They serve great food, provide great service and play relaxing music."
Double Shot Coffee is open from 6 a.m.–6:30 p.m. on Monday-Saturday and 7 a.m.–6:30 p.m. on Sunday.
Witch Doctor's Lounge
4826 Mission St.
Witch Doctor's Lounge (formerly The Doctor's Lounge) is a full-service bar that offers breakfast and brunch.
The bar has 20 craft beers and ciders on tap, along with a range of premium bourbons, tequilas and whiskeys. Each month, the eatery spotlights a different sandwich from its menu: June's selection is The Witch Doctor's Reuben.
With a four-star rating out of 14 reviews, Witch Doctor's Lounge has been earning positive attention.
Yelper Curtis L., who reviewed Witch Doctor's Lounge on June 6, wrote, "Went here for the first time since it was called The Doctor's Lounge and it was damn good!! Our waitress Andrea was quite nice and very efficient ! The food done by Chef Sergio was superb!"
Danny C. noted, "A different name, but same dive. Plenty of taps, a little brighter lighting, and newer, cleaner furniture. They got rid of the couches and lounge area in favor of standing tables and stools."
Witch Doctor's Lounge is open from 5 p.m.–midnight on Monday-Thursday, 5 p.m.–2 a.m. on Friday, and 10 a.m.–2 a.m. on weekends.