Construction started this week at the long-awaited mini park on Guy Place in Rincon Hill, after more than a decade of community outreach and negotiations.
Guy Place Mini Park is set to span 4,000 square feet at 4-8 Guy Place between Harrison and Folsom streets, near the new Salesforce Transbay Terminal and the foot of the Bay Bridge. 
The initial work this week includes a pre-construction survey, San Francisco Recreation and Parks Department spokesperson Tamara Barak Aparton told us.
"The heavy equipment part starts next week," she added.
The city purchased the property in 2007, using developer impact fees collected from the massive boom of construction in the Rincon Hill neighborhood.
The park is part of an effort to create a system of public open spaces in the area to offset its increased building density, as called for in the Rincon Hill Plan adopted in 2005.
Rec and Park held a series of community meetings shortly after purchasing the land. The agency developed designs for a plaza with three separate "rooms" divided by plantings, landscaping accents, and living columns of California grapevines.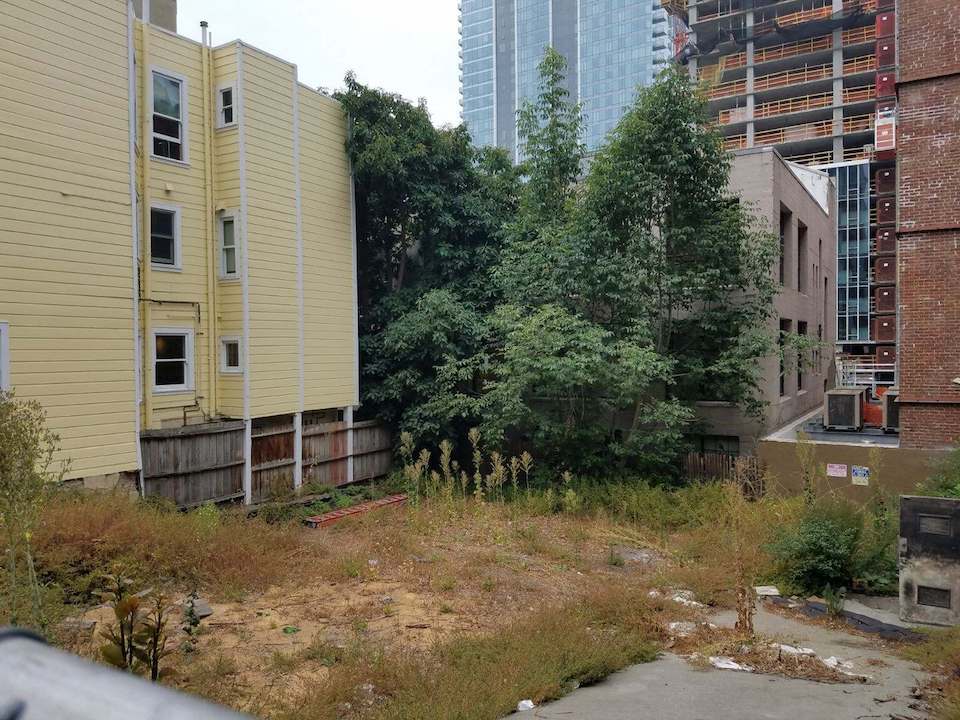 Construction on the project was delayed in part due to the economic recession, as well as concerns raised by neighbors about the site's two existing trees. 
The city's arborist found that the old ash and avocado trees could pose a hazard to park visitors, so rather than build around them, it plans to plant eight new trees in the space, according to an FAQ document developed by the project manager in 2016.
Plans for the park were finalized last year, and included an additional $60,000 to improve access to the site with a new pedestrian bulb-out. The total project has a budget of about $4.3 million, according to SF Rec & Park. 
Construction of the new facility is expected to take about one year, according to Rec and Park, which says it will provide regular status updates throughout the process.