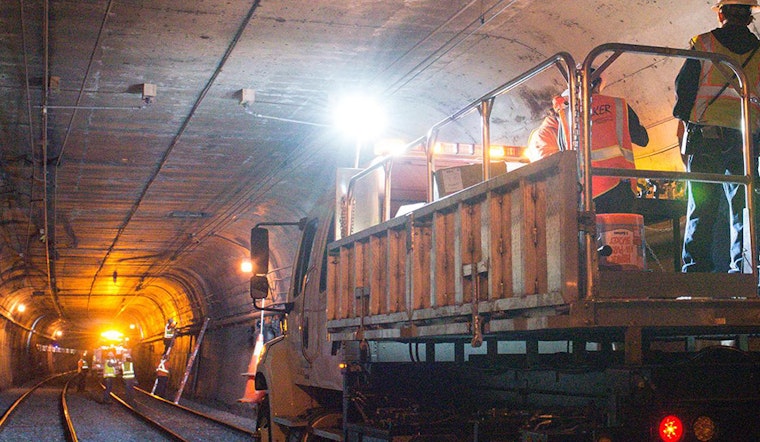 Published on August 13, 2018
At approximately 4:30 p.m. Friday, August 10, a signal technician was gravely injured when a temporary steel beam fell and pinned him underneath. The worker was transported to Zuckerberg San Francisco General Hospital, where he succumbed to his injuries.
The technician has been identified as 51-year-old Patrick Ricketts, a resident of Williams, a city in the Sacramento area.
"We are saddened to hear about the passing of a signal technician who was working in the Twin Peaks Tunnel [Friday] evening," Mayor London Breed said in a statement. "Our sincerest condolences are with his family, friends and colleagues at this time."
SFMTA said that after the incident, work was suspended inside the tunnel and all crews were evacuated to secure the construction site so a investigation could be conducted by the California Occupational Safety and Health Administration and the SFPD.
Construction workers were allowed back into the tunnel late on Friday evening, when the site was deemed safe to resume work. Grief counseling will be made available to all those working at the site, the SFMTA said.
"We have taken extra precaution to ensure the tunnel is safe before returning workers to the project," SFMTA Director of Transportation Ed Reiskin added in a statement. "We feel confident that the contractor, under the SFMTA's oversight, has done everything possible to ensure construction can proceed safely."
As we previously reported, rehabilitation and replacement of infrastructure in the tunnel began on June 25 and is currently scheduled to be completed later this month. The 100-year-old Twin Peaks Tunnel, which runs between West Portal and Castro stations, needs new tracks, reparation of the walls and ceilings, a new drainage system, seismic upgrades as well as structural repairs.
Bus shuttle services remain in effect through the end of construction. The $40 million project requires buses to temporarily replace the M-Ocean View and L-Taraval train lines.