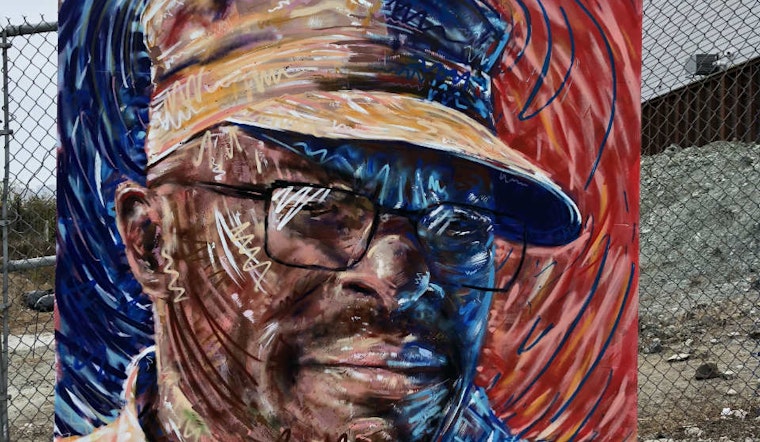 Published on September 21, 2018
If you've visited the Painted Ladies (and Gentlemen) of Alamo Square in the past month or so, chances are you've also eyed the eight large-format canvases that have popped up next door.
Anchored to the fencing that surrounds the long-vacant lot next to the homes at 804 Steiner St., the works were erected a month ago as an installation organized by Fnnch, the artist behind the city's wide array of murals of stylized lips, flamingos and honey bears.
The works are by Fnnch and seven other street artists: Wrdsmith, Orlie Kapitulnik, Nei Caetano, Pablo Rochat, Fabio Bene, Eclair Bandersnatch and Mitch Bierer.
At the behest of a curious reader, we got in touch with Bierer, whose mural depicts Perry Foster, a onetime college football star from Michigan who died on the street in San Francisco earlier this year.
Bierer, whose portrait of Foster is pictured at top, trained as a street artist with Eyez in St. Louis before moving to San Francisco last year to work under Fnnch.
"My background in art runs kind of deep," Bierer said. "As a kid I looked up to my grandfather, just like most kids do, and it just so happened that my grandpa was a muralist in his small town in Illinois. I remember how awe-inspiring it was to watch him command a brush at such large scales, and I think it just really stuck and grew into a passion of my own."
When Fnnch offered Bierer a spot in the fence installation, Bierer said he nudged him towards exploring the idea of doing a portrait of a homeless person.
"Less than a day after we spoke [about it], I stumbled upon Perry Foster's story on KQED," Bierer said. "And so when synchronistic events happen, you go with it."
He said the portrait was a way for him to draw attention to homelessness as a humanitarian crisis.
"I'm hoping this painting helps humanize the homeless," he said, "and draws people in to read and connect to Perry's story and the many others in the city who share the same situation."
"Hopefully bringing light to a situation through aesthetics can help in some way that just words can't."
For now, this is Bierer's only public art on view in San Francisco. He hopes that'll change soon.
Thanks to tipster Sarina S.