The crew behind Sauce Gough and Sleep Over Sauce have sold their building at 131-135 Gough St. (and Oak).
As we previously reported, the Hayes Valley eatery and inn hit the market earlier this year. Brothers Nathan, Matt, and Trip Hosley bought the restaurant in 2004 with chef Ben Paula. In 2009, they purchased the entire building, including the bed-and-breakfast upstairs.
The four partners own a second full-service restaurant in the Financial District, Sauce Belden (56 Belden Place), which opened in 2012. After the Gough Street location closes, the FiDi eatery will remain open.
Reached via email, Trip Hosley said that the sale of the building is currently under contract. While he declined to name the new owners, he noted that they "plan to operate the hotel portion continuously with no closure; they will most likely re-brand the space, but will rent rooms throughout the process."
As for the restaurant space, he said that the new owners do not plan to operate it themselves.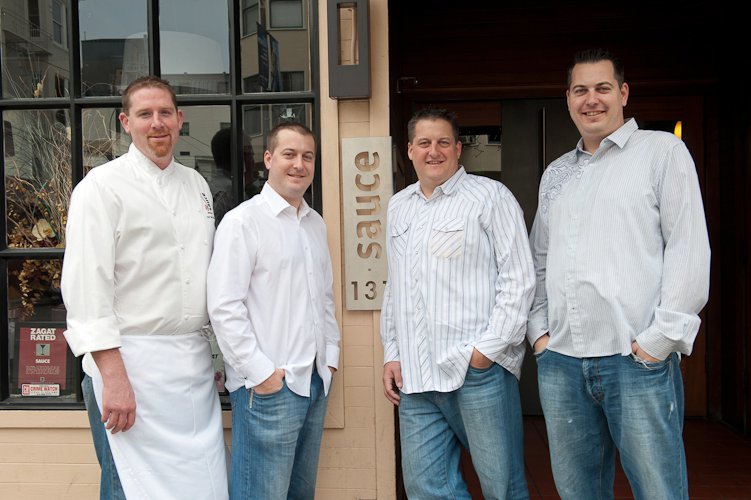 The foursome behind Sauce initially came together over a few ventures on the East Coast, including The Long View Lodge, a hotel and restaurant in upstate New York, and a nearby burger joint, The Park.
Selling the Gough Street property allows Nathan and Matt Hosley to focus on running the East Coast businesses, while Trip Hosley and Paula remain in San Francisco to run Sauce Belden. 
September 28 will be the last day of dinner service for the Hayes Valley restaurant. The following evening, the owners will organize a party to "bring this chapter of our personal and business lives to a thunderous close," they wrote on Facebook.