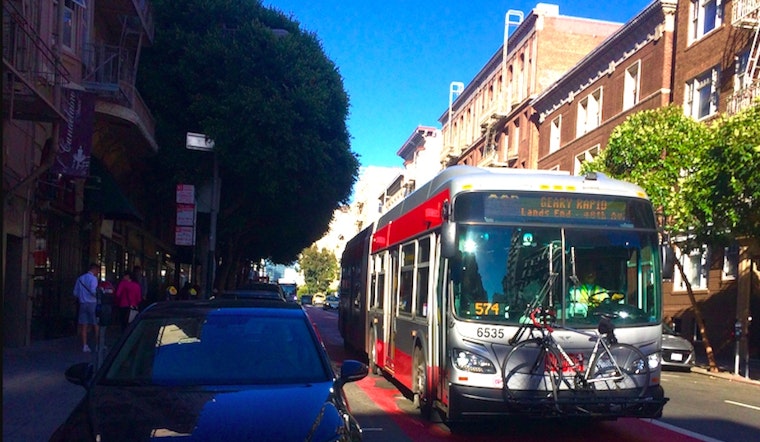 Published on October 11, 2018
Construction has begun on the first round of improvements to speed up Muni's 38-Geary bus route, including the discontinuation or relocation of several bus stops.
The first phase of the long-awaited Geary Rapid Project will install nearly two miles of transit-only lanes running both east and west between Stanyan and Gough streets, with the goal of speeding service for the line's estimated 54,000 daily riders.
Final designs for the $35 million project were approved unanimously by the SFMTA Board on August 21, and work began on Monday, October 1.
The bus stop changes have been made effective as of Saturday, October 6, with the elimination of the inbound and outbound stops on Hyde Street and both 38R stops at Spruce Street. The regular 38 service and the 38BX will still stop on Spruce Street.
The bus stops on the inbound side of Geary at Masonic and Presidio have been consolidated into one stop between the two streets, as have the inbound stops at Fillmore and Webster. 
This first round of construction will last about four to six weeks, according to SFMTA. It will include pedestrian safety improvements such as red painted curbs and temporary painted zones in the areas where permanent sidewalk bulb-outs are planned. 
The more major construction associated with Phase 1 of the Geary Rapid Project will start by the end of the year, and is expected to be completed in the spring of 2021.
Phase 1 construction plans will include water and sewer upgrades, repaving, new crosswalks with crossing signage at Buchanan and Webster streets, and the removal of the Steiner Street pedestrian bridge.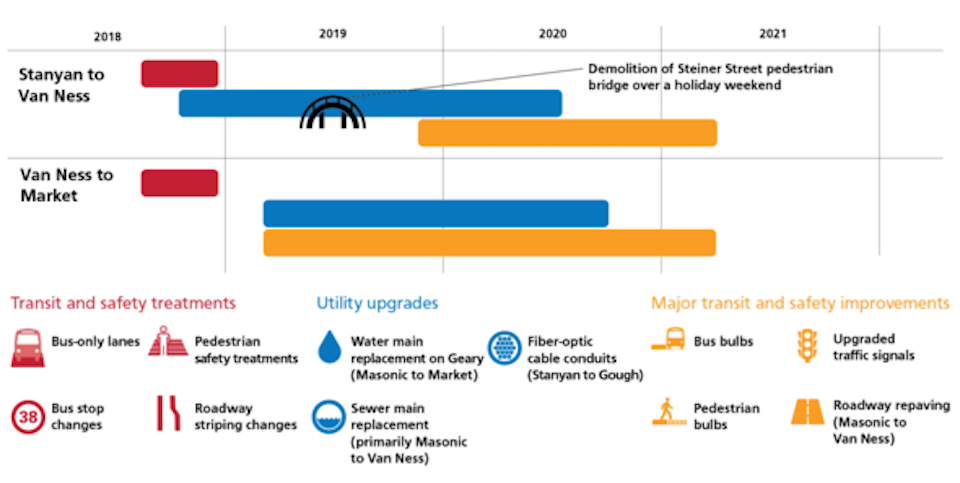 Meanwhile, SFMTA staff is still in the design phase for the second half of the project, the Geary Boulevard Improvement Project, which will create similar traffic flow and safety improvements west of Stanyan Street.
As currently proposed, the project will include dedicated bus-only lanes between Stanyan and 34th Avenue (including center-running lanes to 27th/28th Avenue), traffic signal optimization, and upgrades to stations and crosswalks.
Expected to cost another $235 million, construction is anticipated to begin in the fall of 2020, according to SFMTA.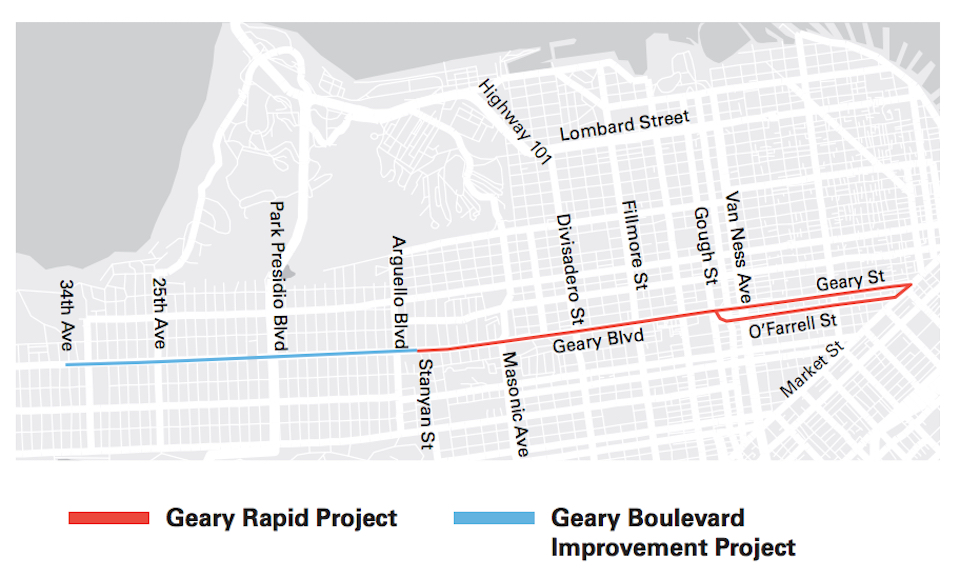 But the project's second phase remains the subject of an ongoing lawsuit brought by a local merchant advocacy group, San Franciscans for Sensible Transit, which is concerned about its impact on local businesses during construction.
Last Friday, the San Francisco Superior Court determined it needed no further oral argument from the parties in the case, due in part to information gathered during the hearing held in early August. We'll continue to follow the case and provide updates.