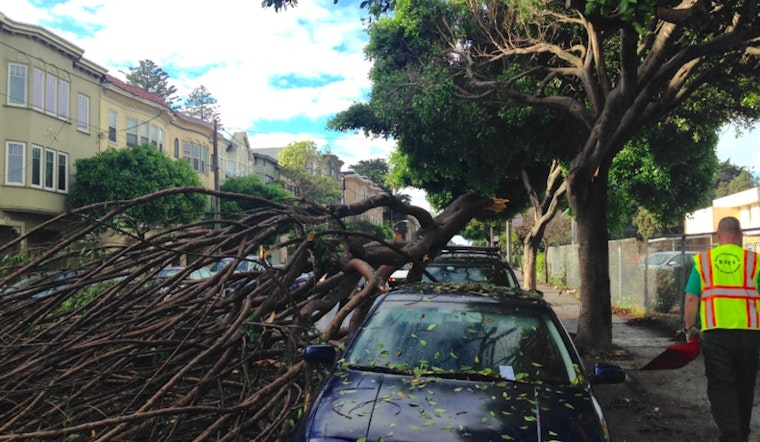 Published on January 18, 2019
A plan to remove 29 ficus trees along Octavia Street in Hayes Valley — with no clear intent to replace them — is raising concern among neighborhood residents. 
Last week, the trees were marked for removal by SF Public Works (SFPW), which has managed all of San Francisco's street trees since a 2016 ballot amendment transferred that responsibility away from individual property owners.
Since then, the agency has faced significant challenges in addressing the city's sizable population of aging ficus trees, whose structural flaws can leave them susceptible to dropping branches or even falling over entirely, potentially injuring people or damaging vehicles.
According to notices posted on the 29 trees on Octavia, a city arborist has identified them as possessing these serious flaws, which have caused issues in Hayes Valley in the past. In one notable incident last month, a downed ficus on Hayes Street (between Franklin and Gough streets) damaged multiple vehicles and shut down traffic in both directions for hours.
Neighbors say they understand the safety concerns. But they're worried that when it comes to replacing the lost tree canopy, "there is no succession plan," says Hayes Valley Neighborhood Association (HVNA) president Gail Baugh.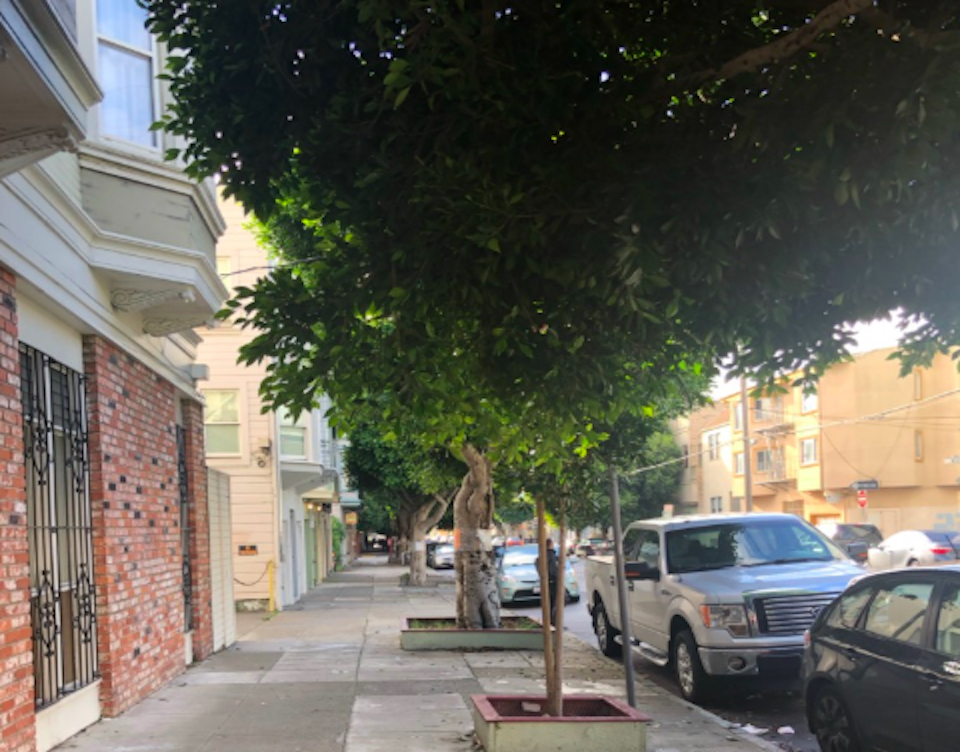 Despite its inner-city location, Hayes Valley has one of the city's denser neighborhood tree canopies, Baugh said.
But many of the trees suffered during the recent drought — especially on Octavia, where Baugh said many of the existing street trees have died over the past few years, particularly the flowering cherry trees.
Baugh says she's been pushing for years to have the trees replaced, but even a recent visit from the city's Fix-It team didn't solve the problem, with neighbors being told there was no bandwidth or funding for a fix. 
SFPW officials in mid-December asked to help lead the HVNA's next monthly safety meeting, in order to address neighbors' concerns about tree safety. They were slotted in to present during the next available meeting, in January of the new year, all before December tree fall incident on Hayes Street.
But according to Baugh, SFPW director Mohammed Nuru told attendees of the January 7 meeting that the agency had no funding to replace the trees it had already taken down in Hayes Valley. (SFPW representatives did not respond to multiple requests for comment for this story.) 
Given that statement, Baugh says she and other HVNA members were blindsided by SFPW's announcement of the removal of 29 additional trees, which came just two days after the meeting. 
"[The agency had] clearly already gone through the neighborhood to flag trees" for removal, Baugh said, even though "there is no clear strategic plan related to tree replacement."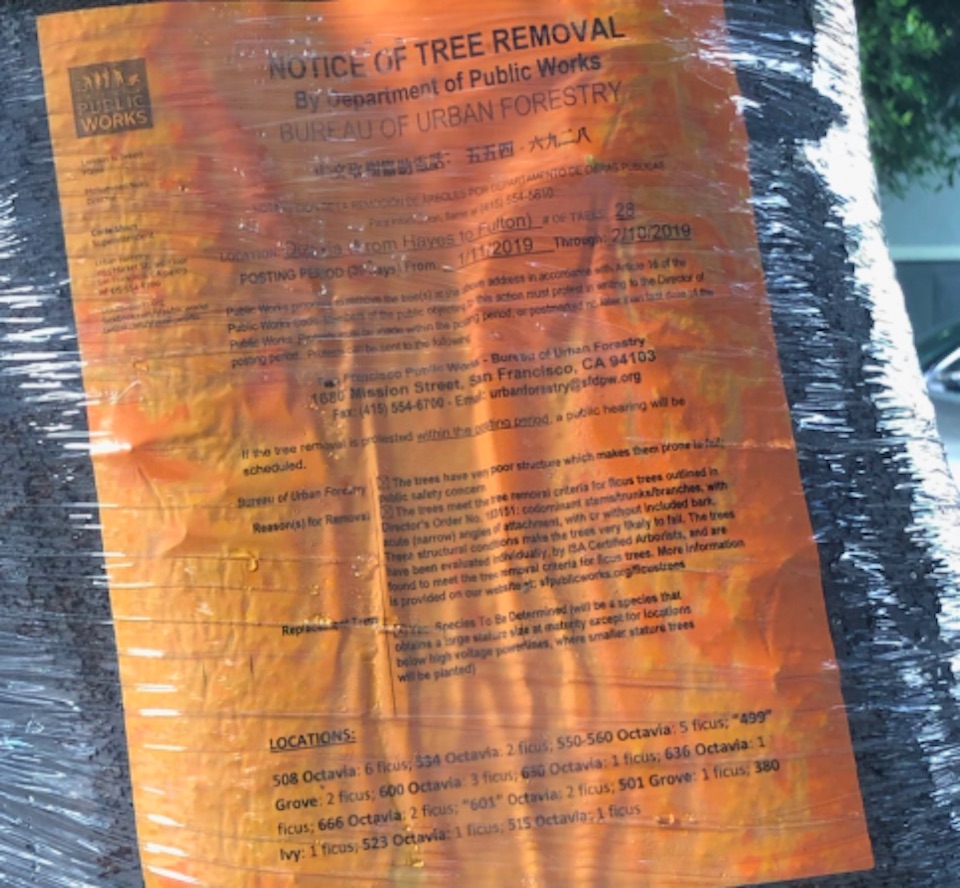 Baugh says the HVNA is working with District 5 Supervisor Vallie Brown's office to find some funding to replace the 85 or more missing trees around Hayes Valley. But with an overall lack of funding for new trees citywide, she says neighbors may need to take things into their own hands. 
"It will require neighbors, residents of Hayes Valley, to partner together and water the trees … [and] ensure they survive," she said. 
In the meantime, neighbors are rallying to appeal the planned removal of the additional 29 trees along Octavia. 
The notice of the trees' removal was posted on January 11, giving neighbors until February 10 to file a protest with the Director of Public Works at [email protected]. If a protest is filed, the agency will be required to hold a public hearing and get more feedback.
"Neighbors will show up to the public hearings," Baugh said. 
For neighbors interested in discussing the tree removals or getting involved in the appeals process, the HVNA will hold a special meeting at Patricia's Green this Sunday, January 20, at 11 a.m. The meeting will be held rain or shine, Baugh added.
Thanks to tipster Natalie D. 
UPDATE: January 22, 2019:  SFPW responded to our article after its publication, and requested the following clarifications:
The head of the Department of Urban Forestry, Carla Short, has been in communication with Baugh and told the January 7th meeting that the agency was anticipating posting notices of removal of several street trees, SFPW spokesperson Rachel Gordon said. Baugh confirmed that Short had suggested this would occur, but the timing was not clear.
Gordon also said SFPW is committed to replacing the trees that are removed, when feasible. In some instances, such as when a lot is slated for redevelopment, it makes sense to delay tree replacement so the developer does not have to file additional paperwork and face expenses for replacing recently-planted replacement trees, she said. 
Gordon confirmed that SFPW has limited funding for tree replacement, and is pursuing some options for additional resources for this city-wide issue in the city budgeting process, which has just started for 2019.
"Possibilities include gas tax revenue, development fees, general fund money, donations and other potential sources," Gordon said. 
One of the largest costs associated with  planting new trees proper watering and maintenance during the establishment phase, which Gordon said can last about three years.
Octavia Street is already considered a priority tree-replacement area, because "it is a major city corridor that will be losing a large amount of trees," Gordon said. But "if fronting property owners commit to routine watering, that can bring the price down," Gordon said. 
Any commercial or residential property owners interested in taking on the watering responsibilities of a new street tree in front of their lots can contact the Bureau of Urban Forestry at 415-554-6700 or [email protected].